The business of online games has grown exponentially, and with this growth also the technical requirements of the same in terms of video performance and hardware performance. It is also true that due to the increasing demands on performance, the hardware that has been produced is increasingly expensive, and consumes ever greater computational resources that the vast majority of PCs cannot support without being invested considerable sums in hardware upgrades. This is a big problem that presents a great opportunity that the people of Playkey has been able to take advantage with their proposal of cloudgaming with technology blockchain, of which we will talk here.
Playkey is a game virtualization service that shares the powerful home computers of block enthusiasts (miners) with players from around the world. The service caters to players who are not able to reach out to take advantage of the latest AAA PC game titles due to their low-level and / or old computers or consoles.
The goal of Playkey is to offer players a reasonable opportunity to play top games anytime, anywhere, using any device connected to the Internet, without having to buy a high-end computer or console.
The game is moving to the cloud, following cases like video, music and other services. For gamers, cloud play is 10 times cheaper than owning personal gaming hardware (PC / console), taking advantage of shared economy principles. The move from games to cloud technology has become an inevitable trend – 70% of players cannot play AAA titles like GTA V in high resolution, and 30% of players cannot even run such titles on their obsolete computers. The demand for games in the cloud will continue to grow therefore. The demand for state-of-the-art hardware and the increased requirements for games of resource-intensive VR technologies will make home hardware increasingly expensive and not viable for casual gamers.
That's why Playkey sees an indisputable and viable opportunity to create a possibility that allows to all players to play any game they want, on any device connected to the Internet, using a decentralized cloud model, leveraging Playkey's technology and business. Provide a decentralized ecosystem with a core for miners and players, based on blockchain technology, which provides private / professional GPU owners with a new way to make money. All this is Playkey's robust proposal.
Playkey seeks to create an ecosystem for games in the cloud and other use cases. For this, dozens of independent owners of powerful computers from all over the world ("miners") joined in a community and act as providers of games services in the cloud. This achieves a high level cloud gaming service established in the form of a smart mining-gamer contract.
The Playkey Foundation will be at the heart of the Playkey project's decentralized management system. Smart contracts will establish different initiatives, including managing the infrastructure community to boost mining activity and SLA policies, marketing and public relations, global strategies for the cloud gaming industry and relationships with token holders.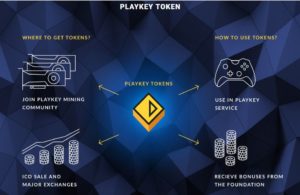 Playkey introduces an open source cryptographic token – PKT – which will be used to buy and sell cloud game subscriptions, as well as other Playkey services and future products. It will be the unit of account for all economic transactions within the Playkey ecosystem, and will be used as a basis for interaction with other digital services. The PKT token will be issued through the ICO. A pre-sale is underway right now, and the ICO will formally begin on November 1st.
The funds collected through the ICO will be used for the development of the Playkey ecosystem and the popularization of the game in the cloud. The PKT tokens will be applied to the Ethereum public string in accordance with ERC20.
The total number of PKTs to be issued is 100,000,000 fractionally divisible and non-inflationary long-term units. For more information about the ICO can subscribe directly to the mailing list of Playkey.