A Spain-based criminal ring that used cryptocurrencies and credit cards to launder drug money has been busted by the efforts of several global law enforcement agencies.
In a joint operation (dubbed Tulipan Blanca) between Europol and authorities from Spain, Finland and the United States, 11 individuals related to the aforementioned criminal network were arrested, while others 137 are subjects of investigations, according to an official statement. Their activities consisted on laundering drug money coming from Colombia, by using several cryptocurrencies and other financial instruments, like credit cards.
The criminal method
The statement indicates that, in order to accomplish their mission, these criminals would split the money sent by Colombia-based drug traffickers into small quantities, then proceeded to deposit them in hundreds of bank accounts. Once completed, they would acquire credit cards linked to these accounts and travel to Colombia to make cash withdrawals.
However, by doing this, they were exposing themselves because of how easy is to track these movements. In order to get away stealthy, they started to make transactions with cryptocurrencies, by using an unnamed bitcoin exchange located in Finland.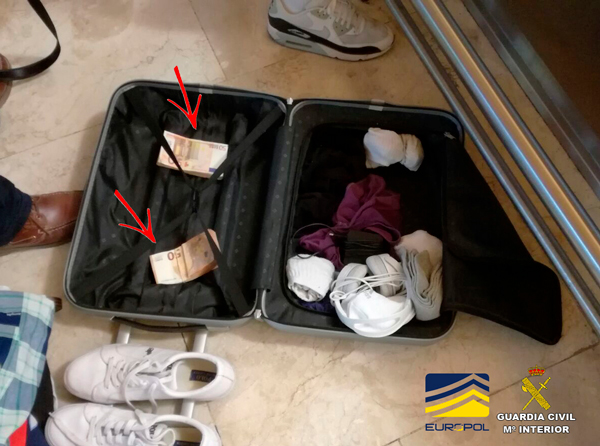 An excerpt of the statement reads:
"The criminals used the exchange to convert their illicit proceeds into bitcoins, then change the cryptocurrency into Colombian pesos and deposit it into Colombian bank accounts on the same day."
Meanwhile, the Europol provided support and coordination to the authorities that participated in this operation, by facilitating real-time exchange of information between them. The Spanish Civil Guard conducted the procedures that ended up with the aforementioned arrests, as well as the confiscation of several electronic devices and equipment. More than EUR 8 million in cash were deposited across 174 bank accounts, as per the results of the investigation.
The European Union's law enforcement agency has been active in the fight against these type of illegal activities, which turned their attention to cryptocurrencies and its anonymity potential to pass under the radar. Last month, a cyber-crime gang was also busted for laundering more than EUR 1 billion in bitcoins. The agency counted with the cooperation of authorities from the U.S., Taiwan, Romania, Belarus and Spain.
"With cryptocurrencies increasingly used to finance and carry out criminal activities, Europol will continue to coordinate across EU Member States and beyond, to effectively respond to this rising threat," the agency said.
"Europol has organized specialized training courses to assist law enforcement officers in identifying the use of cryptocurrencies by organized crime networks."