The development of solutions in cryptocurrencies and the block chain technology on which it is based is marking the course of international exchanges between individuals. While it is true that one of the main characteristics of digital coins is anonymity, this factor may be the most relevant for many users. In this sense the proposals of projects like Ethereum, Komodo, among others adopt anonymity as their main strength. In this opportunity we will talk about a project by the hand of Komodo that will be giving much to talk about: Jumblr.
Although Bitcoin remains as the main digital currency perhaps for being the first and most widespread, it is also arguably the easiest to spend. Although its anonymous nature provides an additional layer of privacy, for many this is not enough since Bitcoin's transactions are public. This aspect has given rise to the development of alternative digital currencies whose strength is based on anonymity.
Jumblr takes advantage of Komodo's anonymous features to provide a service that is far more efficient than its centralized counterparts and does not require users to trust any third party with their digital currency.
Komodo platform will distribute Jumblr tokens to Komodo holders.
Recently, the developer from Jumblr and Komodo – JL777 – announced that soon it will take place a sharedrop so all Komodo holders who keep them in a wallet (outside any exchange) will receive Jumblr tokens at the rate of 20.2 KMD – 0.01 Jumblr.
Jumblr distribution will be done according the following agenda:
The last remaining users to request the Komodo ICO payment will have until the 2nd of June to do it.
Reaching the block 360,000 – expected around the 13st of June – a blockchain snapshot will be performed.
Distribution will occurs one week after the snapshot.
Jumblr is an interesting exchange service that works as follows: You use your Bitcoins to change them by Komodo. This happens in Jumblr through a cross-blockchain atomic exchange. Once the BTC has been changed by KMD, an anonymous transaction (protected by zero knowledge tests) is performed. This transaction will cut all links to the BTC chain that entered Jumblr. And it also operates bidirectionally; If you want to change Komodo for Bitcoin, the KMD is exchanged again in BTC through the same atomic cross-block string exchange method. This process is automated and does not require a third party entity to have funds to secure the exchange. The whole process is untraceable. Anonymous transactions are protected by zk-snarks and can not be seen by anyone else.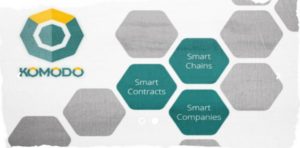 Jumblr is a service that besides the anonymity – it is completely untraceable – is also quite cheap. The average rate for a Jumblr transaction is 0.3% per exchange amount, which is only a fraction of what a Bitcoin exchanger normally charges.
To learn more about Jumblr, you can walk through its website at http://jumblr.info