In the field of online casinos the lack of trust and transparency is a problem. To acquire and retain players, casinos are forced to spend large amounts to build trust and reputation through brand awareness. By the other part, developers have great problems accessing platforms to operate and make themselves known. The JoyToken platform is presented as  a solution based on blockchain to counter the lack of transparency and other problems in online games, while encouraging the developers of new online games, whose features we will review in this post.
Joy Gaming, developer of JoyToken, seeks to connect the protagonists of the online gaming ecosystem in a win-win vision. Developers, casinos and companies will benefit from an environment that provides shared liquidity and fair compensation. By connecting developers and casinos, the platform seeks an optimal solution in which all participants benefit.
The platform offers users to play a transparent environment. This allows players and developers to have confidence in the fairness of the games, which until now does not exist in the industry raised that way.
Blockchain technology allows developers to create games that run on their back-end through an intelligent contract, rather than directly in the blockchain. All results are recorded within the block chain, so there is significantly less fraud.
JoyToken is committed to providing smarter games to casino players by providing innovative and creative game developers with easy access to online casino operators through a single solution. JoyToken offers this in four steps:
The integration of the game and hosting is simple with its proven game development system.
The payments go directly to the bank accounts of the developers in the form of JoyTokens.
All regulatory and compliance requirements will be addressed by the people of JoyToken.
Instant access to the market through its own online casino site; PlayCosmo Casino, which is licensed in the United Kingdom, Malta and Curacao, and allows developers to test their games before their general launch to other operators' casino websites.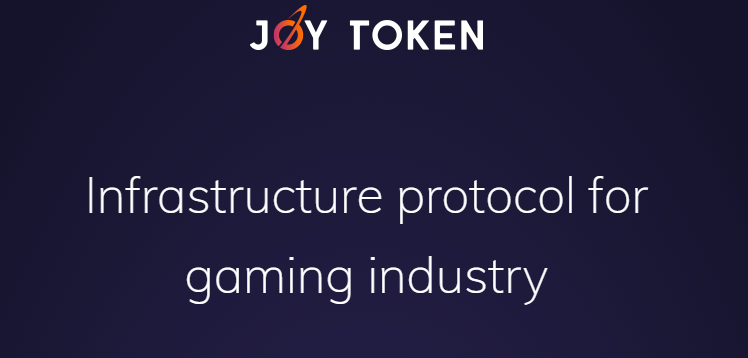 The JoyToken
The JoyToken is the native token of the Joy Gaming platform. It's an ERC20 token. The JoyTokens can be used by players to play in the Joy Gaming network. The network offers a system of frictionless rewards, guaranteed payments, attraction of affiliates, eliminates possible frauds and reduces payment processing fees. For casinos and game developers, tokens can be used to guarantee the payment of running games and to receive payments from players. For smaller game developers, the tokens can be used to receive commissions from the casinos that provide the reputation and working capital to offer that developer's game.
Bounty Program
Joy Token is starting her Official Bounty Program to reward her followers with JoyTokens. $ 800,000 in tokens will be allocated to the Program. The program will be carried out until the end of the sale of tokens. You can see more about the program here.
You can also follow the news of JoyToken through its Telegram channel.