Among the many new tokens that are in the world of digital currencies right now, JasmyCoin is one that is getting a lot of attention. This is the first Japanese blockchain project which aims to provide both corporations as well as individuals with innovative and unique storage options for their data. Let's take a closer look at the JasmyCoin price and make a few predictions for what to expect in the months and years to come for JasmyCoin.
JasmyCoin is one of the newest projects on the blockchain that has been developed by the Japanese. The company was launched in October 2021, by the following members of the development team: Kunitake Ando (director), Kazumasa Sato (president & CEO), Masanobu Yoshida (vice president & chief technology officer), and Hiroshi Harada (chief financial officer). 
Through the use of blockchain technology that has been developed by Jasmy, personal data will be restored and safeguarded. Combining traditional Internet of Things (IoT) with blockchain technology, allows users to govern their own data securely through the Internet of Things.
Jasmy's decentralized blockchain technology is designed to protect users' data and give them full control over how and when they want their data used. The Jasmy network accomplishes this goal by utilizing a file-sharing system known as IPFS, which combines InterPlanetary File System (IPFS) with Security Knowledge Communicator (SKC), an open-source software. 

A "personal data locker" is another feature that is offered by the project so that users can safely store their data.
"In order to achieve our goal, we are striving to create a setting in which users can truly control their data and determine how that data will be used"
It is expected that IoT devices will provide the data locker with a continual stream of new data.
Let's see what is going to happen to this coin when it is released in 2023, 2025, and 2030.
JasmyCoin (JASMY) Price Prediction 2023-2025-2030
If you are wondering whether or not it is a good idea to purchase JasmyCoin, then there is no simple answer to that question. This cryptocurrency is extremely volatile, but on the other hand, that does not mean that investors cannot profit from it, especially if they buy when the price is low and sell when the price spikes.
While there is a great deal of upside to JasmyCoin, there is also a great deal of risk associated with the coin, as it can crash at any time.
JASMY Price Prediction 2023
JasmyCoin is predicted to have a minimum cost of $0.004 in 2022, based on the technical analysis of the JasmyCoin prices expected in 2022. JASMY's price is only capable of reaching a maximum level of $0.009, which is the maximum value. Approximately $0.007 is the expected average trading price for this cryptocurrency on a daily basis.
Price Prediction Websites
In March 2023, Bitnation reports that JasmyCoin will reach a maximum price of $0.00487 according to its forecast. As the month nears its close, it is possible that it will dip to $0.003766 according to calculations carried out by Bitnation.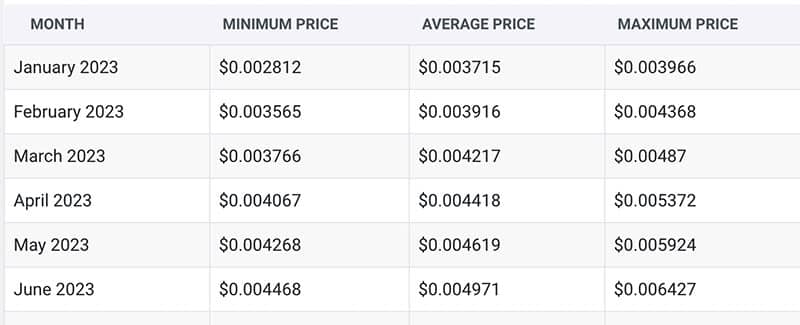 Based on price predictions made by PricePrediction, in 2023 it is expected that the JASMY price will cross an average price level of $0.008, and the expected minimum price level for JasmyCoin for the current year is going to be $0.007. In addition, JASMY can reach a maximum price level of $0.099 if it reaches a price level of $0.009.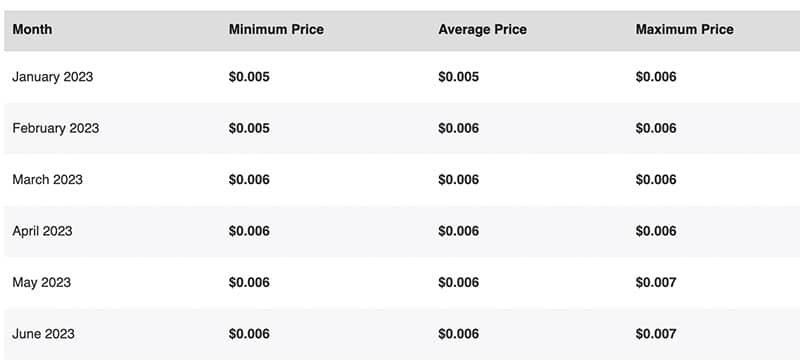 Prediction and Forecast Youtube Channels
It appears that JasmyCoin has many potentials in 2023, as demonstrated in this video from Steph is Crypto. By the end of the year, he believes that JASMY could be going very high if it can break the resistance line of $0.0052. 
By the end of the year, he believes this coin will be among the top 20 cryptocurrencies in the world by the end of 2023.
The best price predictions for JasmyCoin in 2023
PricePrediction has published the highest predicted price for JasmyCoin in 2023 and you can find it here. It is believed that JASMY can go high up to $0.009 within the year, according to this source. I think the price is somewhat reasonable if the bull market starts in 2023.
The worst price predictions for JASMY in 2023
Bitnation believes that JasmyCoin's price can be reduced to somewhere between $0.004 and $0.006 by the year 2023. There is a possibility that this price will continue to rise even with a continued winter. 
JASMY Price Forecast 2025
According to the technical analysis by cryptocurrency experts concerning the prices of JasmyCoin in 2024, we can expect that JasmyCoin will reach a minimum price of $0.015 and a maximum price of $1.84 as a result of their technical analysis. Trading costs on average are estimated to be about $0.1 per trade.
Price Prediction Websites
It is one way in which CoinCodex predicts where the Jasmy price might head over the long term when comparing Jasmy against other important technological innovations and trends. It can be seen from the table above that if Jasmy's price grew at the same rate as the internet or large technology companies like Google and Facebook in their growth stage in 2024, 2025, and 2026, its price would be in the same range by then as well.
It is possible to expect JASMY's price to rise to $ 0.108872 by the year 2025 if it follows Facebook's growth rate, which is the best-case scenario. Jasmy's prediction for 2025 is $ 0.021460 if it is to be followed by the growth of the Internet.

On the basis of DigitalCoinPrice, it is predicted that JASMY's price will cross the $0.0158 mark at some point in the near future. There is a high probability that JasmyCoin will be able to achieve a minimum fee of $0.0148 by the end of the year. As well as this, the price of JASMY has the potential to get up to a maximum level of $0.0164 at some point in the future. 

Prediction and Forecast Youtube Channels
JASMY has a lot of potential for real-world applications in the market, according to a video from Crypto University that explains the capabilities of this cryptocurrency. I believe that the coin will be able to aim for new ATHs in 2025 despite its ups and downs and crash during the winter.
JASMY is predicted to reach an average price of $1.67 in 2025 in this video. It is possible that the coin could go up to $1.84 in the future. JASMY is believed to be priced at $1.19 in 2025, according to the source, and will not fall below $1.19 in 2025.
The best price predictions for JasmyCoin in 2025
JasmyCoin's highest price prediction comes from a video that has been uploaded to YouTube. In the year 2017, Crypto University predicts that JASMY will surpass the $1 line and pass over the $1 line. JASMY may even reach $1.84 in 2025.
The worst price predictions for JASMY in 2025
According to DigitalCoinPrice, JasmyCoin Price will be the lowest in 2025 at DigitalCoinPrice. Consequently, the source believes that the coin may go down to $0.015 in the next year or two. According to other sources, the price is very low compared to what was predicted.
JasmyCoin Price Prediction 2030
It seems that cryptocurrency analysts are ready to make their predictions about what the price of JasmyCoin will be in the near future. In 2030, the JASMY price is expected to be $0.12 at the maximum, which will be used as the benchmark for the year. It might, however, drop to a rate of around $0.050 in the next few days. So, based on the above, an average trading price of $0.085 is expected to be achieved.
Price Prediction Websites
By the end of the current year, PricePrediction predicts that the JASMY price will cross a price level of $0.10, which means that the minimum price value of JasmyCoin by the end of the current year may amount to $0.11. In addition, it is possible for JASMY to reach a maximum price level of $0.12.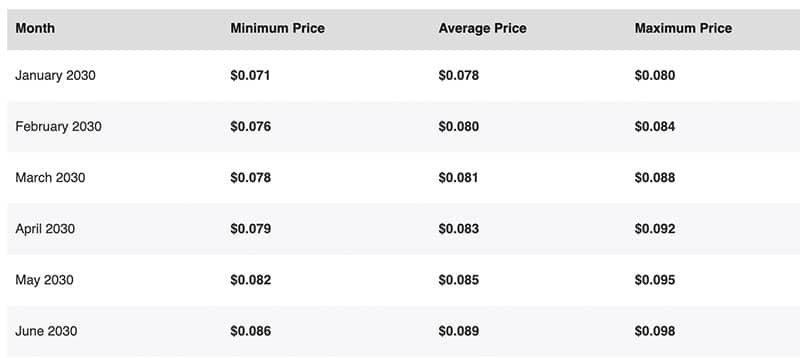 In accordance with DigitalCoinPrice, it seems likely that the price of JASMY will cross the level of $0.0496 in the near future. The minimum fee for JasmyCoin is expected to be $0.0492 by the end of the year, a significant increase from what it is now. Moreover, the price of JASMY has been shown to have the potential to reach a maximum of $0.0506 at times in the future. 

The best price predictions for JasmyCoin in 2030
There are many sources of JASMY price predictions for 2030, but PricePrediction is one of the most reliable sources. In 2030, the source believes that the price of JASMY could increase to $0.11 per share. There is also talk that JASMY might reach $1 before the end of this year, so keep that in mind.
The worst price predictions for JASMY in 2030
There is a lot of bearish sentiment on DigitalCoinPrice about JASMY in 2030. JasmyCoin is predicted to go down to $0.05 at the end of this year according to this source. I think there is a possibility that some winters are predicted before that year.
Can JasmyCoin (JASMY) Reach 1 dollar?
The JasmyCoin price is expected to reach $1 in a few years, likely between the years 2025 and 2030 as per our JasmyCoin prediction. There are a lot of great things about JasmyCoin, including the fact that its uses are real.
Everything is possible in the crypto market, and nothing is out of reach.
As we have seen in the past, it only takes a few seconds for a great bull rally or bear rally to thrash all the price predictions in seconds.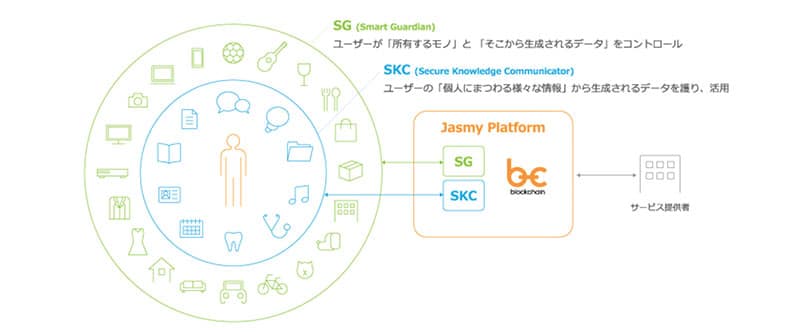 The price of JasmyCoin may skyrocket if more investors become attracted to this project, and it is possible that it may reach $1. Additionally, there is a possibility of JasmyCoin's value increased due to new listings on premium exchanges.
Conclusion
There is no easy way to predict the future price of JasmyCoin. There are some sources out there that are fairly optimistic about what the future holds for the token; however, other sites were far more pessimistic. Often, price predictions turn out to be wrong, and prices will rise as well as fall over the course of the day. 

The cryptocurrency market is volatile, so it is imperative that you do your own research before investing in a coin or token in order to determine whether it is a good investment for your portfolio. You should consider your risk tolerance as well as how much you are willing to invest to determine whether you are a good candidate for investing in JASMY.
---
The Price Predictions published in this article are based on estimates made by industry professionals, they are not investment recommendations, and it should be understood that these predictions may not occur as described.

The content of this article should only be taken as a guide, and you should always carry out your own analysis before making any investment.