People today are increasingly becoming wary of central banks across the globe, which has led to the birth of cryptocurrencies based on blockchain technology. One of the most popular cryptocurrencies that has been in existence since 2011 is Litecoin.
This is an open-source and peer-to-peer cryptocurrency network and is a further advancement of Bitcoin technology. As one of the first Bitcoin alternatives (also referred to as 'altcoins'), Litecoin has grown to be among the top 20 largest cryptocurrencies worldwide based on market capitalization.
But with Litecoin exhibiting a bullish trend all through 2020, a trend that's persisted even in 2021, is it still a profitable investment? To get the answer to that question, read on as this guide takes an in-depth look into the matter to help you better understand whether Litecoin remains an excellent investment.
What Is Litecoin?
Litecoin is a cryptocurrency created by former Google staff and Coinbase engineer Charlie Lee to act as a Bitcoin fork, and its ticker symbol is 'LTC.' Because of this, Litecoin incorporates improved features that enable it to achieve faster transactional speeds at a lower cost thanks to the peer-to-peer network it involves.
The total supply of Litecoins is 84 million, which is considerably more than the maximum number of Bitcoins, which is 21 million. But despite its greater numbers, it's still managed to attract the attention of many investors due to its capped supply that helps hedge against inflation.
The main purpose of Litecoin is to serve as a Bitcoin alternative that's more scalable and ideal for making smaller payments. This makes Litecoin easily accessible to the average investor because it doesn't require any complex hardware.
How Does It Work?
Litecoin works identical to Bitcoin with the distinct difference that it's excellent for making small purchases due to atomic swap technology. An atomic swap enables cross-border transfers, with Litecoin capable of processing 56 transactions each second, far greater than Bitcoin's seven transactions per second. In addition, Litecoin charges considerably lower fees than Bitcoin and other payment platforms such as PayPal.
Government authorities or central banks have no control over Litecoins as this cryptocurrency is mined. If you're learning about blockchain technologies and cryptocurrencies for the first time, 'mining' refers to the processing of transactions and making new blocks of data that then get added to a blockchain digital ledger.
One block of data contains 12.5 Litecoins and usually takes 2.5 minutes, which is much shorter compared to the 10 minutes spent when mining Bitcoin. This means that sending money from one person to another regardless of their location will only take 2.5 minutes. This is shorter compared to the time you'd spend sending an equal sum of money using another method. What's more, it requires less paperwork and is a lot cheaper.
Is Investing In Litecoin In 2021 Worth It?
While the current price of Litecoin doesn't compare to that of Ethereum or Bitcoin, it's still an attractive investment in 2021. One reason Litecoin buying is a prudent move is that LTC can't exceed its maximum supply of 84 million, so it's safe from inflation and depreciation during periods of economic uncertainty. Litecoin is also an exciting cryptocurrency because it falls among the top 20 cryptocurrencies out there. This is an impressive achievement considering how highly competitive the cryptocurrency space is at the moment.
Investing in Litecoin in 2021 is undoubtedly a wise move given that this altcoin has considerably appreciated this year. As a result, investors who bought this altcoin at the start of the year are enjoying returns of around 30%, which is calculated according to the current price of Litecoin. This is a greater return than you'd have earned from the stock market within the same duration, and that's another proof that this cryptocurrency is a superb investment.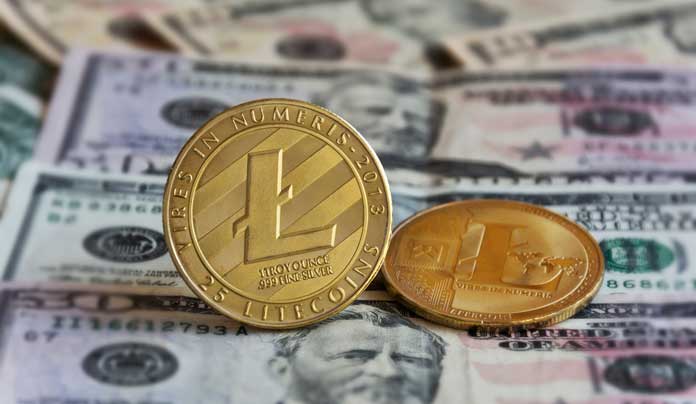 The growing use of LTC in making payments is also expected to spur the growth potential of this altcoin. This is something that BitPay has already adopted, meaning Litecoin can now be utilized to pay for goods or services across its huge network of merchants such as Newegg. BitPay adding the support for Litecoin will no doubt open the doors for other merchants to consider Litecoin as an acceptable payment method. This'll help push Litecoin to greater heights, which means greater returns as an investor. Charlie Lee has been instrumental in this increased acceptance of Litecoin by introducing confidential transactions (CT) that prevent privacy issues.
But while Litecoin shows immense growth potential, you shouldn't be overconfident that this altcoin will yield great returns. This is crucial despite Litecoin showing a positive gradual increase in value because cryptocurrencies, in general, are still a risky investment. Therefore, you shouldn't invest more than what you're ready to lose because the cryptocurrency market can be highly volatile.
This isn't to say, of course, that you should forego investing in Litecoin altogether but rather show that it's vital for you to factor in this altcoin's risk to reward ratio. Fortunately, Litecoin is a lot cheaper compared to cryptocurrencies such as Ethereum and Bitcoin. In addition, you don't need to spend exorbitant sums of money to own Litecoin as it's a lot simpler to get your hands on.
What Are The Pros and Cons Of Investing In Litecoin?
If you're impressed by the tremendous potential Litecoin has, the next thing for you to do is find out the pros and cons of investing in this altcoin. Here's an overview of its advantages and disadvantages:
Pros
Boasts an excellent reputation for being one of the top cryptocurrencies by market capitalization

Faster transaction speeds compared to Bitcoin

High potential returns during uptrends

Fewer fees compared to other cryptocurrencies
Cons
In the last few years, investors have had a bearish sentiment toward Litecoin.

You won't get the same impact as you would with Bitcoin after halving Litecoin.

Its reputation was slightly tainted after being sold by its founder.
Takeaway
For many investors, Litecoin appears to be the perfect cryptocurrency to invest in as an alternative to Bitcoin due to its high growth potential. But before diving ahead and investing in this particular altcoin, it's best to do your research to determine if it's right for your unique circumstances. You can use the information in this article to help you gauge whether it's a profitable investment in 2021.
---
Press releases published by Crypto Economy have sent by companies or their representatives. Crypto Economy is not part of any of these agencies, projects or platforms. At Crypto Economy we do not give investment advice and encourage our readers to do their own research.