Ethereum (ETH) continues to struggle as macroeconomic conditions remain gloomy. On the other hand, over the last four months, Ethereum has also noted a significant drop in its daily active address (DAA) count. These factors raise fears of a further decline in ETH prices in the coming days. Is Ether about to crash?
Crypto market has continued to remain range bound on Friday with enough pressure on digital tokens to drag them lower. Majority of the top cryptocurrencies has witnessed substantial price declines in the last 24 hours. Ethereum (ETH), the second largest cryptocurrency fell 1.42 per cent over the past day, currently trading at $1,280. ETH declined more than 3.60 per cent in the last 7 days.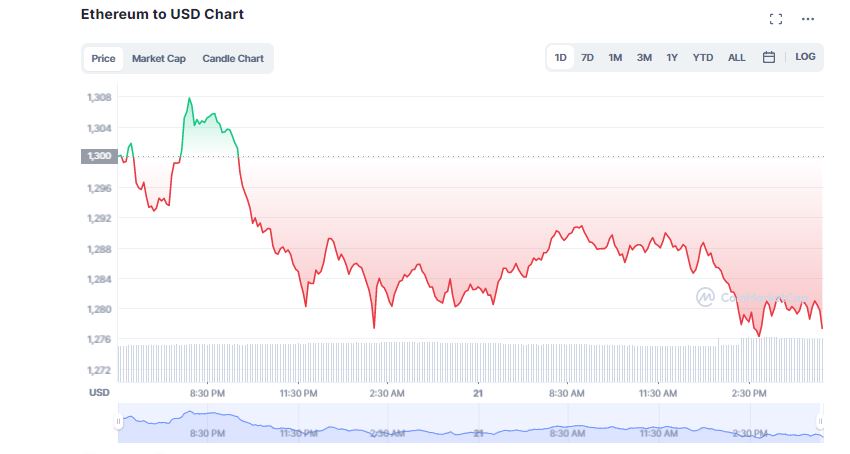 Despite Merge ETH Continue to Drop
Ethereum completed a successful merge last month transitioning from Proof-of-Work (PoW) to Proof-of-Stake (PoS). The move was anticipated to be a major bullish event for the Ethereum ecosystem. However, Ether continues to struggle to reach its pre-merge levels as it grapples to gain pace for a move above the $1,300 level.
Experts predict if ETH fails to climb above the $1,300 resistance, it could continue to move down. An initial support on the downside is near the $1,270 level. The next major support is near the $1,265 level. A downside break below the $1,265 zone might start a fresh decline to $1,220. Any more losses may perhaps push the price further lower towards the $1,200 support.
Ethereum Daily Active Users Decline
😲 #Ethereum's active addresses have sunk to 4-month lows with weak hands continuing to drop post-#merge, and disinterest at a high as prices have stagnated. Monday was the first day that there were less than 400k addresses on the network since June 26th. https://t.co/FKXHhg6Z5g pic.twitter.com/1Ekj3bpT0A

— Santiment (@santimentfeed) October 20, 2022
Meanwhile, according to Santiment, on October 21 the number of Ethereum daily active address (DAA) dropped to 152,000 hitting its lowest level since June. The report noted that on October 17, there were less than 400,000 active addresses on the network since June 26. Santiment claimed that the drop in DAA presented a higher level of "disinterest" from participants as price action remained stagnant.
It seems there is a massive bear engulfing bar with decent trading volumes forcing ETH back towards Q3 2022 lows. Considering the current price projections, experts believe ETH traders could be in for another rough ride in Q4 2022. Not just the price actions, but the global macroeconomic factors are likely also playing a part in Ethereum's relative price stability.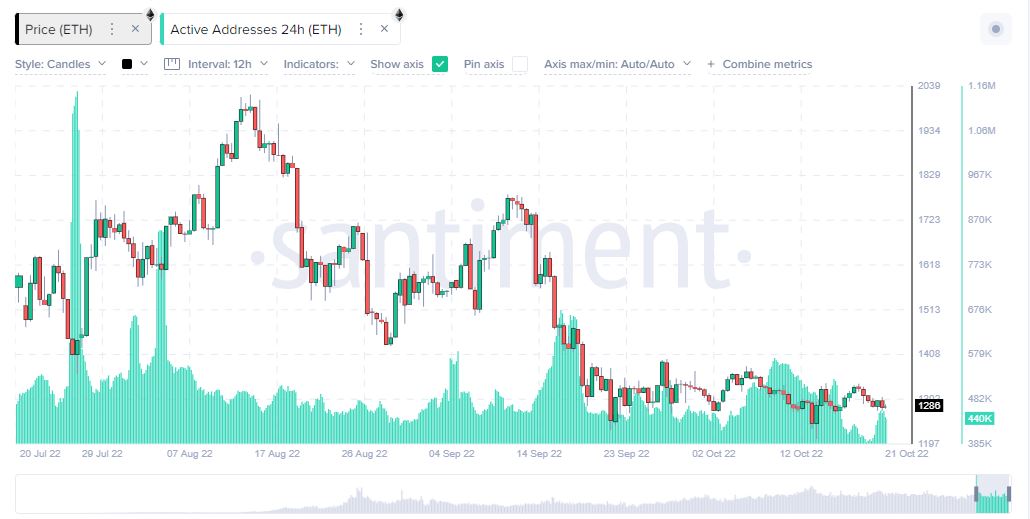 Uncertainty in global markets has continued to weigh on traditional equities. The Federal Reserve's monetary tightening regime aimed at reducing inflation has many market participants worried about the long-term damage such actions could have on the financial system. The sudden spike in US bond yields has also dented the appetite for risky assets.
ETH May Plunge 40% Below Current Price Level
Meanwhile, CoinShares reported there is a potential lack of interest among investors across Ethereum-based investment funds.The report noted that in the week ending October 14, these funds witnessed an outflow worth a whopping $3.9 million. In addition, the outflows have reached $368.70 million on a year-to-date (YTD) timeframe.
Market experts predict Ethereum (ETH) could suffer slipping below its prevailing rising trendline support as the Fed has hinted of more rate hikes in the future. If ETH plunges below its current trendline, it will trigger a setup called "ascending triangle".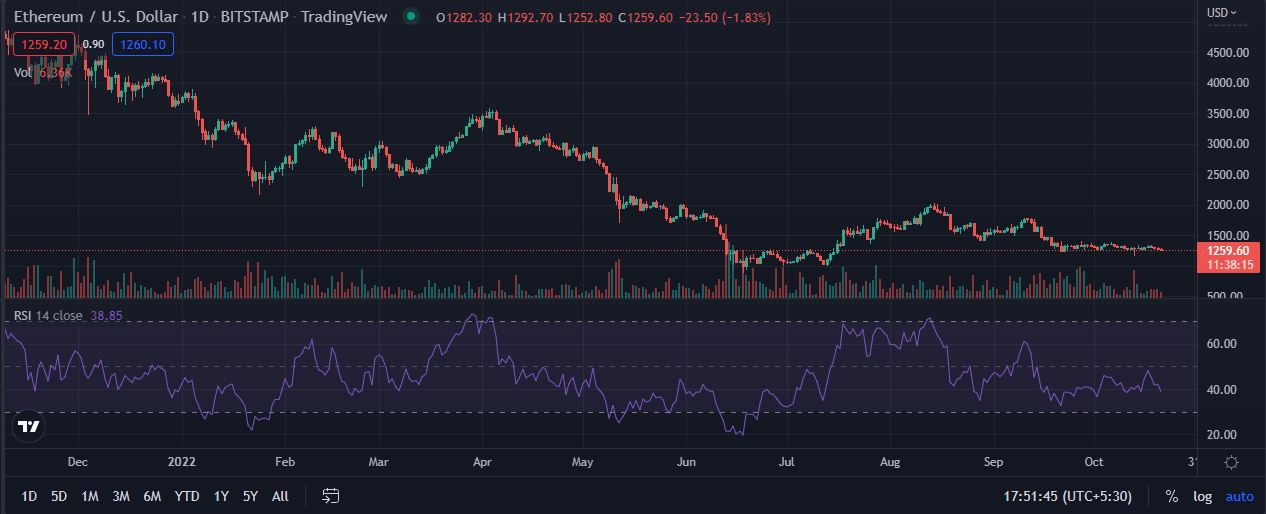 Ascending triangle patterns are the continuing bearish price patterns that occur after a sharp decline in price. As a result, ETH's downside target comes to be around $750, or 40 per cent lower than current price levels. However, ETH price will depend heavily on global market factors