Among the results of Coinbase's Institutional Investor Digital Assets Outlook Survey published on Nov. 22, the company reported that many professional investors have increased their allocations to digital assets over the last few months.
Insights into the market
In a recent survey conducted by the Institutional Investor Custom Research Lab, sponsored by Coinbase, we attempted to find out what the perception of digital assets is among decision-makers at US institutions. It was reported that 140 institutional investors, representing more than $2.6 trillion in assets under management, participated in the survey, representing investments worth about $60 billion.
A representative sample of institutional investors was selected for the purpose of this study. It should be noted that Coinbase did not source the respondents, and it is possible that they were not Coinbase customers at the time of this survey. Institutional Investors conducted an independent survey between September 21st and October 27th.
Among those currently investing in digital assets, 86% of respondents are of the opinion that they are here to stay, while 64% are of the opinion that they are planning to invest in digital assets. Overall sentiment towards digital assets has remained positive, with 72% of respondents supporting this view. The current environment in which we are living indicates that crypto assets are becoming a viable asset class in the future.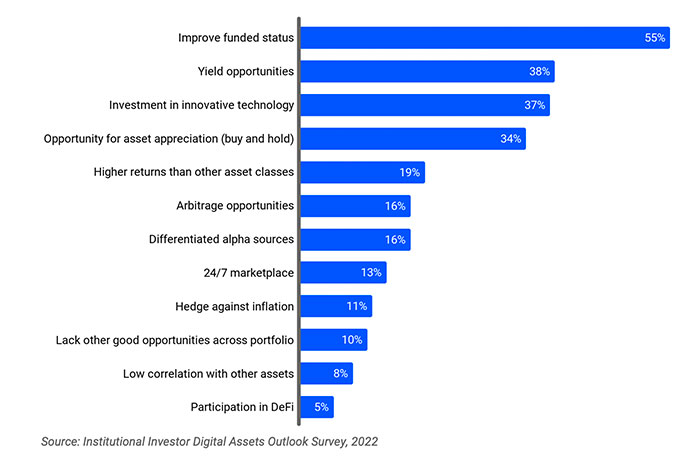 As the sentiment remains positive, there has been a dampening of short-term expectations for a price increase due to the crypto winter. The majority of investors, according to a survey of 54%, believe that crypto prices will be rangebound over the next 12 months, while 29% believe that they will trend lower over the next 12 months.
According to the survey results, there is also a shift in attitudes toward the asset class and reasons for investing in it both. In their primary reasons for investing in the asset class, investors pointed out that the primary reasons were the ability to improve the funded status, the opportunity to access yield opportunities, the opportunity to invest in innovative technology, and the potential for long-term appreciation.
It is important to point out that this is a departure from past studies where characteristics such as low correlations to other asset classes and the ability to hedge against inflation were more prominent factors.
A recent report revealed that investors still continue to invest in digital assets, despite the crypto winter that has gripped the industry. In order to prepare for the future, they are using the existing environment to learn and build.
There is no doubt that recent market events have dampened the short-term outlook, but investors are tending to take a long-term perspective when it comes to their investment goals. The fact that crypto will be around for a long time also confirms that it will gain a lot of institutional acceptance in the future.