The new proposals for platforms and projects based on blockchain are addressing almost all areas. It is not only financial issues or telecommunications, but also in areas such as education, travel and even consumer items, and it is on this last that we will discuss here, with the concept of the INS platform.
The industry, in its current form, is inefficient and controlled by major retailers that determine how food prices are set and establish their conditions for suppliers. The current design of retail systems is based on reducing stock-outs and keeping food on the shelf. This leads to ineffective delivery schedules and results in food waste: up to a third of what is sold in supermarkets.
Although the food item has been updated in terms of online presence and management, it still does not address the central problem of centralized bargaining power. Abuses and unrestrained waste are common, so in the end, customers pay for everything.
Buyers and suppliers must regulate the industry. A scalable platform based on blockchain would allow a transparent and reliable grocery shopping experience at significantly lower prices, as well as a huge profit in information and consumer trends thanks to the interactions between the parties.
INS people present an initiative to decentralize the food purchase experience. The INS ecosystem will adopt blockchain to cut the intermediary and improve the UX online. It will help consumers save up to 30% on groceries and get direct rewards from manufacturers.
INS is building a platform for manufacturers of all sizes, from multinational to local. They have signed agreements with some of the largest food manufacturers in the world, including Unilever, a leading consumer goods company and several local producers.
Led by the founders of Instamart, one of the largest online food delivery services, INS has developed a roadmap that covers everything from online to offline. Their goal is to complete it by the end of Q3 2018.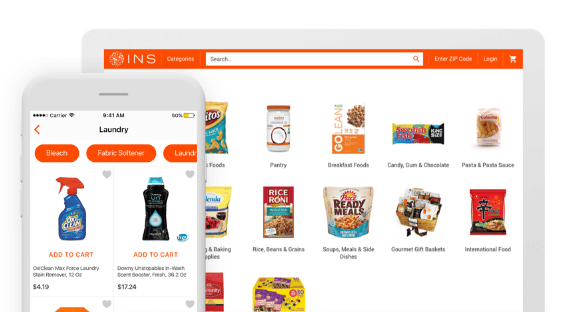 INS tokens will be the means of exchange within the platform. Token buyers can use Bitcoin, Ethereum, Litecoin, Dash, USD to complete the purchase.
After the ICO period, all taxpayers will receive ERC20 interchangeable INS cards in the Ethereum Network. The ERC20 token will always be accepted to switch to a new 1 to 1 token. The INS token is a central component of the INS ecosystem and is designed to facilitate all types of operations that make the token an integral part of the ecosystem and the driver of its economy.
To know more details of this interesting project, you can review their White paper.