Injective Protocol, the world's first layer-2 decentralized exchange protocol, rose to popularity as decentralized finance space roared amidst a market-wide bull run. Its native token, INJ, however, has failed to post substantial gains and was found consolidating off late. But there has been a change to this trend.
Injective Protocol's native token, INJ has found a fresh push to its lagging bullish momentum. Even as the digital asset was down by 4.00% on a weekly basis, it climbed by more than 18% over the past 24-hours.
Injective Protocol [INJ] Daily Chart:
The daily chart for the native token of decentralized derivatives exchange depicted that there is more upside potential following the news.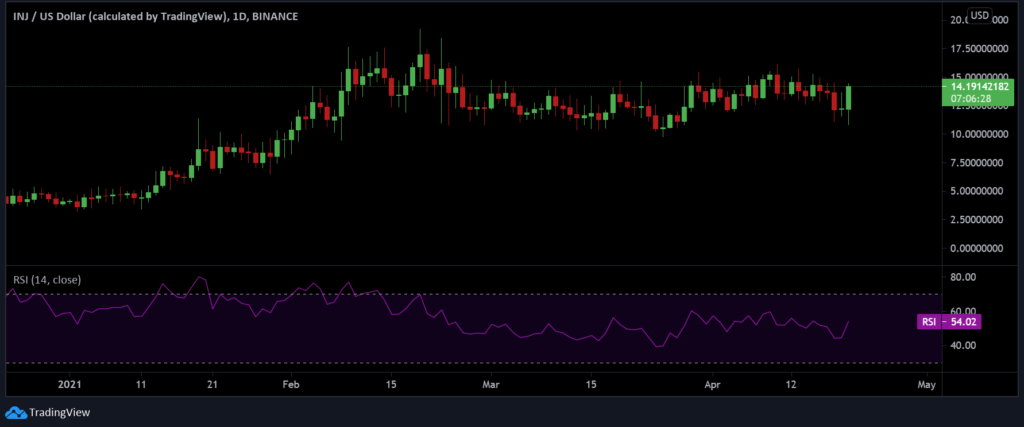 It was currently exchanging hands at $14.19 while registering a market cap of $217 million and a trading volume of $50.8 million over the last 24-hours.
If the above one-day chart of INJ token is taken into account, it can be observed that the Relative Strength Index [RSI] has finally made headway above the 50 median line demonstrating favorable buying conditions for the bulls. In short, if the present momentum gains necessary traction, INJ could eye its recently hit ATH and soar higher.
It is important to note that most of its peer DeFi coins were in the deep red zone following the latest pullback.
INJ has been consolidating below the current level for quite some time now. The latest push comes at a time of a crucial development with regards to its ecosystem.
What Drove The DeFi Tokens Price?
The decentralized derivatives platform, Injective Protocol announced securing a funding deal worth $10 million in a fresh new round of private placement token sale. The funding was led by Pantera Capital, CMS Holdings, Mark Cuban, BlockTower, QCP Capital, and Hashed Ventures.
According to data from Crunchbase, the company has raised a total of $17.1 million in funding over six rounds. The capital secured in the latest round, however, will be directed towards ramping up its platform and doubling its team by 2022.
Earlier this month, Injective Protocol had revealed a strategic partnership with DeFi Web 3.0 data marketplace Big Data Protocol [BDP] to build and roll out structured data token products.
Yet another key development that has helped the token to stay relevant was the collaboration between its company and Band Protocol by integrating with its staking ecosystem. With this Band Protocol became genesis validator on Injective in the lead up to their mainnet.