The cryptocurrency market is undergoing an extensive bearish spell. The fallout of renowned crypto organizations, like FTX, has frustrated investors and key industry players, leading to a huge sell-off. Therefore, many crypto coins have lost support and devalued at a fast pace. Despite the turmoil in the market, Huobi came forward and assured its investors that all of their funds were safe.
Huobi previously made all of its holdings public and even urged other exchanges to take a similar initiative. The main goal was to establish greater transparency as well as trust within the crypto environment. Moreover, Huobi stated that it would continue to disclose its holdings in an effort to demonstrate both its willingness and commitment to promoting transparency.
The Huobi Token (HT) Marks a Staggering Growth
Over the course of the last few days, the Huobi token has been continuously on the rise, and it does not seem to be stopping any time soon. In the previous week, the Huobi token witnessed a notable increase of approximately 25%. At the time of writing, the token is trading for $5.81 and is up by almost 10% in the previous 24 hours. Similarly, the token has a market cap of nearly $898 million.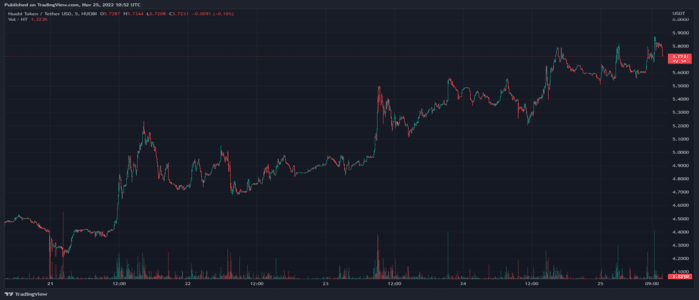 A while ago, Huobi's founder, Leon Li Lin, sold all of his shares to a firm called About Capital Management. As soon as he sold his shares, Lin stated that he would lose all of the authority he held in the firm. Similarly, many believed that Justin Sun was the mastermind behind the acquisition. But he denied those claims and mentioned that he only serves his purpose as the firm's advisor.
It is worth mentioning that Huobi began its business operations in China back in 2013. But it had to wind up as a result of Beijing's crypto crackdown. On the other hand, the company even expressed its plans to expand in international waters after being acquired by About Capital. Nonetheless, the recent growth of Huobi's HT token will go a long way in helping the firm to achieve new highs.
The cryptocurrency market has managed to regain some momentum in the past few days. Many cryptocurrencies are on their way back up and it seems investors have reignited their confidence. However, many tokens are still a long way down their highs. Therefore, the next few days will be critical in setting the tone of the overall market.