A new analysis shows that despite the recent market dip because of Chinese FUD, DeFi assets are experiencing network growth and address activity.
It seems that users aren't paying attention to news from China, and maybe some of them are looking for alternatives in the DeFi space. The latest news from China affected the market and created some red days, but the activity in some DeFi platforms is rising and may be a sign of a new era.
Attractive Alternatives
China FUD isn't a new thing in the crypto market anymore. The Chinese government has always declared some restrictions over using cryptocurrencies that result in kind of market crashes. But the power of these regulations on the whole market is decreasing. Experts believe that China's FUD can't cause big market crashes anymore. Besides, some analysis shows that people are looking for alternatives, and the latest news may have affected the DeFi sector.
The latest analysis by Santiment claims that some coins are showing unusual on-chain activity despite the latest China FUD. The data shows some DeFi "blue chips" that are experiencing increased activity. One of them is AAVE. The charts show that active addresses are higher than before for this platform. Besides, the network growth has been increasing since the recent market crash.
Santiment has done a good analysis to detail the latest changes in the DeFi sector. The analysis has a chart that takes the top 15 DeFi tokens and calculates the average Daily Active Addresses compared with the DAA of the total top 15 coins. The comparison shows that the active addresses in DeFi tokens have increased, but it's not a dramatic increase on average. Besides, the recent increase is still smaller than what we saw some weeks ago. Another analysis shows that UNI had the biggest effect on the DAA for the market.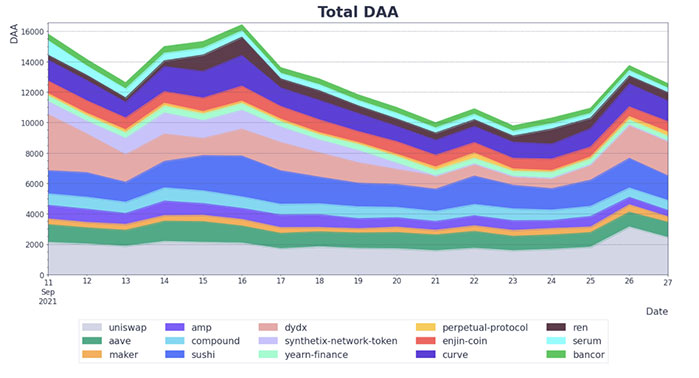 Comparing the Average Network Growth vs. Total Network Growth shows that both of them are rising for the top DeFi tokens. UNI is the most influential token here, too.
The latest analysis by Santiment, next to other sources, shows that the China FUD has resulted in people looking for alternatives in the crypto industry. Wu Blockchain tweeted some days ago that Chinese investors are looking for DeFi alternatives after the regulations in their country have become more strict. After all, it may result in another DeFi boom. Santiment believes that the latest market crash may ultimately result in more growth for the smart money that is circulating in the DeFi sector.
---
If you found this article interesting, here you can find more DeFi News