Dogecoin [DOGE] and other dog-themed cryptocurrencies have been making quite some noise of late. Thanks to the broader crypto market experiencing a much-needed boom, DOGE, its rival Shiba Inu [SHIB], yet another spin-off called Floki Inu [FLOKI]. DOGE has already succumbed to SHIB's astonishing rally. So where is the OG Dogecoin headed?
DOGE slipped to the 9th position after SHIB took a leap of an astonishing 90% run up this past week. The former, on the other hand, settled for a little more than 2% over the same time frame.
Over the past day, DOGE was up by almost 6% and was currently exchanging hands at $0.27. The latest uptick comes at a time when one of the biggest fast-food chains Burger King has announced its partnership with Robinhood Crypto to reward Dogecoin along with Bitcoin [BTC] and Ethereum [ETH] on the 1st of November.
Dogecoin's [DOGE] Mark-up Phase?
After crossing the mark-down phase from the May peak, the DOGE price candles have been stuck in an accumulation trend since late July to press time. By the looks of it, the trend may extend till the end of November, followed by a mark-up phase that could see DOGE price exploding to new highs. 
$DOGE, markdown, accumulation, markup pic.twitter.com/TvMkqBAu4m

— ᴀʟᴛꜱᴛʀᴇᴇᴛ ʙᴇᴛꜱ (@AltstreetBet) October 31, 2021
The technicals look fairly optimistic even as chances of a big break right away appear too far-fetched. The low trading volume may pose a threat to the upcoming uptrend. The Awesome Oscillator [AO] showed signs of mild bullish momentum. The MACD continued to align the bulls. The daily Relative Strength Index [RSI] too held its fort above the 50-median line as buyers continued to dominate the market.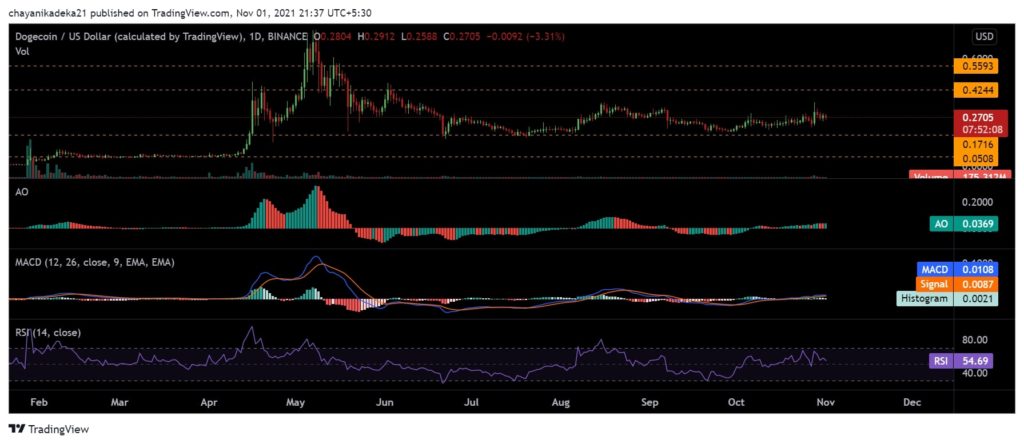 In a nutshell, it is highly unlikely that DOGE will undergo a spike in the near term. Instead, the meme-coin may oscillate within the confines of $0.33-$0.199 levels before seeing a major breakout. Nevertheless, a boom is in the offing, but investors will have to wait. 
Who let the dogs out?
As the market recuperated, several meme-coins sprung up in action. Even though they were created without any intrinsic value, these tokens have managed to fetch tremendous gains. At the end of the day, SHIB, FLOKI, and others are still joke coins. Their growth was mostly spurred by the investors who wanted to 'Get Rich Quick.'
It isn't surprising the dog-themed coins' pop-culturally driven narrative had to do with the ongoing hype. With FOMO setting in, many market participants, who were previously skeptics, quickly joined in to make a few quick bucks [a lot more than bucks].