Solana [SOL] has smashed all its previous records to hit a new ATH of $64 after a stunning rally of 39.34% over the past 24-hours. SOL has been one of the best-performing assets as the market saw renewed bullish momentum which catapulted the asset to the 11th position by market cap.
SOL is the native token of the Solana which is an open-source project carrying out a new, high-performance, permissionless blockchain and is maintained by the Geneva-based Solana Foundation. Due to the increased traction, the asset has managed to rake in higher returns to its investors.
Over the past couple of months, Solana has witnessed outrageously fast-growing ecosystems, communities, as well as a team of strong developers. Apart from Ethereum, this PoS-based network, Solana has emerged as one of the leading layer one solution.
Let's look at how SOL's technicals look
Solana [SOL] Daily Price Chart:

Following the rise, the daily moving average slid below the Solana price candles. Fortunately, SOL happens to be a few top crypto-asset that dodged a potential death cross even after subsequent price slumps since mid-May crash. As a matter of fact, the 50 DMA [Pink] curved upward after weeks of declining gauge with the 200 DMA [Yellow]. The upward-sloping 50 DMA appeared to be now challenging the 100 DMA [Blue] for a bullish crossover that is likely to take place in the near future.
If it does transpire, it could extend further gains as there is no upside resistance in the chart. The spike in volatility after the recent price action is yet another positive factor. Additionally, the sizeable increase in volume can also catalyze the rally.
Bullish Amplification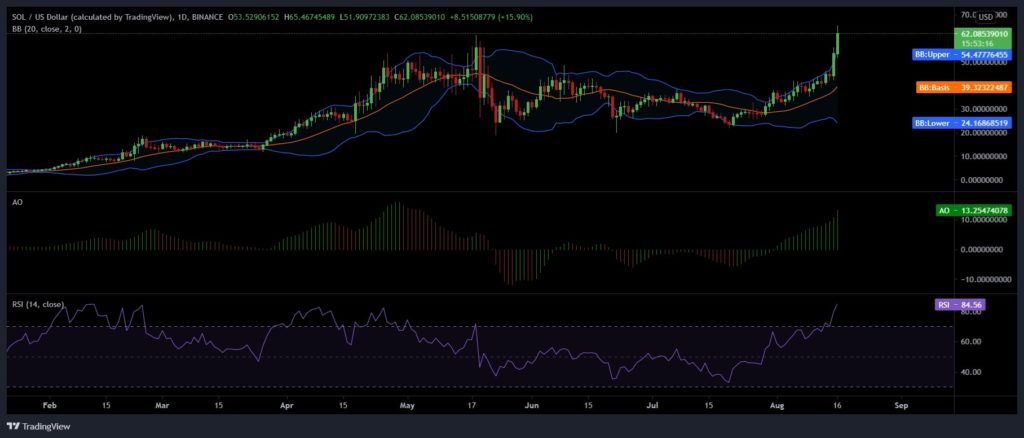 The high volatility in the diverging Bollinger Bands [BB] could favour the bulls. Besides, the rapidly surging green bars of Awesome Oscillator [AO] depicts a phase of strong bullish momentum engulfing the market conditions. The Relative Strength Index [RSI] has also risen to the extreme overbought region demonstrating a sentiment of intense buying pressure in the SOL market.
All the above indicators point towards a bullish phase for the coin as the wider crypto market rallied above $2.05 trillion.
Thriving network
In addition to setting a new ATH, the Solana public chain also went on to set a new high in terms of its lock-up volume which surged to a massive $1.85 billion. Moreover, the network's total transaction volume jumped to 24.1 billion transactions, however, many of these may be fake transactions, many speculated.
In the past 24 hours, Sol has risen by more than 26%, setting a new ATH. The Solana public chain has also set a new high with a lock-up volume of $1,854,341,405.74. Solana's total transaction volume reached 24.1 billion transactions, many of which may be fake transactions. pic.twitter.com/uiZNhkX7T6

— Wu Blockchain (@WuBlockchain) August 16, 2021