The DeFi Summer 2.0 has officially begun. And Fantom is one such platform that is currently riding high on the new wave of decentralized finance. The layer one smart contract platform saw a blistering start to September.
Its native FTM token was up by an astonishing 571% since trading near $0.154 in July to $0.965 on the 1st of September. Over the past week alone, FTM was up by 109%. Despite the stellar rise, the digital asset is no way near a saturation point. Here's why-
Fantom [FTM] Poised for a Golden Cross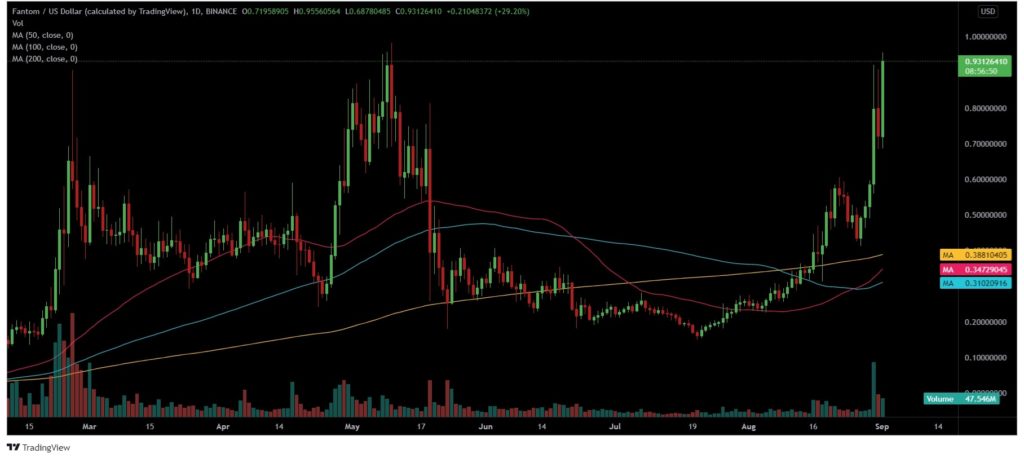 FTM's parabolic rise has been firmly supported by the volume. The daily moving averages also depicted an optimistic outlook as they hovered way below the FTM candlesticks. After undergoing a bullish crossover with the 100 DMA [Blue], the upsloping 50 DMA [Pink] appears to be poised for a golden cross with the 200 DMA [Yellow].
A hiccup?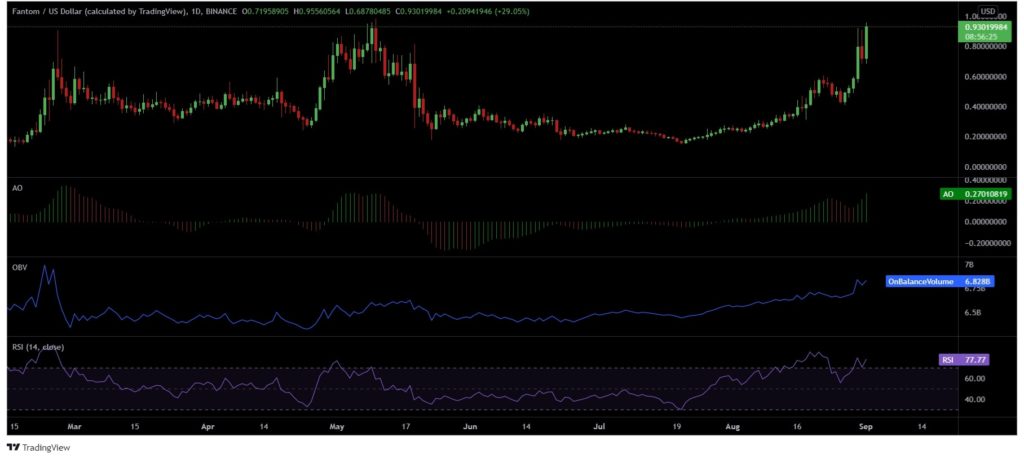 FTM's first leg up in the month of August witnessed a profit-taking phase which resulted in a brief sell-off. The red bars of the Awesome Oscillator [AO] during that time evidences the same, but the subsequent longer green closing bars depicted the bullish momentum in the coin market. In the rising On Balance Volume [OBV] us yet another positive signal. However, the Relative Strength Index [RSI] forming bearish divergence threatened the bullish narrative at play.
If the sellers attempt to pull the price down, FTM's demand zone within the range of $0.72-$0.6 could be tested. Since the overall market appears to be fairly bullish, the digital asset may avoid a damaging turn from this level and bounce back up.
Behind-the-scenes: What makes Fantom so different?
Since the August rally of Bitcoin and other top altcoins, the investors have not focussed on DeFi prices that were consolidating before posting gains. The developers across different projects have been able to focus on several crucial protocol upgrades in the past month. As a result, DeFi-related tokens have been gradually gaining traction and wait for a breakout in September.
While several projects such as Avalanche and Celo has also noted tremendous price action, many experts note that Fantom is inherently unique. At least with respect to the incentive programs that catalyzed their rallies.
#Fantom key stats:

🔴Purpose: incentivize building on Fantom
🏦Allocation: 370M $FTM tokens.
🥧% of total supply: 11%
💸Dollar value of incentive: $370mhttps://t.co/F89fLOimJS
3/18

— kydo🫡 (reposting vitalik arc) (@0xkydo) August 31, 2021
Unlike Avalanche and Celo, Fantom is allocating a bigger percentage, 370 million FTM to be precise, which is roughly $320 million to its incentive program that is designed to attract new protocols and liquidity to its ecosystem. This was enough to spur massive transaction figures on Fantom's EVM chain which tripled soon after the announcement. Popular developer, Andre Cronje also noted,
https://twitter.com/AndreCronjeTech/status/1432175285839990787