Owing to the renewed bullish trend, Grayscale Bitcoin Trust has amassed approximately 1.5 times the total Bitcoin mined by the miners in the BTC network in the first month of the year.
The world's leading asset manager's stats regarding Bitcoin shared by Coin98 Analytics. The data also revealed that 28,943 BTC were mined in the month of Jan whereas, Grayscale raked in 41,430 Bitcoins for the same period of time.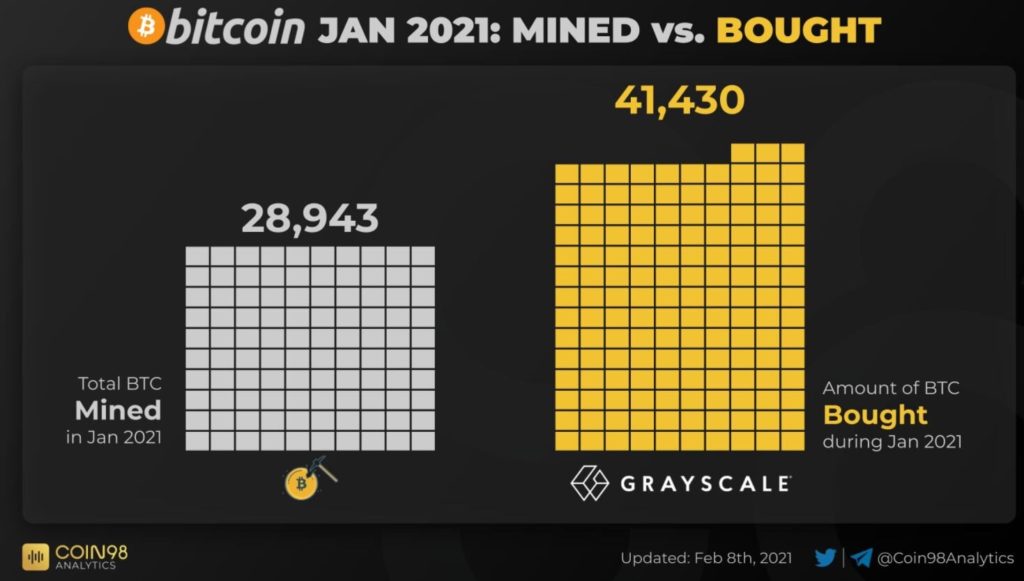 Grayscale Bitcoin Holdings Surges To $25.31 billion
The numbers can be further confirmed by another platform, Bybt's data on the biggest crypto hedge fund, Grayscale which revealed that nearly 41.4k BTC were bought in the month of Jan. Furthermore, over the last 30 days, the platform purchased nearly 42,356 BTC out of which 665 BTC were a hoarded in the last seven days alone.
With this, Grayscale now has a total holding of $25.31 billion in Bitcoin, a figure that has been growing nearly 10% per month. Moreover, the asset manager now holds 3% of all Bitcoin circulating in the market.
Previously reports had emerged that the platform had added more than $40,000 Bitcoins to its holdings during the market downturn which triggered the cryptocurrency to drop close to $30k.
With respect to the second-largest cryptocurrency, Grayscale had also purchased 100,771 ETH in the last 30-days. Notably, a major chunk of 104,990 ETH was bought in the past week itself when the underlying cryptocurrency, Ether broke its previous highs to establish a fresh one just below $1,800. With this, total holdings for ETH also surged to 3.04 million as of 8th Feb.
AUM Clocks Over $30 Billion in Feb: Institutions Are Here
The latest development comes days after Grayscale Investments surpassed the milestone of $30 billion in net crypto assets under management [AUM] for the first-time ever.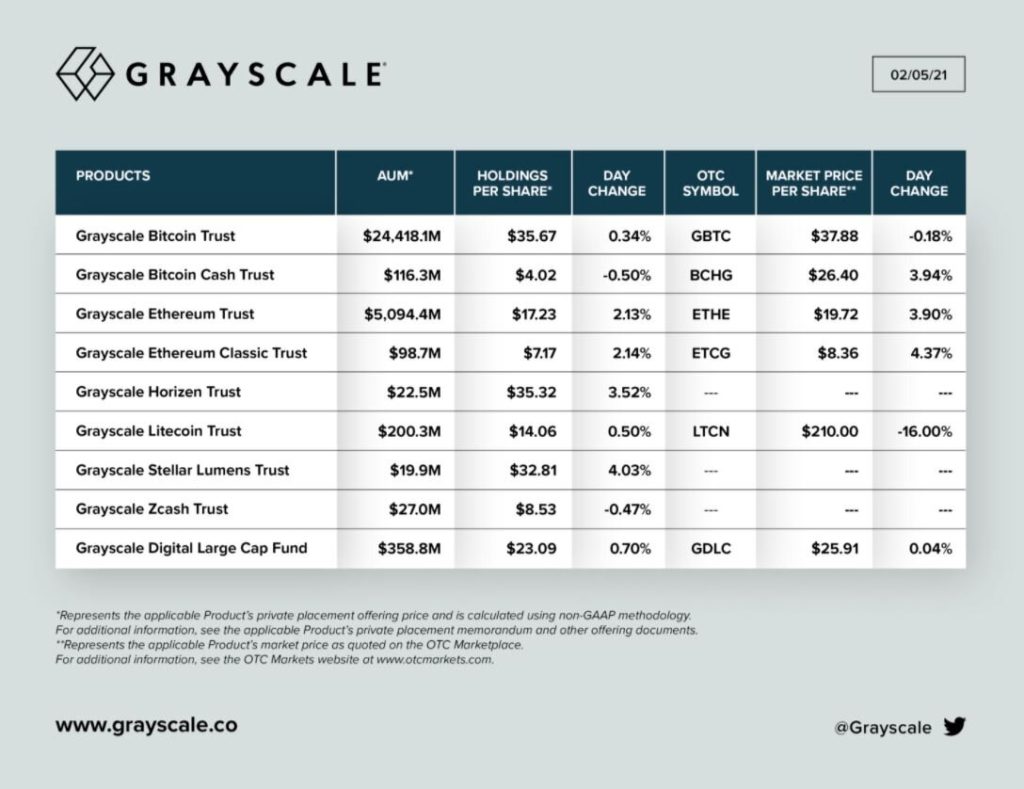 The reason for the tremendous growth at such a rapid pace can be attributed to the institutional investors, particularly hedge funds driven by uncertain global economic conditions. This market trend has paved the way for the net total crypto assets under management to climb all the way to $30.4 billion.
CEO Michael Sonnenshein had recently stated,
"There's no longer professional risk of investing in the digital currency asset class — there's probably more career risk in not paying attention to it."
Undoubtedly, the Grayscale Bitcoin Trust [GBTC] and the Grayscale Ethereum [ETHE] continued to be the two biggest products contributing over 95% of the company's total crypto holdings which have continued to attract fresh institutional money.
Besides, GBTC now has more than $24 billion in AUM, while Ethereum trust is trailing in the second spot with over $5 billion in AUM.
---
If you found this article interesting, here you can find more Bitcoin news