Grayscale's Bitcoin Trust has become an immensely popular publicly traded way for market participants to get exposure to Bitcoin. However, in the recent development, Grayscale Bitcoin [GBTC] Trust shares were now trading a lot cheaper than the crypto-asset it represented.
According to the latest data compiled by the analytic platform, YCharts, the current premium of the product was found to be at minus 11.59%, meaning: Grayscale Bitcoin Trust shares were currently trading at their highest-ever discount level.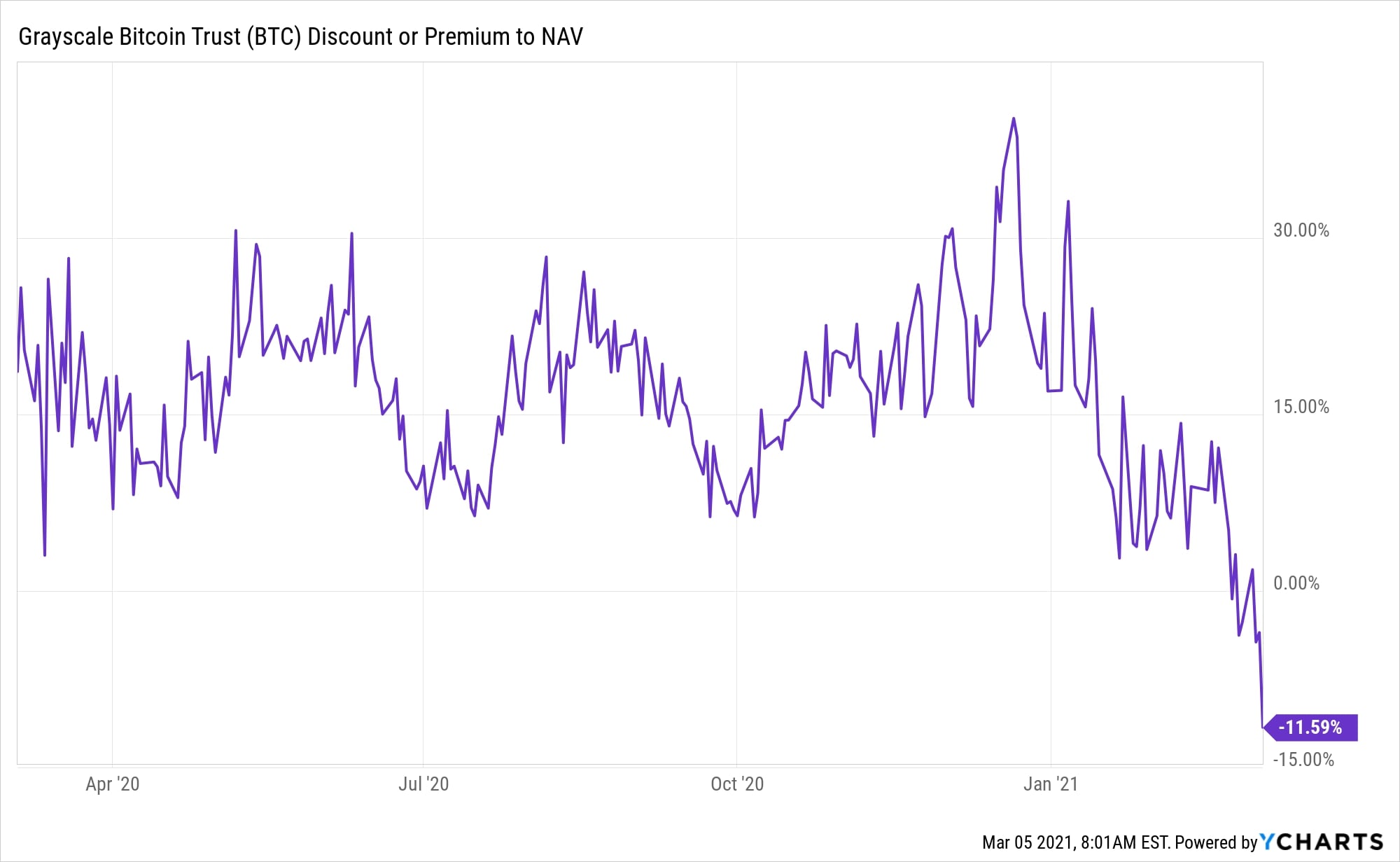 Grayscale's official website revealed that each GBTC share amounts to 0.00094685 Bitcoin, at the time of writing. This indicated that Bitcoin per share is valued at $44.5. However, that is not the case, GBTC is, in fact, trading at nearly $41.40.
Grayscale Bitcoin Trust Battles For Market Supremacy?
The US-based Grayscale Bitcoin Trust [GBTC] is the world's largest bitcoin fund and the first investment vehicle to have garnered a huge clientele. If the latest stats are to be believed, GBTC currently holds over 649,130 BTC that means more than 3% of Bitcoin's total supply.
Historically, there has been enough demand from institutions for trust shares like GBTC, especially since mid-2020 up until now which has managed to generate substantial wealth. But there has been a change in this trend lately.
It was not until the 22nd of February when the figures saw the biggest ever dip. This was when the premium dropped from 12.7% to 5.19%. The numbers have, since then, entered the negative zone and have continued to position there, subsequently hitting a massive low on the 5th of March.
The negative premium of approximately -12% essentially signaled that some crucial big pocket investors could potentially be cashing out their profits. Another possibility was that these large token holders were merely arbitraging premiums away.
In either case, the latest plunge suggested there is a significant decline in terms of demand for Grayscale's one of the most crucial products.
Interestingly, this dip comes at a time when Bitcoin exchange-traded funds [ETFs] have made their way to the Toronto Stock Exchange. Crypto Economy had previously reported about Evolve Funds Group Inc and Purpose Investment's Bitcoin exchange-traded fund became the first of its kind to debut in North America as demand for the crypto-asset soared to a level never seen before.
Shortly after this stint, both the ETFs saw massive traction as investors hopped in to reap profits.
Expert Comment
Mike McGlone, who happens to be a senior commodity strategist believes that the Grayscale's figures could signal that the underlying crypto-asset is primed for more gains. His tweet read,
"Grayscale Bitcoin Trust Discount May Signal March to $100,000 – Bitcoin's end of February price disparities on U.S. regulated exchanges portend a firming price foundation, if history is a guide, and are evidence of just how nascent the crypto is."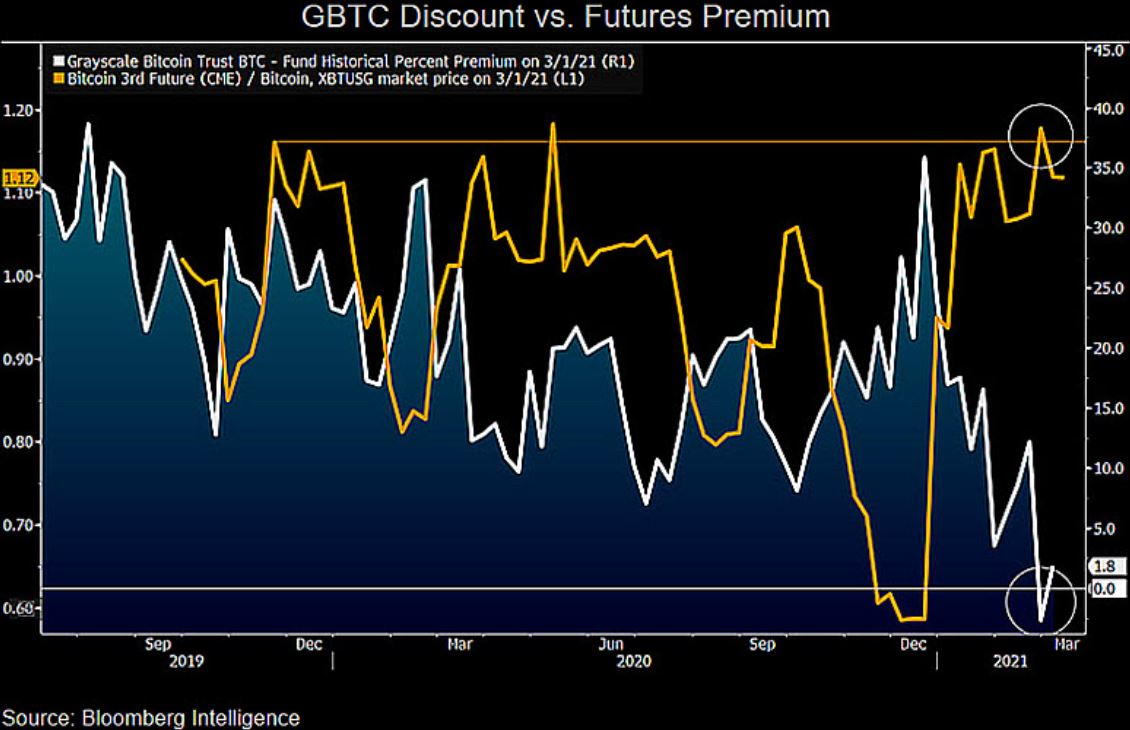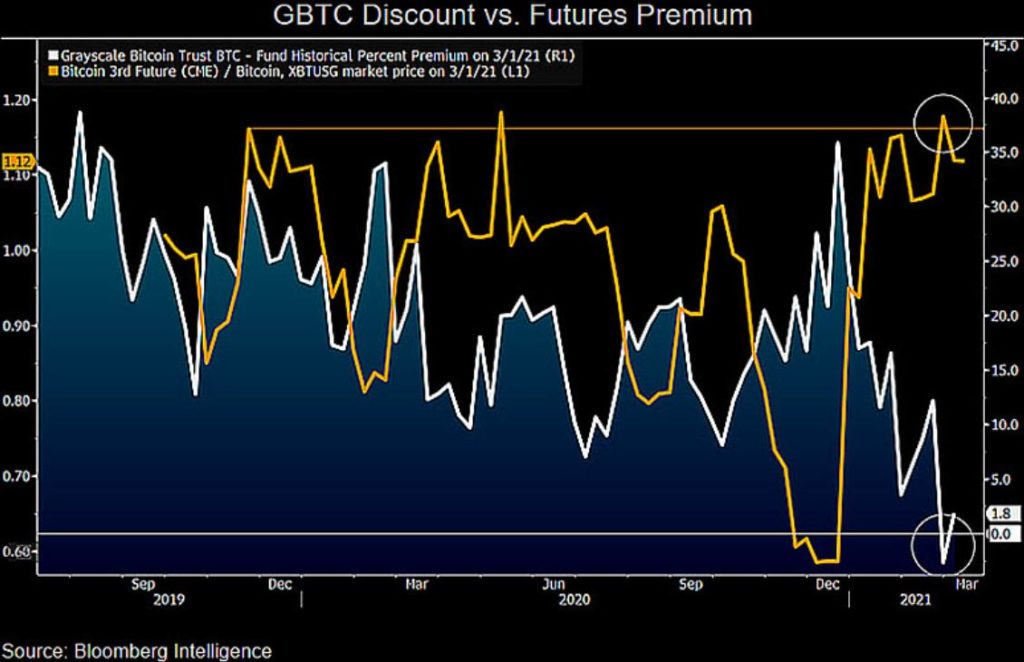 ---
If you found this article interesting, here you can find more Bitcoin news