To further focus on decentralization, GMX, a decentralized spot, and perpetual exchange, has proposed to make Chainlink the oracle partner of GMX V2 and GMX the exclusive launch partner of their new low-latency oracles. Following the move, GMX token prices have surged both on the daily and weekly charts.
According to the official blog post, Chainlink's new low-latency oracles will provide more accurate real-time market data to better enable crypto markets on GMX V2 as compared to existing Chainlink reference feeds and other industry oracles. The move aims to boost GMX's efforts to decentralize and create greater resilience through modular maintenance and the development of crucial portions of the protocol.
GMX Focuses More on Decentralization
Over the recent few months, GMX has gained exponential traction after the spectacular collapse of Sam Bankman Fried's FTX Empire. In February, the platform outperformed rival exchange dYdX in terms of total value locked (TVL), despite low trading volume compared to the latter.
GMX explained the primary economic parameter for this proposal is an allocation of 1.2% of protocol fees generated by the GMX Protocol towards the services of Chainlink and the Chainlink Network for providing their low-latency oracle solution future development and technical support utilized by GMX.
The new proposal will bring in a key infrastructure solution and development partner to help GMX with its critical oracle-related needs, directly aligning Chainlink to GMXs continued growth as a leading decentralized perpetual exchange.
Important Step in Adoption of DeFi
Johann Eid, VP of Go-To-Market at Chainlink Labs, said this integration will enhance the protocol's performance, and data security, help to mitigate front-running risks and provide long-term sustainable access to essential Web3 infrastructure. He emphasized the move as an important step in accelerating decentralized finance (DeFi) as the much-needed alternative to the status quo of the existing financial system. Eid added,
"All of us at Chainlink Labs are excited to expand the collaboration between our two ecosystems and accelerate the adoption of the DeFi economy as a whole. We believe that GMX is in a strong position as a leading decentralized perpetual exchange and that this integration will further strengthen GMX by providing secure access to ultra low-latency financial market data."
Following the news, the GMX token witnessed an uptick in tandem with the broader crypto market. According to CoinMarketCap, GMX is up 0.36% in the last 24 hours to trade at $77.57. Meanwhile, over the past seven days, the token jumped more than 7%.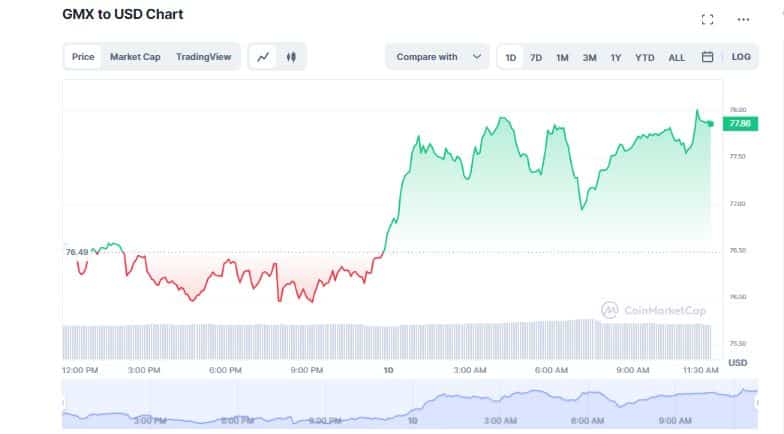 In February, the perpetual exchange generated fees of almost a whopping $5 million in just over 24 hours, temporarily making it the largest revenue generator in DeFi. It also managed to push GMX even ahead of the Ethereum (ETH) blockchain in daily fees.