Charity platforms also have a place in the development of viable tokenized alternatives. This is the case of Giftcoin, about which we will talk here.
The Giftcoin team's vision is to create a world where every time a donor hands over money to charities and good causes, he can fully trust that his funds go exactly where he wants. By giving absolute confidence, in Giftcoin team believes that donors will choose to give more money to the causes that matter to them. And this possibility is quite feasible in practice.
As a platform, each time you as a user make a purchase, the service rounds the payment and converts the extra into Giftcoin. As Giftcoin accumulates, you choose who to donate and support on the Giftcoin platform. Once you have chosen your causes, Giftcoin shows you exactly when and where your donation money is placed.
The Giftcoin application will allow users to accumulate Giftcoin by rounding their daily expenses to the nearest dollar and turning the difference into Giftcoin. By accumulating small amounts as part of daily life, donation becomes an automated process. This allows you to automatically back up the causes that interest you. Micropayments that occur in the background and that do not require user input, allow you to accumulate more Giftcoin.
Giftcoin's long-term vision is to be an active end-to-end donation platform. This means that by using a distributed ledger and blockchain, you can trace the route of the funds you donate to a charity or a good cause until such time as the resources reach their destination.
For donors, Giftcoin gives them absolute confidence that their funds are used for the purpose they donated. For good causes, Giftcoin offers the opportunity to generate trust through greater transparency, which allows them to obtain more money to increase their impact and, therefore, achieve their objectives. Giftcoin is more than just another alternative cryptocurrency. Giftcoin has the potential to radically transform the attitude of the general public not only in the process of giving, but also in the value of cryptocurrencies as a whole.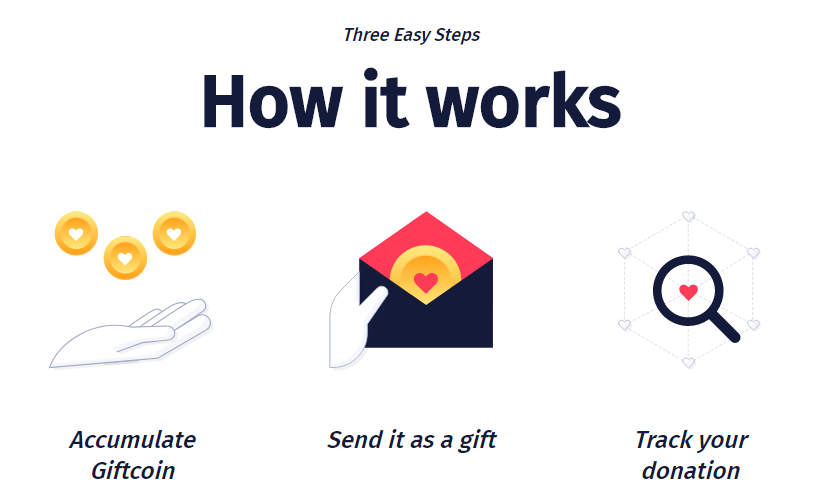 Giftcoin will be used initially to provide transparency to donors and to provide an accounting book that banks and other officials can not manipulate.
End-to-end donations are a revolution in the process of charitable giving, which means you can follow the path of your donation until the time you spend it. Giftcoin's ledger will be publicly readable to foster transparency and provide a valuable resource for researchers, foundations, NGOs, governments and individuals to see exactly how money is used.
Giftocin has planned two stages of crowfunding. A first step of selling Giftcoin tokens will begin on March 20, 2018. This sale will only be available to sophisticated and high-net worth investors.
To participate in the Token Offering 1 you need to self-certify as a sophisticated investor and pass the KYC (Know Your Customer) and Anti Money Laundering (AML) checks. If you do not meet these criteria, you will not be able to participate at this time. For investments over $ 10k, additional verifications can be carried out.
The minimum purchase will be 0.25 ETH, and the reference value is 1 ETH = 10000 GIFT
A second token offering will be offered in October 2018 to support a global Giftcoin function and will be open to the general public.
To learn more about this platform and participate in its ICO, we suggest following them on your Telegram channel, as well as on Twitter.