The official mining for TRON Network's new project $SUN will start from September 16. Genesis mining is going which will end on September 16.
TRON Foundation announced the news in a blog post published on Sunday, September 13. Justin Sun, the founder of TRON, also explained the process in his Twitter thread. According to the announcement, SUN Genesis mining is officially drawing to an end at 21:00, September 16, 2020 (HKT). Following the genesis mining, SUN token official mining will kick off at 23:00, September 16, 2020 (HKT).
Genesis Mining for SUN token commenced on September 2nd. During the genesis phase, TRX holder can lock up TRX to participate in Genesis Mining. At the end of genesis mining, all the funds will be returned through smart contracts with zero extra charge.
During genesis mining, users can only stake TRX to mine $SUN. After the start of official mining, TRON will team up with Justswap to set up some liquidity mining pools that include SUN/TRX LP, JST/TRX LP, and USDT/TRX LP. These pools will run for 14 days and the output of the SUN token is given as follows.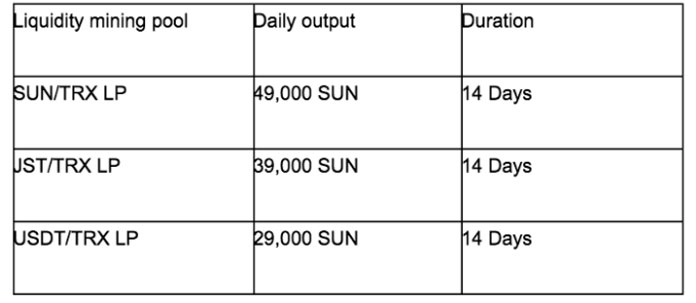 Figure 1. Image by Tron Foundation
TRON Foundation will further announce new mining pools and schedules for mining.
As the official mining starts, daily SUN output across mining pools will drop by 10% from Genesis mining, down from 132000 to 117000 per day.
According to TRON Foundation, the launch of SUN/TRX, JST/TRX, and USDT/TRX LP mining will result in result in higher demand for SUN, TRX, and JST which will help boost the three markets. SUN token will benefit the most because of its currently small circulation.
The foundation further said:
"As SUN currently trades at $20 with a 100% APR, LP mining pools are expected to lock up over $864 million, 3.6 times higher than the total amount of TRX staked so far during Genesis mining (8,711,688,582.305 TRX). This indicates a bullish TRX market after Genesis mining ends on September 16, as instead of a big sell-off, more lock-up funds are expected to come."
What is SUN Token?
According to whitepaper, SUN is TRC20 token that, together with the other developed DeFi projects, enriches the whole TRON ecosystem. SUN is completely driven and developed by the SUN community.
"SUN will be deployed to the TRON Virtual Machine, becoming a nexus closely correlated with other existing DeFi projects," says whitepaper.
---
If you found this article interesting, here you can find more Tron TRX news