Founded in 2014 by Winklevoss twins, Cameron and Tyler, Gemini is a cryptocurrency exchange and custodian based in New York City and regulated by the New York State Department of Financial Services (NYSDFS).
Like the rest of exchanges, Gemini allows to exchange, sell, buy and store cryptocurrencies. Something that differentiates this exchange from others are its creators, the Winklevoss bet on bitcoin since they learned of its existence.
Seeing the difficulties they encountered in making their first investments in bitcoin in the United States, they thought that creating Gemini would be a way to help future investors.
How to create an account in the Gemini exchange?
To create an account in the exchange, you must follow the following steps:
1: Go to the exchange page and click on the [Register] button – Top right.


2: Choose if you want a personal account or if you belong to an institution (in this example we will create a personal account).
3: The exchange will request that you indicate your place of residence to verify if the creation of an account is available, it will also request the acceptance of a series of terms, such as the use of cookies, data processing, sending emails., etc.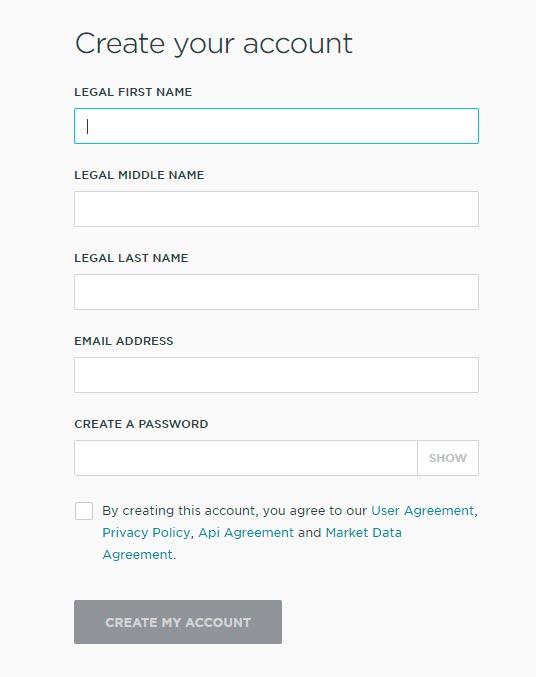 4: Once you have filled in the requested information, a verification email will be sent to verify the email account.

5: To increase account security and to configure the 2FA, Gemini asks you to enter a phone number.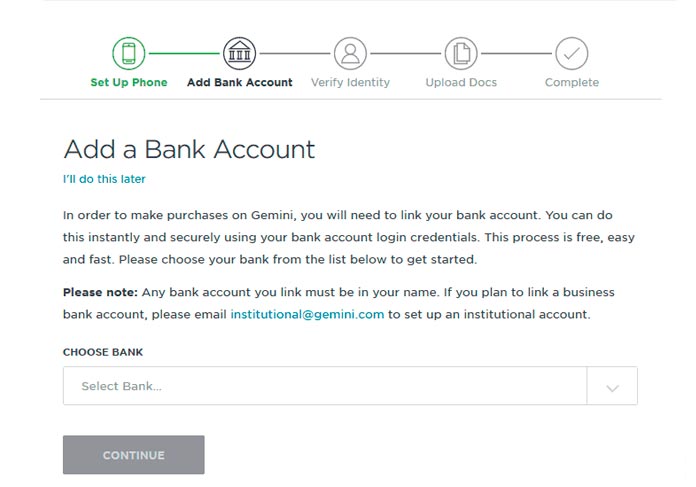 6: The last step to create the account is to link a bank account, verify ID and send identification documents.
Due to the regulations to which it is subjected and its interest in being a transparent exchange, the KYC to create an account in Gemini can be too intrusive, and many people may find in this a reason not to create an account in this exchange.
Once the registration process is completed, it will take between 1 and 3 days to verify the account.
Bank transfer limits (ACH) Only in the US
For individual account:
| | | |
| --- | --- | --- |
| Kind | Limit | Amount |
| Deposit | Daily | 500 USD |
| Deposit | Monthly | 15,000 USD |
| Withdrawal | Daily | 100,000 USD |
For institutional account:
| | | |
| --- | --- | --- |
| Kind | Limit | Amount |
| Deposit | Daily | 10,000 USD |
| Deposit | Monthly | 300,000 USD |
| Withdrawal | Daily | 100,000 USD |
Gemini Dollar [GUSD]
The stablecoin GUSD is an ERC20 token that was issued by Gemini Trust Company, LLC, a New York trust company. You can check the smart contract in this link.
The Gemini dollar has been the world's first regulated stablecoin. The USD that supports this stablecoin is in the State Street Bank and Trust Company, these dollars are reviewed monthly to verify its parity 1USD: 1GUSD.
GUSD is currently listed in more than 30 exchanges and is compatible with more than 20 wallets.
Gemini App


Gemini offers an App compatible with iOS and Android, which can be downloaded from the App Store and from Google Play, thanks to it users can carry out their transactions through their mobile phone without losing functionality or security.
In addition, this App allows you to configure alerts to let you know if a cryptocurrency reaches the price that is marked and thus not lose any trading opportunity.
Gemini Story
2014 – Gemini Foundation.
October 2015 – Launch of the exchange.
May 2016 – Announced the approval of Gemini as the first Ethereum exchange licensed in the United States.
December 2017 – CBOE uses Gemini to liquidate its Bitcoin futures contracts.
April 2018 – Gemini began offering "Block Trading" and begins using Nasdaq Smarts technology.
May 2018 – Gemini is the first licensed exchange in the world to offer Zcash commerce and custody services.
September 2018 – Gemini receives regulatory approval for the Gemini dollar (GUSD).
October 2018 – Gemini obtains digital asset insurance that covers tokens and coins held in its exchange.
February 2019 – Gemini is the first exchange of digital assets in the world to receive a Type 1 SOC2.
Is the Gemini exchange safe?

Gemini is the first exchange and cryptocurrency custodian in the world that has completed the SOC 2 Type 1 exam. The SOC 2 is a report that allows the auditor to issue an opinion on security, availability, integrity of processing and confidentiality.
Most of the cryptocurrencies that users send to Geminis, are stored in cold wallets, in 2018, the exchange announced that the digital assets of its users that are "online" were insured.
Gemini cold storage system
Hardware security modules (HSM with a FIPS 140-2 Level 3 or + rating).
Multiple signature digital signature scheme (multisig).
HSM distributed geographically in controlled facilities.
HSMs require the coordinated action of multiple employees to operate.
Gemini hot storage system
Hot Wallet is hosted on Amazon Web Services (AWS).
Administrative access requires multi-factor authentication.
All Hot Wallet private keys are managed in the AWS CloudHSM service with a FIPS 140-2 Level 2 rating.
Links of interest