Bakkt, the highly anticipated Bitcoin futures exchange platform backed by NYSE parent company Intercontinental Exchange (ICE) has fallen victim of impersonation. A new scam website registered under the domain name "bakktplatform.io" on January 31st, has been caught red-handed trying to extort funds from unsuspecting investors in what it claims to be the "second round of funding" following a highly successful (legitimate) first round of funding that saw the real Bakkt raise $182.5 Million in December 2018.
The fake website, which has since gone offline, was seeking an alleged %50 million for this round of funding.
In addition to announcing the funding Round, the website also revealed a roadmap that announces the launch of the Bakkt platform on March 12th this year. On this fictitious roadmap, yesterday February 7th, 2018 would have been the start date for the "second round of funding" which was scheduled to conclude on the 25th of this month followed by the launch of the platform shortly thereafter.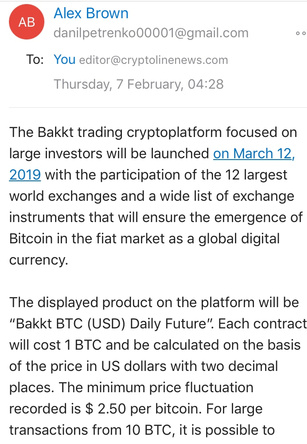 To get the word out to the public, the scammer(s) contacted crypto-focused news media with phishing emails providing a link to the scam website. On the website, the visitor was provided with a form to fill out their names and email addresses after which they are provided with a Bitcoin-only address to deposit their "investment."
In a poorly worded scam presentation, the scammer implores visitors to the website to invest in the platform if they "believe in the future of the cryptocurrency market."
Checking a block explorer for the provided address shows that the scammer has not received any Bitcoin from this rouse. Some giveaway facts that the website is a scam include the poorly worded web pages. Secondly, the emails sent to news media had a sent address from Gmail (a classic red flag). Finally, the website does not provide any proof of evidence on the legitimacy of its claims. Links are only provided to previous articles on the official Bakkt Medium blog.
It is worth noting that the Bakkt Bitcoin futures platform has not yet secured regulatory approval from the US Commodity Futures Trading Commission (CFTC) which has delayed its launch. Initially, the service had a launch date of December which was pushed to January 24th. This was also pushed indefinitely awaiting the CFTC decision and a date is yet to be announced. Furthermore, there is no funding round that has been announced by the platform.