The Exodus wallet is one of the most recently developed software programs gracing the cryptocurrency space with a promise of the practicality that most experts believe is essential for mainstream adoption of digital currencies.
This exodus wallet review will look at the key aspects of the wallet in terms of the features that set it apart and all the aspects related to practical use. Before we put the spotlight on the wallet, let us begin with a brief recap on what cryptocurrency wallets are all about.
Cryptocurrency wallets
A cryptocurrency wallet is basically defined as a software that enables you to manage, send or receive your digital currencies.
Technically, a wallet does not necessarily keep any tangible cryptocurrencies, but specific private keys to each digital currency in your possession. In this sense, sending a cryptocurrency through a wallet is essentially signing off ownership of the keys to another person thereby leading to a change of balance in the recipient's account.
In other words, wallets utilize keys to interact with blockchain platforms such as Ethereum and Bitcoin, in order to allow you to carry out various transactions. Like a physical wallet, the wallet is a tool that allows you to keep everything simple and organized.
There are different types of wallets, each with its characteristics along with a set of advantages and disadvantages.
Exodus Wallet has desktop and mobile versions, and is capable of directly interacting with trezor hardware wallets without the need for a third-party web interface.
What is the Exodus Wallet?
Exodus is a multi-cryptocurrency wallet that allows users to manage, secure and exchange a wide range of digital currencies on a highly intuitive user interface.
According to the company, the wallet was designed with the primary goal of providing a digital asset management solution that packs cutting edge software engineering in a user-friendly application that can be used by the average user with no prior experience with crypto exchanges.
The idea was coined by JP Richardson and Daniel Castagnoli in 2015 and went on to see its official launch the following year after extensive background developmental work.
JP Richardson is the company's current Chief Technical officer who provided most of the background code-work whereas Castagnoli is the Chief Creative Officer who provided a wealth of experience and expertise to the design experience of the wallet.
Prior to the duo's commitment to the Exodus wallet project, they have a lot to show when it comes to credibility as JP Richardson has been involved in most blockchain and cryptocurrency softwares on the internet while Castagnoli has been a key creative figure in renown companies such as Disney, Apple and BMW.
Apart from an easy to use interface and being an asset management system, the Exodus wallet provides an exchange service that works in sync with shapeshift, which is an absent combination in all cryptocurrency wallets.
Exodus Wallet Characteristics

Having considered what the wallet is all about, let's now have a look at the features that define the wallet in both design and functionality.
Security
When it comes to security, the wallet provides one layer of protection through a password that you create when following through the guided installation process.
Using a single user password has come under intense criticism from various enthusiasts as other desktop wallets tend to provide better security by incorporating measures such as multi-signature addresses and two-factor authentication.
The Exodus team continues to work to increase wallet security, one of its improvements has been to allow storage and management of cryptocurrencies through Trezor's hardware wallet.
Firstly, upon creating an account, you are given a pass-phrase that consists of twelve words. This should be kept securely as it provides a way of restoring your account in the case where the device you are using is damaged or stolen.
Secondly, your account can be restored through your email as you are provided with a backup link when you are initially creating you Exodus account. A click on your backup link leads you to a login-in page where you enter your password before accessing your account.
The Exodus wallet Interface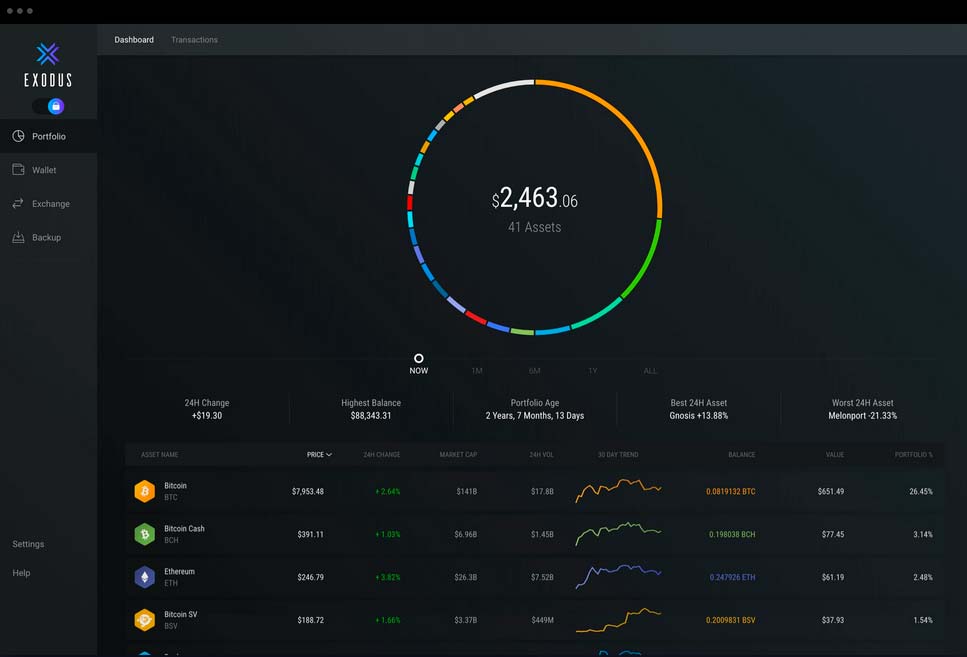 Exodus wallet provides one of the most user-friendly and professional-looking interfaces on the spectrum of crypto wallets.
The sleek design allows you to access your portfolio, manage your assets, conduct exchanges, review backup settings, review your general settings and contact support.
Three main functions can be accessed through four categories placed on the left side of the interface named portfolio, Wallet, exchange and backup.
The "portfolio" category allows you to view a summary of the digital assets you are holding. Key and unique to this category is the Visual compound pie chart. The chart provides a display of your assets in form of a circular figure that enables you to follow your overall assets value. Below the pie, there is a breakdown of percentages relating to all the digital assets in your possession.
The "wallet" category provides all the functions relating to transactions. This is where you can choose, send or receive the particular cryptocurrencies.
Additionally, you can navigate through past transactions by activating a number of filters that assist with organizing the transactions. The "exchange" category allows you to access the Shapeshift-powered exchange option where you can exchange different cryptocurrencies.
Like most shapeshift and other instant online exchanges like changelly, the interface for exchange features drop-down menus and fields where you enter the appropriate cryptocurrencies and amounts before proceeding with the exchange process.
In Backup we can create a copy of our wallet to be able to recover it.
Exodus fees
Though Exodus is considered an open source and free platform, there is a network fee charged per transaction. The fee is unfixed and it is displayed at the bottom right of the page which prompts you to enter the recipients address.
List of accepted cryptocurrencies
The Exodus wallet supports over 100 cryptocurrencies as outlined in both the wallet and the company's website https://www.exodus.io/.
These include leading cryptocurrencies such as Bitcoin(BTC), Litecoin(LTC), Ethereum(ETH), Vechain (VEN), Decred(DCR), Aragon(ANT), Binance coin(BNB), in addition to ERC20 tokens.
How it works?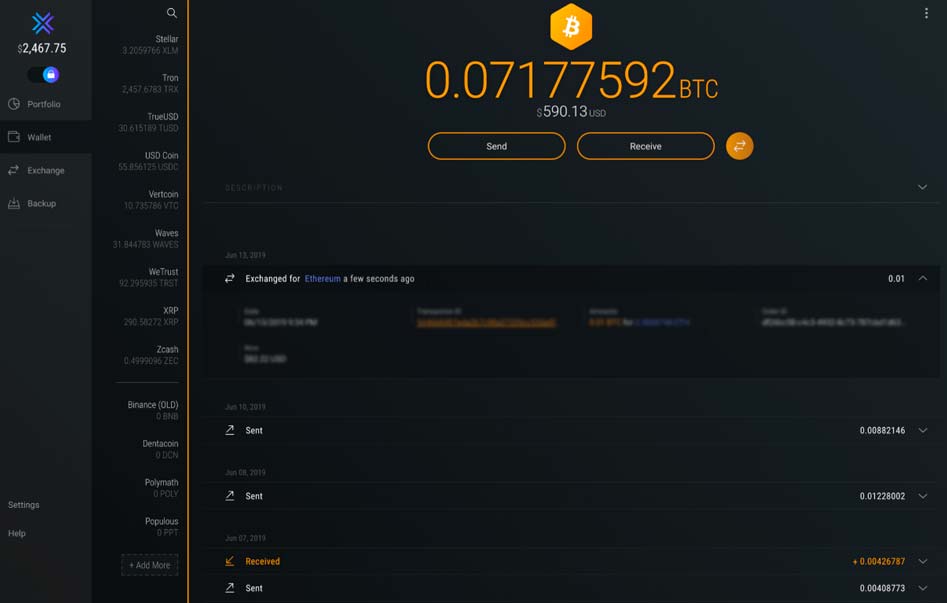 How to download exodus wallet
Downloading the wallet is a relatively straight-forward process. The wallet is accessible through the company's webpage https://www.exodus.io/ which features a conveniently placed "download" button close to the top right corner.
Upon downloading, you simply follow through the installation process prompts to get the wallet up and running.
Sending receiving payments
To add or receive cryptocurrency from another wallet, go through the following simple steps:
Enter the wallet category by clicking on "wallet".
Choose the digital currency you are expecting to add or receive from another wallet.
Click on "receive".
Upon clicking on receive, your address and QR code are displayed. This is the information you provide to your peers or add to another wallet when trying to send some crypto to the Exodus wallet.
Sending cryptocurrency
Enter the wallet section.
Choose the cryptocurrency you are expecting to send.
Click on the "send option".
Enter the recipient address or scan the QR code.
Specify the amount of crypto.
Hit the "send" button.
Exodus Wallet Conclusion
The Exodus wallet provides one of the most user-friendly options especially for those who are just starting out with digital assets.
Exodus has Native Segwit for BTC and offers its users DeFi products that include compound finance within the app, making it easy for people to lend and earn with their cryptocurrencies stored.
This wallet offers a simplistic design that packages all behind-the-scenes operations into simple commands makes all the key functions of a wallet executable with remarkable easiness.
All in all, the wallet remains a strong competitor due to its overall design and efficiency.