Ethereum (ETH) has breached $1,250 after trading sideways for nearly three weeks. On-chain analytics platform, Santiment suggested a recent rise in "Ethereum Whale" activity for the spike.
According to CoinMarketCap,  Ethereum (ETH) is up 0.19% in the last 24 hours to trade at $1,251. The second largest cryptocurrency has gained more than 4% over the past seven days with a market cap of $153 billion. Santiment claimed the recent price jump is due to a renewed Ethereum whale activity in the past 24 hours. As per the Santiment report, over 600 transactions worth more than $100K have taken place on the Ethereum blockchain. The on-chain analytics platform wrote,
"As altcoins have heated up, Ethereum quietly rebounded back above $1,260 for the 1st time in 3 weeks. Though not quite at the level of the big whale dip buys on December 16th, whales are showing increased interest again."
🐳 As #altcoins have heated up, #Ethereum quietly rebounded back above $1,260 for the 1st time in 3 weeks. Though not quite at the level of the big whale dip buys on December 16th ($ETH's local price bottom), whales are showing increased interest again. https://t.co/9ihbtrSBbF pic.twitter.com/xBtBJlpxgV

— Santiment (@santimentfeed) January 4, 2023
ETH Whale Activity Surges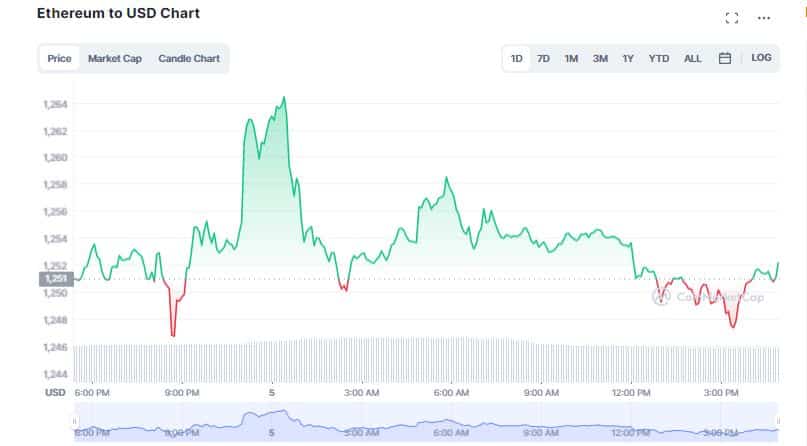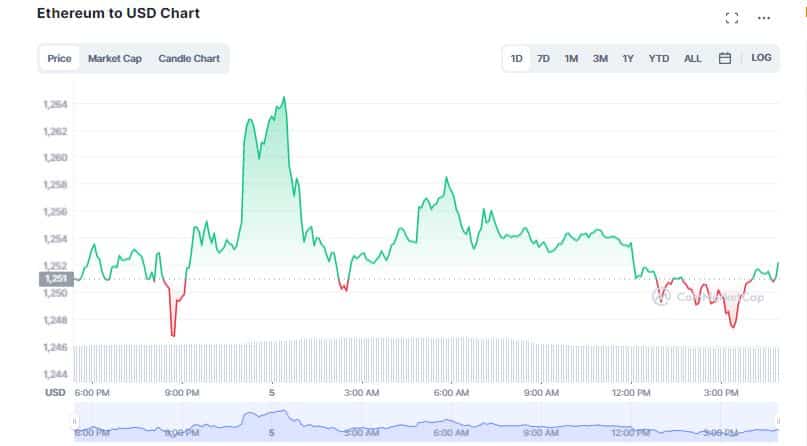 The report suggested that a total of 611 transactions took place in just over 4 hours before and during ETH's price movement. Furthermore, approximately $116 million worth of Ethereum (ETH) was moved between two anonymous cryptocurrency wallets in a single transaction. It was also reported that Genesis Dormant-labeled addresses transferred a whopping 64K ETH worth around $77.6 million to another wallet address. These activities have seemed to have propped Ethereum prices to cross the $1,250 mark. 
#PeckShieldAlert Genesis Dormant-labeled addresses transferred 64k $ETH (~$77.6M) to 0x3113…84b and deposited ~54.99k $WETH into MakerDAO, then borrowed ~25M $DAI from MakerDAO, then transferred 4M $DAI to Coinbase and 1M $DAI to Krakenhttps://t.co/G0vjG6ysl5 pic.twitter.com/cjEKUQJWX7

— PeckShieldAlert (@PeckShieldAlert) January 5, 2023
As per market experts, there is a strong possibility for Ether to re-test the $1,260 zone. However, a further increase is unlikely due to the fact that these funds were moved as opposed to purchased. On January 3, popular crypto analyst Michael van de Poppe expressed concern regarding ETH prices noting the coin needs to bounce, otherwise thing might get "painful".
#Ethereum needs to bounce from these regions otherwise things get painful. pic.twitter.com/Hm1mTM0xIv

— Michaël van de Poppe (@CryptoMichNL) January 3, 2023
In a statement, Edul Patel, CEO at Mudrex, said Ethereum along with the broader crypto ecosystem saw a surge following the release of data from the Institute for Supply Management (ISM), indicating a decrease in demand and reduced input for manufacturing. He highlighted the report gave a investors hope that the Federal Reserve may lower interest rates in the future.

Meanwhile, Sathvik Vishwanath, CEO and co-founder of Unocoin clarified that factors contributing to this ETH rally include the upcoming Shanghai upgrade for the Ethereum network and the expected reductions in rollup fees.
A Choppy Ride
Ethereum witnessed a tumultuous 2022 despite the monumental overhaul known as the "Merge", shifting the blockchain network consensus from Proof-of-Work (PoW) to Proof-of-Stake (PoS). Since the beginning of 2022, Ethereum (ETH) price has tanked almost 60%, shedding nearly $400 billion of market capitalisation.
The slump was mirrored across the digital assets sector due to several macroeconomic factors such as crippling inflation, rising Fed interest rates and geo-political tensions. It was further fuelled by catastrophic events like the collapse of the Terra ecosystem and Sam Bankman-Fried's FTX Empire.