Ethereum prices may be firmer, trending higher than a few weeks ago.
Technically, ETH bulls stand a chance, reading from the performance in the daily chart. However, the uptrend is not stronger as expected, with signs of weakness even amid the general confidence from traders. For prices to truly bloom, there must be a sharp close above last week's highs. Ideally, this up-thrust must be with rising trading volumes.
To mark the presence of buyers, there must be wide-ranging green bars indicating strong upside momentum. If not, this pace of gains might fizzle out, questioning whether the ETH bottoms are truly in from a top-down perspective.
Keeping Track of Gas Fees
Ethereum as a network remains one of the go-to platforms for DeFi or NFTs. If anything, even after weeks and months of steady lower lows wiping billions of dollars from the market, Ethereum's ecosystem remains the most valuable, with protocols managing billions at a go. For example, at the depth of the recent bear DeFi market, MakerDAO autonomously controls billions of user funds. At the same time, Ethereum NFTs are valued higher than those in Binance Smart Chain (BSC) or Tezos.
As traders expect the markets to shake off bears, capital will likely flow back to these protocols, reigniting demand. The first signal indicating the presence of buyers will be network Gas fees. Presently, they are low highlighting how depressed the markets have been. Once Gas rises, ETH could follow suit, springing higher toward $2k.
Ethereum Price Analysis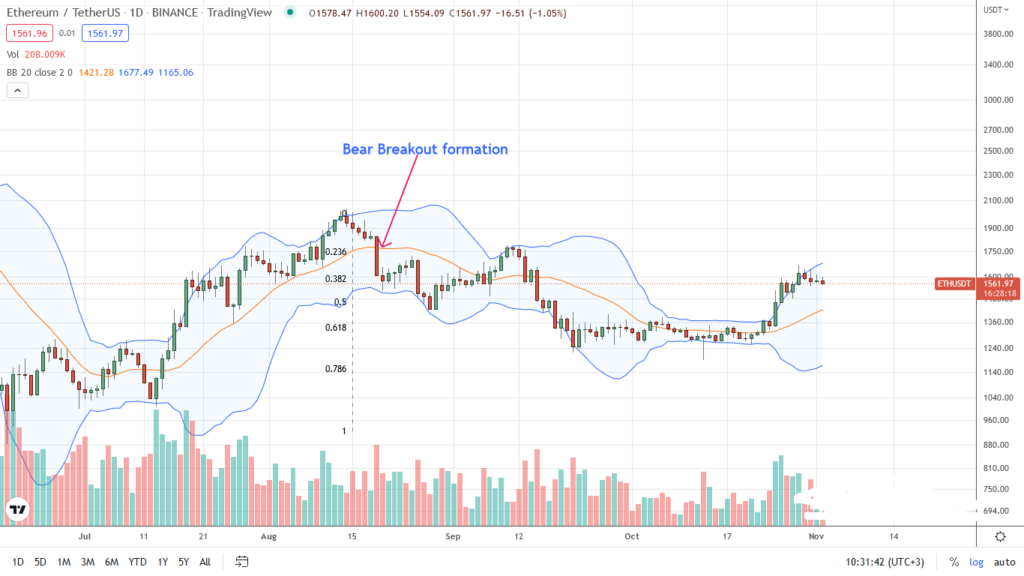 Ethereum remains within a bullish arrangement, per the formation in the daily chart. The immediate primary support is $1.4k, marking the resistance of last month's BB Squeeze. Despite the slowdown and ETH prices cooling off from last week's peaks, buyers have the upper hand.
In the immediate term, resistance is at last week's highs at around $1.66k. Presently, there are lower lows versus the upper BB, pointing to a reduction in the upside momentum. Since ETH prices are within the bull bars of October 25 to 29, buyers have the upper hand from an effort versus results perspective.
The short-term support is at $1.5k. Every low above this line presents an opportunity for aggressive bulls to buy the dips, targeting $1.66k and later $1.8k in a buy-trend continuation formation. Deep losses below $1.5k may slow the ETH rally, possibly forcing prices back to previous resistance at $1.4k in a retest.
Technical charts courtesy of 
Trading View
Disclaimer: 
Opinions expressed are not investment advice. Do your research
.
---
If you found this article interesting, here you can find more Ethereum News.