Ethereum has increased in value at the time of writing this article, bouncing as the crypto market finds reprieve after discouraging losses in the second week of the month.
The coin is up 6% versus the USDT in the last 24 hours but still down 7% in the past trading week.
Although there could be higher attempts, ETH performance would be determined mainly through fundamental factors. So far, the contraction to around the $1.1k level is positive because sellers, despite being in charge, failed to press lower, confirming losses of November 8 and 9.
Going forward, ETH bulls must clear November 9 highs at around $1.35k for trend continuation. This formation would also be favorable for buyers as ETH prints the first signs of recovery, which may anchor the next leg to $2k.
FTX, Hacker Shuffling ETH, and Genesis Scare
The crypto market remains jittery because of events around FTX and now Genesis. FTX was one of the largest crypto exchanges, helping move billions of dollars daily.
However, following its implosion and revelation of misuse of user funds, there were mass withdrawals, negatively impacting crypto and ETH liquidity and inevitably pushing prices lower.
The situation, especially for ETH, has been made worse by a multi-million-dollar hack. The account behind the $447 million hack controlling over $200 million of ETH has been shuffling coins and but yet to liquidate.
On November 22, the marked hacker account moved 180k ETH, splitting them between 12 accounts.
Ethereum Price Analysis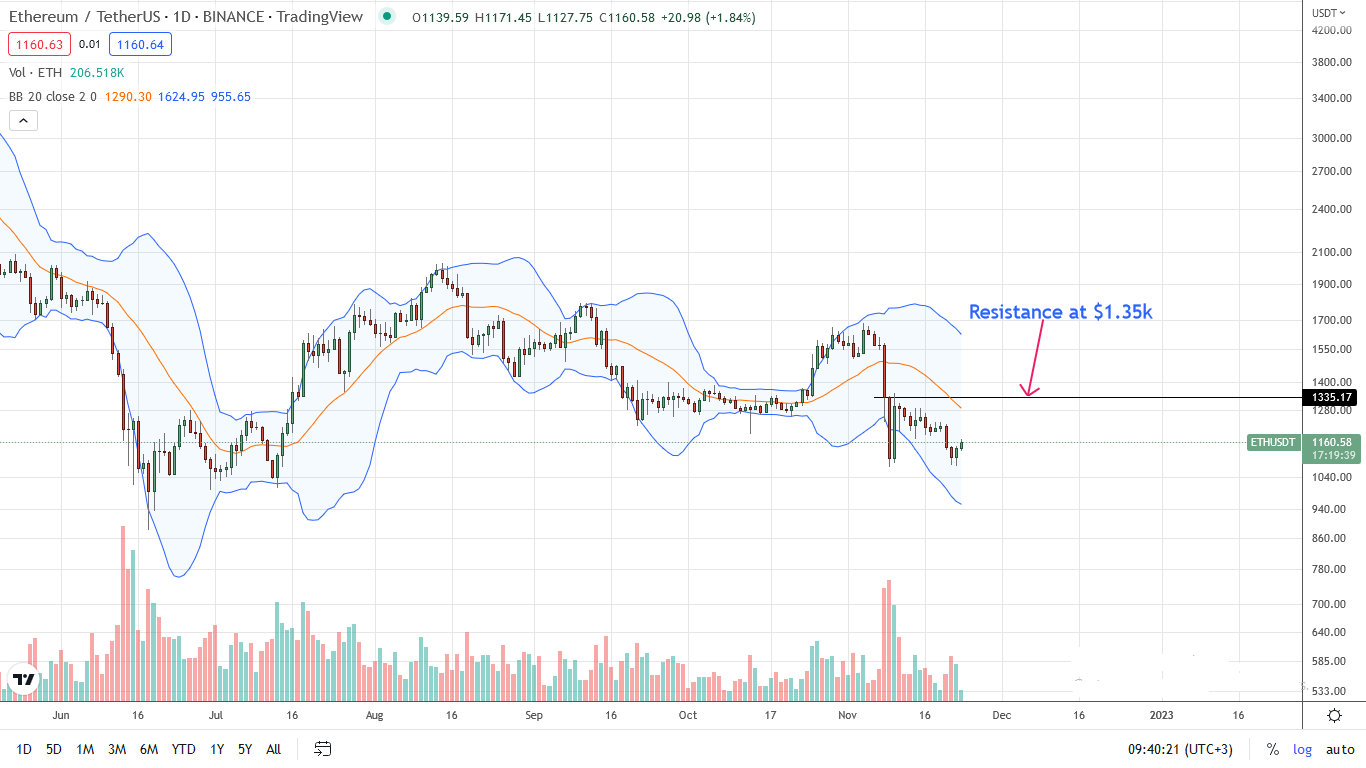 ETH is in a downtrend although it is stabilizing, per the formation in the daily chart. A clear formation is that the coin is down 30 percent from November 2022 highs.
Although there are higher highs relative to the lower BB, prices are inside the bear-engulfing bar of November 9. Besides, trading volumes are relatively low, meaning the upside pressure behind the recent leg-up is lower.
At spot rates, aggressive traders can unload on dips, targeting $1.1k in the short-term marking last week's lows and later $900. This preview is valid, especially if bulls fail to peel back losses of November 9, preferably at the back of high trading volumes.
Any surge above $1.35k will invalidate the current bear preview, allowing bulls to vent out, expanding back to $1.5k and later $2k.
Technical charts courtesy of Trading View
Disclaimer: Opinions expressed are not investment advice. Do your research.
---
If you found this article interesting, here you can find more Ethereum News.