Ethereum prices are firm at press time, looking at the performance in the daily chart.
Even though sellers are in control from a top-down preview, the rejection of lower prices is significant for buyers.
As it is, traders may search for entries to accumulate the coin for several reasons. ETH prices are within a rising wedge with a clearly defined resistance level at $1.35k on the upper end.
Although the trend is bearish, the breakout above December 20 high, as evident in the daily chart, points to strength.
Still, the November 9 and December 16 bearish engulfing bars still shape the current formation, a net negative for optimistic buyers expecting gains in the short term.
First-Mover Advantages
Fundamentals point to strength in the medium to long term. Even though prices have been tracking higher, sellers are in control, per the formation in the daily chart. Over the past few months, on-chain activity has been lower.
However, while DeFi's TVL is lower in USD terms, the number of ETH locked in various protocols rose to over 4 million, according to trackers. Ethereum's first-mover advantage also gives it a lead over competing platforms.
The spectacular collapse of Solana and the deep decline in activity in other "modern" blockchains proved to be enough reasons for developers to settle in Ethereum.
In the past year, top-draw firms, including the social media platform, Reddit, opted for Ethereum to launch their community points, a huge endorsement.
Ethereum Price Analysis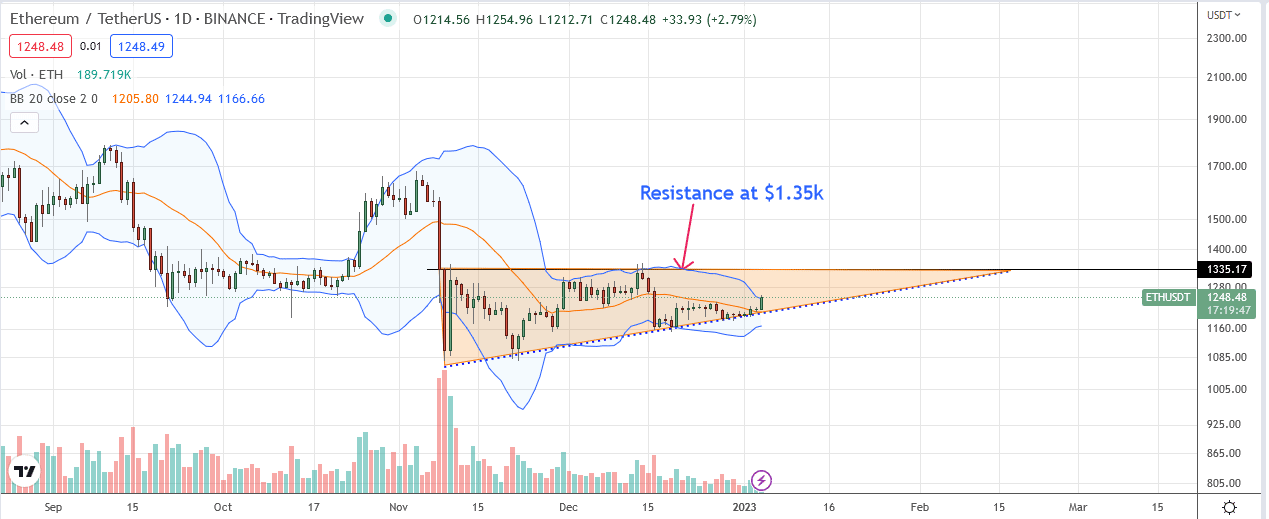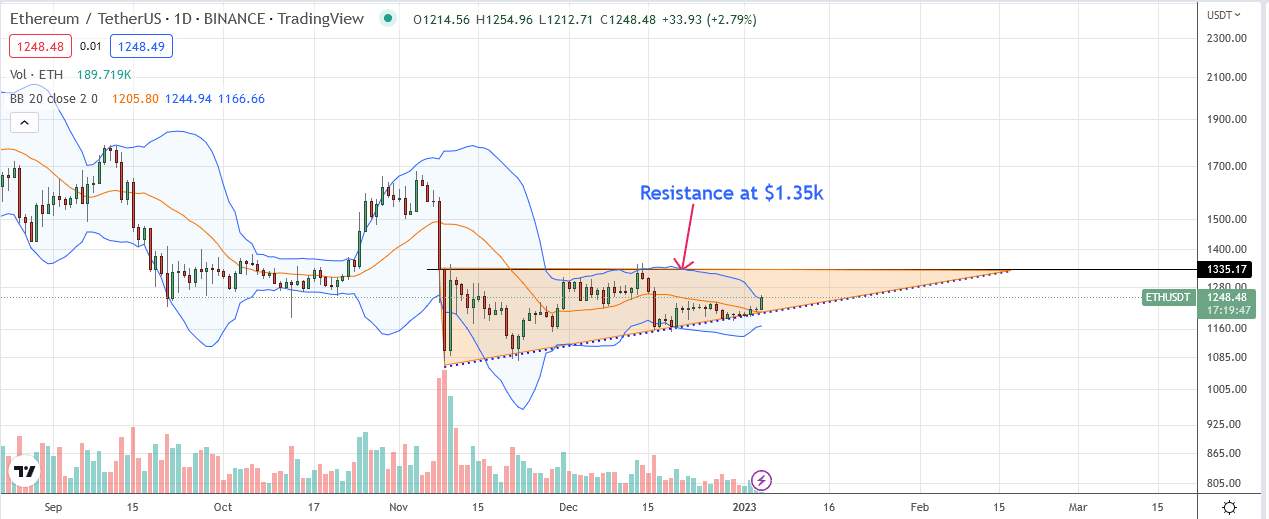 Ethereum prices are up 17 percent from November lows, pointing to higher highs albeit with comparatively low trading volumes. The daily chart shows ETH prices are within a rising wedge, and sellers are in control from a top-down preview.
As long as prices are below $1.35k and trending inside the November 9 and December 16 bearish engulfing bars, traders can unload the coin on every attempt higher. The primary support is at $1.18k and $1.15k. Losses below these levels may see ETH slump to $1k, an opportunity for short sellers.
For buyers to tighten their grip there must be a close above $1.25k, or December 20 highs, with rising trading volumes. In that case, ETH may increase to $1.35k in a welcomed retest, an opportunity for aggressive traders.
Technical charts courtesy of Trading View
Disclaimer: Opinions expressed are not investment advice. Do your research.
---
If you found this article interesting, here you can find more Ethereum News.