The Ethereum Network is preparing to go through the Bellatrix Upgrade before undergoing the final merge in the coming days. Ethereum co-founder, Vitalik Buterin announced that the Bellatrix hard fork will prepare the chain for the final Merge. He also said that the Merge will occur around September 13 to September 15. It will be the last significant upgrade before the mainnet Merge.
The merge is still expected to happen around Sep 13-15. What's happening today is the Bellatrix hard fork, which *prepares* the chain for the merge. Still important though – make sure to update your clients!

— vitalik.eth (@VitalikButerin) September 6, 2022
The Bellatrix Upgrade is scheduled for epoch 144896 on the Beacon Chain. As of now, the Ethereum node stays on two different layers, the Proof-of-Work layer and the consensus layer (C layer). Both of these layers communicate from an Application Programming Interface engine. However, they will combine and move to a Proof-of-Stake system for the Merge to happen.
Through the Bellatrix upgrade, validators will be able to start producing updated Beacon Blocks. These blocks will have the codebase to make the merge possible of the two layers. In his tweet, Buterin urged node operators to update and sync their clients. As of now, around 73% of nodes are ready for the Merge. Tim Beiko, the core Ethereum developer has also asked the remaining 27% to update their clients.
Bellatrix is tomorrow 📆 Last chance to upgrade your node if you haven't yet!

We're mergiiiing 🐼 https://t.co/0VQ9zb6wjN

— timbeiko.eth (@TimBeiko) September 5, 2022
ETH Gains Over 6% After the Bellatrix Announcement
The price of the ETH token responded to the arrival of the Bellatrix upgrade. The coin was previously struggling with a bearish phase. However, it has marked a turnaround and gained over 6% in the last 24 hours. As of now, ETH is trading around the $1,650 mark. Its market cap is over $203 billion and its 24-hour trading volume is over $17.78 billion.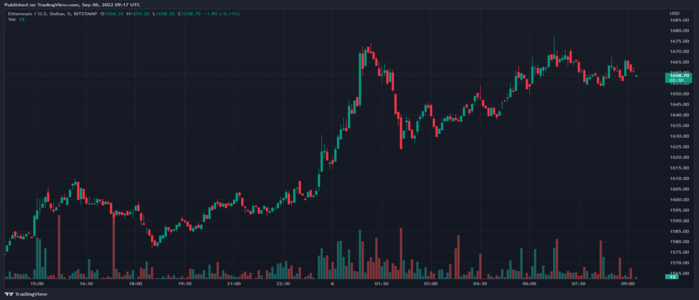 The token is expected to make more gains around the final Merge. Many investors and consumers have shown an increased interest in the token. Ethereum is going to solve its issue of high energy consumption with this Merge. Thus, the token is gaining more traction among investors.
It is expected that the final Merge will occur in the "Paris" upgrade. It will happen when the Terminal Total Difficulty (TTD) hits 58750000000000000000000. Now, it is only a matter of days till this happens. After reaching this TTD value, the block will be produced by a validator. After the completion of this block on the Beacon Chain, the Merge will be considered completed. It is expected that the whole process will take around 13 minutes, or 2 epochs, after the production of the first post-TTD block.