Ethereum is holding strong as writing this article, up 5% in the last trading day; the coin is impressively shaking out the bears.
After fears of further collapse following the events of last week, the coin's candlestick arrangement points to strength.
Most importantly, the uptrend remains; a net positive for traders looking to hitch on the possible uptrend days before the Shanghai Upgrade.
Per the formation in the daily chart, traders would have to look at the reaction at $1,850 in the near term and how bulls would hold above the support at around $1,700.
This level also flashes with the middle BB, the 20-day moving average; a dynamic support level.
ETH Accumulation
The resurgence of buyers is amid positive news in Ethereum. This week, it was revealed that the number of addresses with at least 0.01 ETH is at an 8-month high.
On March 27, Polygon released the zero-knowledge Ethereum Virtual Machine (zkEVM) Beta on the Ethereum mainnet. Vitalik Buterin was the first to post a transaction.
According to Polygon, the zkEVM will be open source so developers can share and improve the technology, expanding the zero-knowledge space's range of innovations.
There are reportedly more than 50 companies planning to build on the zkEVM, an innovation that Polygon's co-founder, Sandeep Nailwal, said is being improved.
Ethereum Price Analysis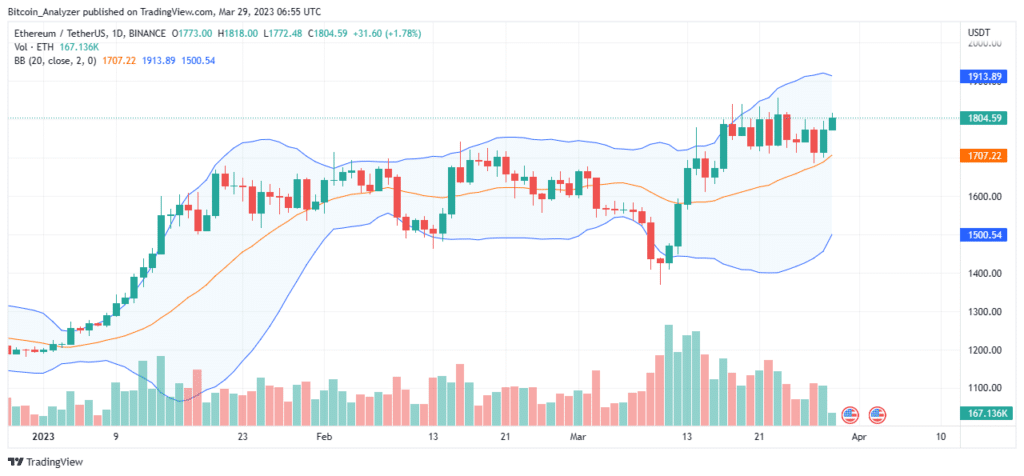 ETH is bullish when writing, up 28% since mid-March and still retaining a bullish frame despite waning upside momentum.
Evidently, from the daily chart, there were lower lows relative to the upper BB. However, the rejection of bear pressure on March 28 at the back of decent participation levels swings price action back to bullish territory. Immediate support remains at around $1,700, flashing with the 20-day moving average.
Since prices are still within the March 17 bull bar and trading volumes from that time have been significantly lower, buyers have the upper hand from an effort versus result perspective.
Traders may look to buy the dip at spot rates as long as prices are above $1,700. However, there could be better opportunities above $1,850 as bulls set their eyes on $2,000.
Technical charts courtesy of 
Trading View
Disclaimer: 
Opinions expressed are not investment advice. Do your research
.
---
If you found this article interesting, here you can find more Ethereum News.