The Ethereum (ETH) prices are up seven percent when writing but trending below the $1,700 level. Even though there are hints of strength, there must be a conclusive breakout above $1,670 and, ideally, $1,750 for the buy trend definition. 
Despite the leg up, prices are back within the average of the past 30 trading days. Moreover, ETH is still boxed inside the August 17 trade range, which swings price action to bearish, at least in the short to medium term.
As such, despite the welcomed bounce, a conclusive close above the immediate liquidation levels, ideally with expanding volumes, may signal strength, allowing aggressive traders to double down on dips.
Activity Remains High, Layer-2 Scene Heating Up
As it is, Ethereum remains the king of smart contracts and has been battle-tested sufficiently in the ongoing bear market. Notably, activity remains high, and the deployment of Base, the Coinbase-backed, Optimism-based Ethereum layer-2 protocol, appears to be breathing life into Ethereum.
Looking at the over $9 million in fees churned by Friend tech, the social media platform on Base, validators had their revenue recharged after the lull from mid-August.
Besides, more protocols are expanding to Ethereum. Top of the list is Astar, one of the Polkadot's largest parachains, and Canto. According to reports, Canto is expanding to Ethereum as a layer-2, taking on established platforms, including Base, Arbitrum, and Optimism. Like Canto, Astar will build a zero-knowledge layer-2 using Polygon Chain's development kit (CDK).
Big news. @CantoPublic is joining the Ethereum ecosystem! Built with @0xPolygon CDK, Canto is migrating to a ZK-powered Ethereum L2 that will turbocharge the neofinance revolution.

I'm a big fan of @scott_lew_is and excited to work with him and other core Canto contributors on… https://t.co/XlRofpdyAO

— Sandeep Nailwal | sandeep. polygon 💜 (@sandeepnailwal) September 18, 2023
Ethereum (ETH) Price Analysis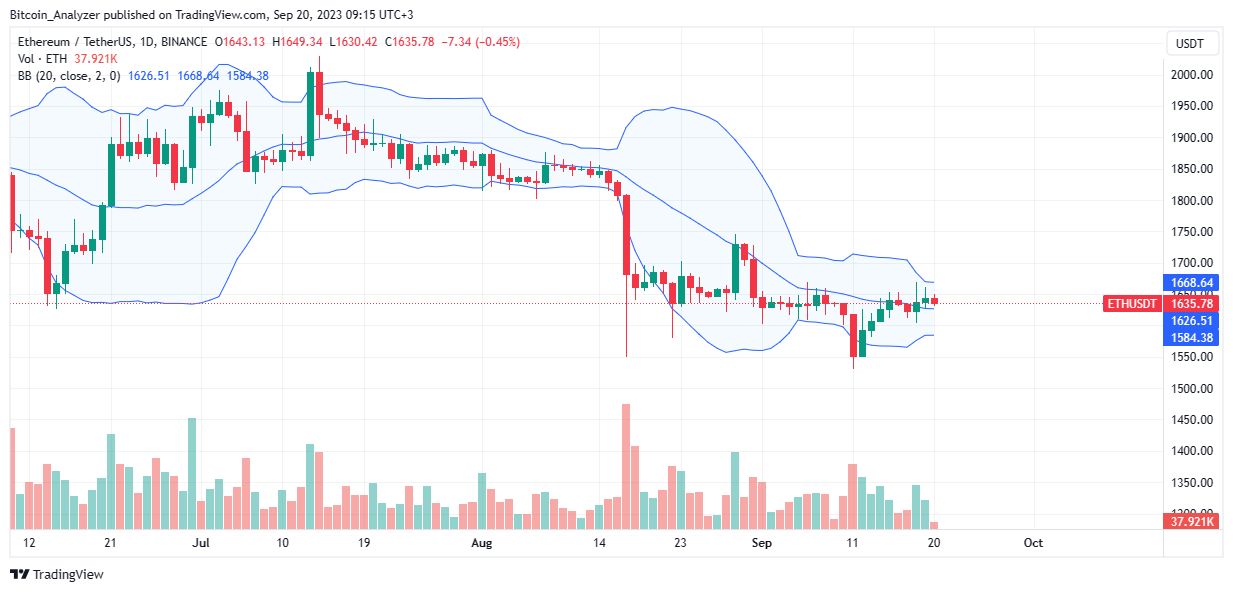 ETH is up at spot rates but needs to break above important price levels for trend definition.
Presently, the coin is bearish from a top-down preview. However, based on the candlestick arrangement in the daily chart, traders can search for entries if there is a conclusive close above $1,650 with rising volumes. 
In that case, ETH may surge to $1,750 or August 29 highs—the first take-profit level. Further growth above this line may be the beginning of another leg up that will see Ethereum bulls rewind sharp losses of August 17, effectively canceling out the "bearish shadow" that has been trailing ETH for weeks now.
Conversely, any retracement forcing ETH below $1,600 may heap more pressure on bulls, even slowing the uptrend. Further losses may see the coin cool off to September lows at $1,550.
Technical charts courtesy of Trading View.
Disclaimer: The opinions expressed do not constitute investment advice. If you wish to make a purchase or investment we recommend that you always conduct your research.
---
If you found this article interesting, here you can find more Ethereum news.