The Ethereum (ETH) prices are lower but stable when writing on July 26. Although buyers have a bit of optimism, there must be a strong push above immediate resistance levels in the coming days. For now, prices are below the rising channel but above the $1,800 and $1,820 support zone. If buyers are to take over, prices must trend above the well-defined support area. 
Sharp expansions reversing losses of July 26, thrusting prices above $1,900, might be the building blocks of the next leg up. Still, for this formation to be realized, a fundamental event should trigger demand, changing fortunes for optimistic buyers.
Rise of Layer-2s: Base, Celo
In the quest for Ethereum's scalability, several layer-2 solutions aim to dominate the market share. 
According to L2Beat, Arbitrum and Optimism are the two leading general-purpose layer-2 platforms where users can deploy dapps. However, in recent weeks, Coinbase-backed Base has been rising in total value locked (TVL). 
Although the layer-2 solution manages less than $1 million in total assets, it rapidly expanded in July. This follows the release of Bedrock by Optimism in June and the increasing significance of this platforms. 
Besides Base, there is a proposal for Celo to become an Ethereum layer-2, much like Polygon's approach. It saw its on-chain activity drastically rise in the last bull run. 
While off-chain rollup solutions gain traction, Ethereum developers have solid plans to scale the platform on-chain via Sharding.
Ethereum (ETH) Price Analysis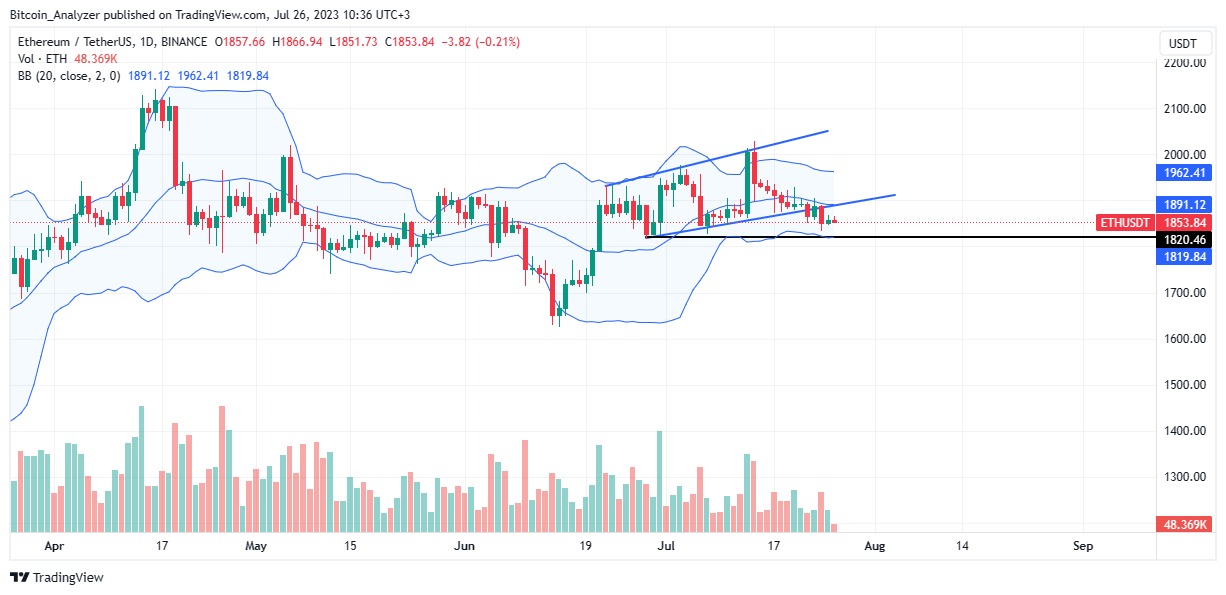 Gains of July 13 have been fully reversed as ETH prices slumped below $1,900. ETH is below the rising channel at spot rates, but prices have support at around $1,800 and $1,820.
Though sellers are pressing, there has been no confirmation of July 24 losses. Still, the short-term trend is bearish if prices are below $1,900. 
For this reason, aggressive sellers might find entries to short on every attempt higher if prices are bound by the July 24 bar. In this regard, the first bear target will be $1,820 and later $1,800.
Conversely, any expansion above $1,900, reversing recent losses, might be the building block for a retest of $2,000 in a buy trend continuation formation.
Technical charts courtesy of Trading View.
Disclaimer: The opinions expressed do not constitute investment advice. If you wish to make a purchase or investment we recommend that you always conduct your research.
---
If you found this article interesting, here you can find more Ethereum news.