The Ethereum (ETH) prices are lower when writing, reflecting the general mood across the crypto market. The daily chart shows that ETH prices are inching closer to $1.7k, a critical support level.
Despite the United States Securities and Exchange Commission (SEC) steering clear from the ETH security question, bulls have not capitalized on the pandemonium facing Algorand and Cardano.
Even so, considering other fundamental factors surrounding Ethereum, such as the number of ETH being burned, the coin remains bullish from a top-down preview.
Vitalik Buterin's Proposals
Vitalik Buterin, the co-founder of Ethereum, firmly believes that the platform's survival depends on three vital technical transitions.
For one, Ethereum needs to sufficiently scale, preferably through layer-2 methods, to handle pressure from deploying applications. In turn, with a scalable network, Ethereum users could transact cheaply.
"Ethereum fails because each transaction costs $3.75 ($82.48 if we have another bull run), and every product aiming for the mass market inevitably forgets about the chain and adopts centralized workarounds for everything."
At the same time, solutions must be developed to fortify wallet security. There have been tons of DeFi hacks in recent years, all of which, in one way or another, boil down to a user losing funds partly through to wallet weaknesses. To counter risks stemming from smart contracts wallet, he proposes integrating zero-knowledge solutions.
At the same time, Buterin said Ethereum needs to develop privacy-preserving features. This can be achieved via improved identity, reputation, and social recovery systems.
Ethereum (ETH) Price Analysis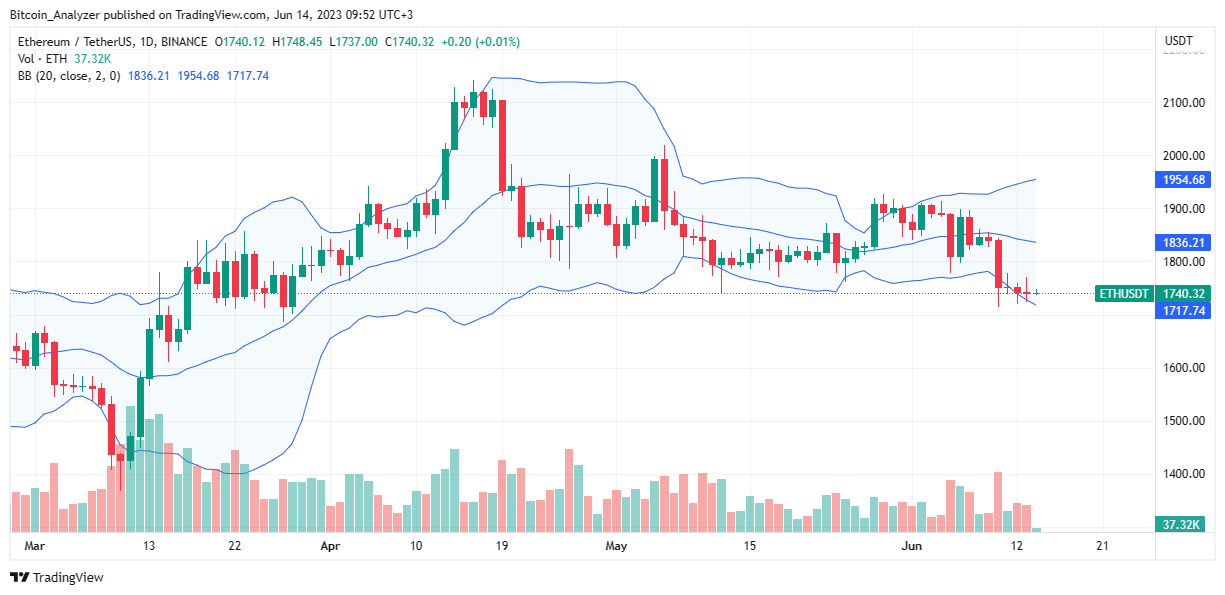 Ethereum prices are lower when writing and will likely retest the primary support level at $1,700. This level marks February highs and is a critical reaction point in the current formation.
As it is, ETH bulls have failed to reverse the losses of June 10. The bearish engulfing bar anchors the current formation, placing sellers in the upper hand.
Provided prices are within this bar. The immediate resistance level is $1,850, while support is $1,750.
For trend reversal and alignment with the mid-March to April bull trend, there must be a solid breakout, with expanding volumes above $1,850. In that case, ETH may rally to $1,950 and later $2,000 in a buy trend reversal.
If not, and prices continue to trend inside the bearish engulfing bar of June 10, ETH may fall to $1,400 or March lows. In this eventuality, the uptrend from March to April will be invalidated.
Technical charts courtesy of Trading View.
Disclaimer: The opinions expressed do not constitute investment advice. If you wish to make a purchase or investment we recommend that you always conduct your research.
---
If you found this article interesting, here you can find more Ethereum news.