Ethereum (ETH) remains under pressure, finding strong resistance between the $1,850 and $1,900 zone. As it is currently, traders may begin searching for entries to short, at least for now.
However, for this to materialize and support conservative traders' outlook, there must be a solid close below $1,740 or last week's lows.
It may signal the continuation of selling pressure from mid-April 2023.
ETH prices are now consolidating with clear caps, albeit with reduced selling momentum. This is considering the divergence from the lower BB.
MemeCoin FOMO Subsides as Optimism Plans For Bedrock
Fundamentally, Ethereum remains the leading smart contracting platform, judging by the activity and popularity of some of its projects.
Although the fear of missing out (FOMO) in meme coins is subsiding, some tokens, including PEPE and LADYS, are drawing decent volumes in centralized exchanges.
The shift away from the decentralized exchange, Uniswap, seemed to have helped relieve the network from the unsustainably high Gas fees that rocked the platform, allowing critics to lambast the network's scalability efforts.
Meanwhile, as Ethereum finds relief, Optimism, a layer-2 scaling platform, plans to integrate enhancement set out under the Bedrock release.
The upgrade is set for early June and could lay the foundation that makes Optimism even cheaper to transact on. Optimism also plans to introduce enhancements that improve security and usability.
Whether Optimism will flip Arbitrum as the most actively used layer-2 platform remains to be seen. As L2Beat data shows, Arbitrum manages assets worth over $5.5 billion, almost thrice the total value locked (TVL) in Optimism.
Ethereum (ETH) Price Analysis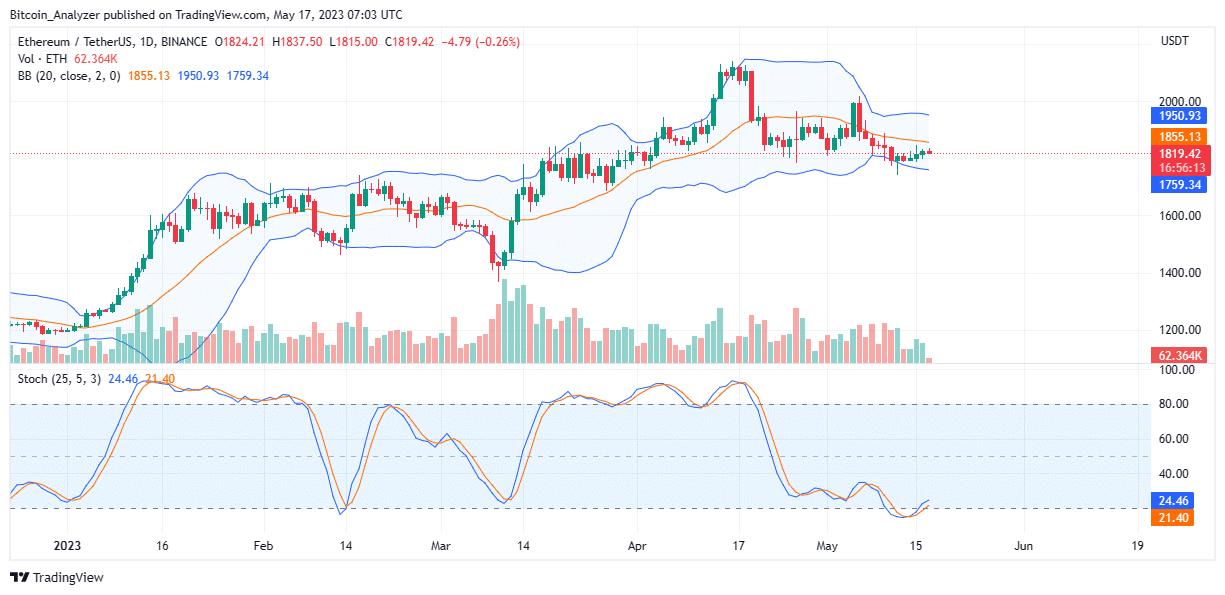 Overall, reading from the top-down preview, Ethereum is in an uptrend. It follows the sharp expansion of prices from mid-March 2023 that saw the coin float to $2,100.
At spot rates, ETH is retesting February highs, which is critical for buyers. It means the uptrend remains, and the contraction is welcomed. If anything, this can allow traders to double down in anticipation of buy trend continuation.
Presently, the selling momentum is dropping as bear bars diverge from the lower BB; a possible relief for ETH holders.
This outlook will only change if there is a flash crash below the $1.740 and $1,700 support zone at the back of expanding volumes. In that case, ETH may retest $1,500.
Technical charts courtesy of Trading View.
Disclaimer: The opinions expressed do not constitute investment advice. If you wish to make a purchase or investment we recommend that you always conduct your research.
---
If you found this article interesting, here you can find more Ethereum news.