Ethereum prices are lower when writing, candlestick arrangement data shows.
The primary trend remains upward, with resistance at $1.75k with support at $1.5k, marking February 15 low.
Provided prices are trending above this support line; traders can find entries to buy the dip, targeting last week's highs and later $2k in a buy trend continuation.
However, after a 60 percent pump from Q4 2022 lows, ETH will likely correct in the days ahead.
Losses below recent lows at $1.6k would shape the short-term trend. Nonetheless, this could change if there are sharp gains above $1.7k, reaffirming bulls from December 2022.
Traders are Bullish
Despite today's pullback, there could be data suggesting that last week's resistance might not hold for long.
Per derivatives statistics, there is demand for leveraged longs, a net positive for traders. Most users engage with the crypto markets using margin accounts and, thus, leverage, on centralized exchanges.
Their behavior can be monitored to determine the actual state of trader sentiment. Traders are bullish on ETH, with resistance at $1.7k likely to be temporary.
Presently, the two-month annualized premium exceeds four percent. This remains the case, an indicator of resilience, despite prices pulling back from $1.7k on February 21.
Since the premium is above the threshold, it relays the general confidence margin, and derivatives traders have on ETH.
Ethereum Price Analysis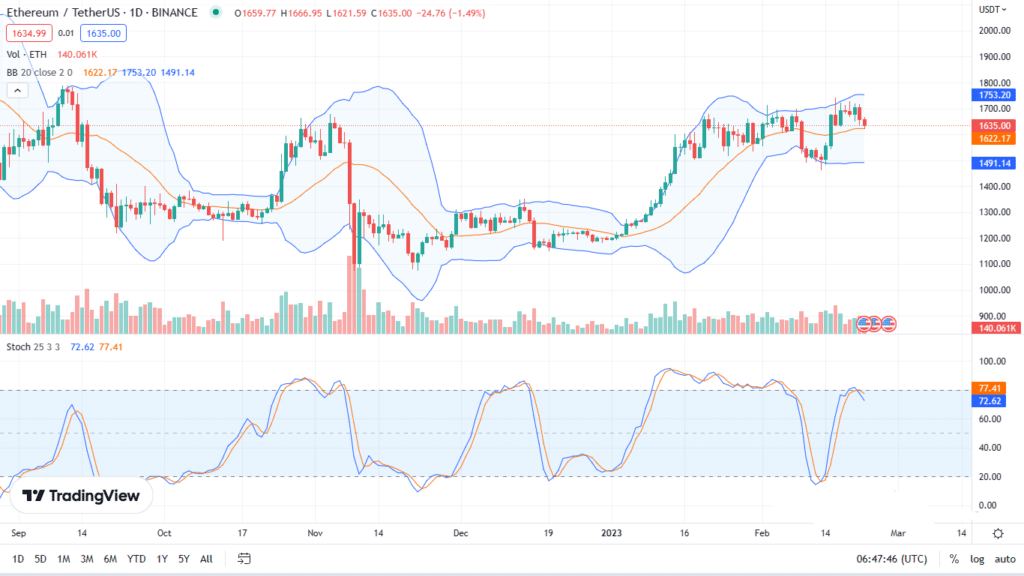 The retracement of February 21 didn't swing price action to favor sellers. If anything, buyers are in control if prices are trading above $1.6k. This support level flashes with the middle BB, a dynamic line shaping price action in the past few months.
As ETH consolidates within a tight range with caps at $1.75k and $1.6k, traders can wait for the trend definition. Losses below $1.6k might see ETH slip to $1.5k or February lows, which might be consequential for the coin.
In that case, traders might ride the trend, especially if the breakout is with rising volumes.
Conversely, if there are sharp reversals of recent losses above $1.7k as ETH breaks above the current consolidation, the coin might roar to $2k.
Technical charts courtesy of
Trading View
Disclaimer:
Opinions expressed are not investment advice. Do your research
.
---
If you found this article interesting, here you can find more Ethereum News.