The Ethereum (ETH) cryptocurrency remains under pressure, and like the broader crypto market, the coin continues to slide. Overall, sellers are in control and have pushed prices lower to 2023 lows. Notably, prices are below the June 2023 anchor lows. Should sellers press on, the coin may crumble going forward.
The immediate target, in that case, will be March 2023 lows. As it is, the August 17 bear candlestick continues to shape the immediate formation.
As such, every attempt higher with lighter trading volumes but below $1,800 could offer entries for liquidation with targets at $1,600 or lower in the days ahead.
Staked ETH and Burning
The focus is on Ethereum and how the world's second-largest network could cope with selling pressure in the days ahead.
The coin is at a critical reaction point; buyers must find support. Bulls remain optimistic, pinning their outlook on the number of ETH staked over the years. With Ethereum operating a proof-of-stake network, the largest account in the platform is associated with that of staked ETH on the Beacon Chain.
As of August 23, on-chain data shows that over $47 billion worth of ETH is locked in the official address. This amount includes those collated from liquidity staking providers, including LidoDAO and Rocket Pool. As more ETH is stashed, the coin becomes slightly deflationary since the network continues to burn more.
Ethereum Price Analysis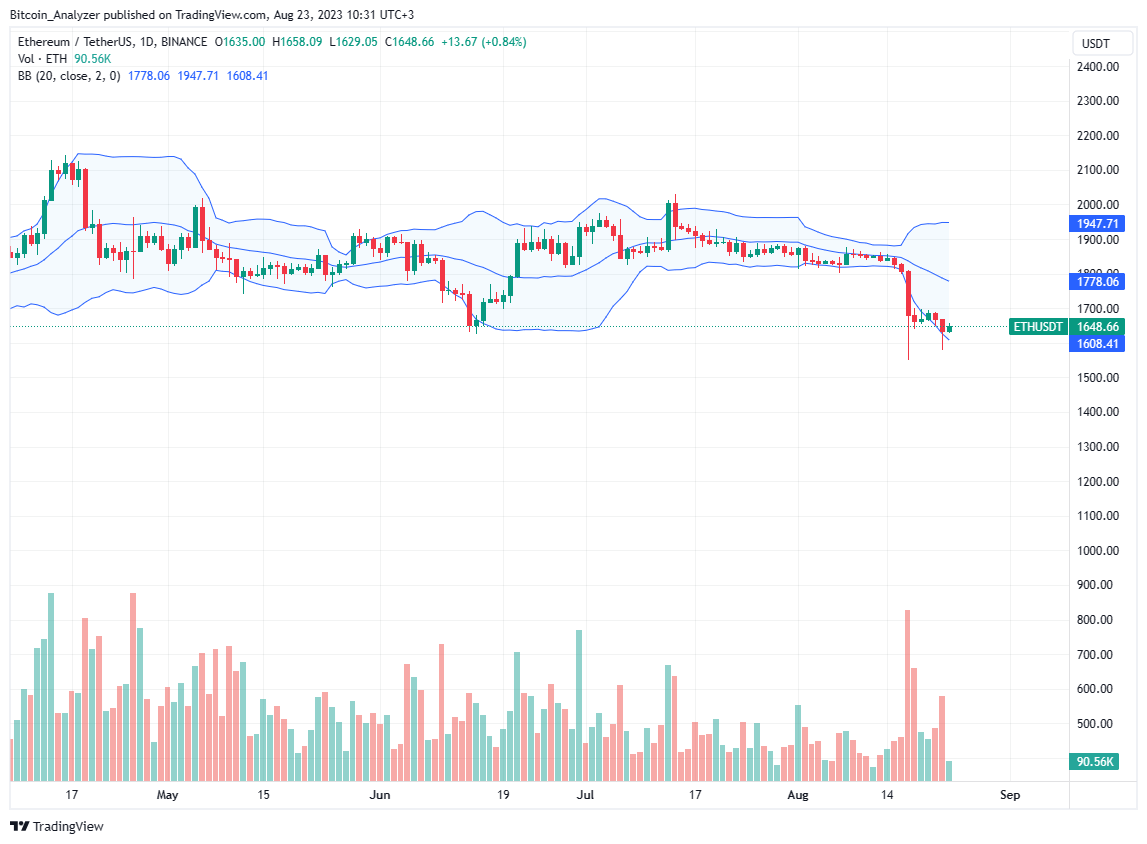 Ethereum is down 18% from July 2023 highs, looking at the performance in the daily chart. The coin is trending below the June 2023 lows at spot rates, moving sideways and technically bearish.
Since prices are maintained below $1,650 and inside the bear bar of August 17, traders can look to unload.
As it is, there are hints of higher highs relative to the lower BB. However, there could be a shift in trend if there is a conclusive close above $1,700. In that case, ETH bulls may buy the minor breakout, targeting $1,800.
If not, losses below $1,590, or this week's lows, may see the coin dump towards March 2023 lows at around $1,400.
Technical charts courtesy of Trading View.
Disclaimer: The opinions expressed do not constitute investment advice. If you wish to make a purchase or investment we recommend that you always conduct your research.
---
If you found this article interesting, here you can find more Ethereum news.