Ethereum prices are firm at spot rates, in an uptrend, and trading at near Q1 2023 highs. There were attempts earlier for lower lows, but the strong rejection of bears could form the base for another leg up.
The resistance level is important for traders since, despite all the confidence, bulls have been unable to close above it from January 20. Ideally, the breakout should be with expanding volumes, lifting the coin towards $1,800 and $2,000 in the coming sessions.
Visa Adopting Ethereum
From the fundamental wing, Ethereum is propped by solid developments.
Visa, the world's largest payment processor, is opting to use Ethereum and plans to settle using USDC, a stablecoin. This move is an endorsement of Ethereum despite the platform's scalability concerns.
According to Cuy Sheffield, Vice President and Head of Crypto at Visa, during the StarkWare Sessions 2023 event in Tel Aviv, they will begin experimenting with large value transfers.
"We've been testing how to actually accept settlement payments from issuers in USDC starting on Ethereum and paying out in USDC on Ethereum. So, these are large value settlement payments."
Over the years, Ethereum has been carving out a decent transactional volume market share. Because of what the solution provides, it can be used to move value cheaply and more conveniently than centralized options.
Ethereum Price Analysis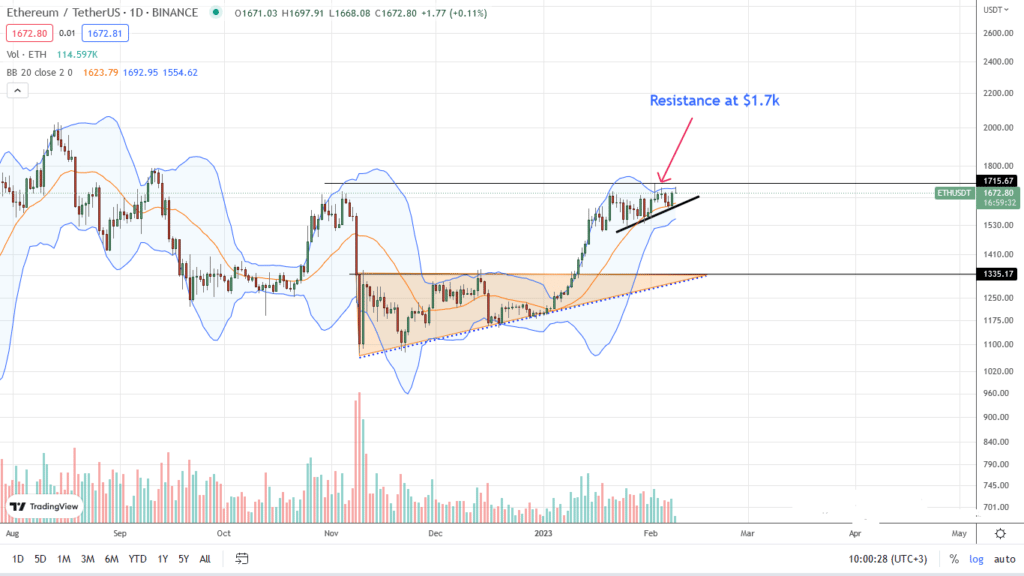 Bulls, at spot rates, are firm, rejecting attempts of lower lows. Unless there are sharp losses below critical support levels, including $1,600 and $1,500, buyers have the upper end. Despite the bull bar of February 7, there must be confirmation before traders double down. That means a solid break above $1,700 for the uptrend to be valid.
This ought to be with rising trading volumes, confirming participation. Afterward, ETH may easily glide to $2,000 in a bullish continuation formation.
Even so, there appears to be strong resistance at $1,700. Notably, bulls have yet to close above this line over the past two weeks, highlighting its significance.
Conversely, losses below $1,500 and the 20-day moving average could fast-track the dump to $1,350 in a retest.
Technical charts courtesy of 
Trading View
Disclaimer: 
Opinions expressed are not investment advice. Do your research
.
---
If you found this article interesting, here you can find more Ethereum News.