Ethereum (ETH) prices are lower but remain inside a bear range with visible caps at $1,950 and $1,800.
The trend is bearish in the immediate term but bullish from a top-down preview. Presently, traders can wait for a clean breakout above $1,950 or $1,800 before committing as a new trend emerges or sellers from mid-April continue pressing on.
Technically, the uptrend remains, but whether ETH will reclaim $2,100 in the medium term remains to be seen and highly depends on how prices pan out in the short term.
The sideways movement of ETH prices coincides with positive news that the last upgrade saw more institutional participation.
Coinbase Establishing International Base in Bermuda
At the same time, Coinbase, a cryptocurrency exchange, has launched an international platform to support trading Bitcoin and Ethereum perpetual futures products.
Coinbase received regulatory approvals from the Bermuda Monetary Authority.
The exchange said their launch in the island nation doesn't mean they are moving away from the United States.
"Rest assured that Coinbase is committed to the U.S., but countries around the world are increasingly moving forward with responsible crypto-forward regulatory frameworks to strategically position themselves as crypto hubs."
The addition of Coinbase could offer Binance, the world's largest cryptocurrency exchange by trading volumes, stiff competition.
This development is when Binance is under regulatory scrutiny from various agencies in the United States, including the Securities and Exchange Commission (SEC), the Commodity Futures Trading Commission (CFTC), and others.
Ethereum (ETH) Price Analysis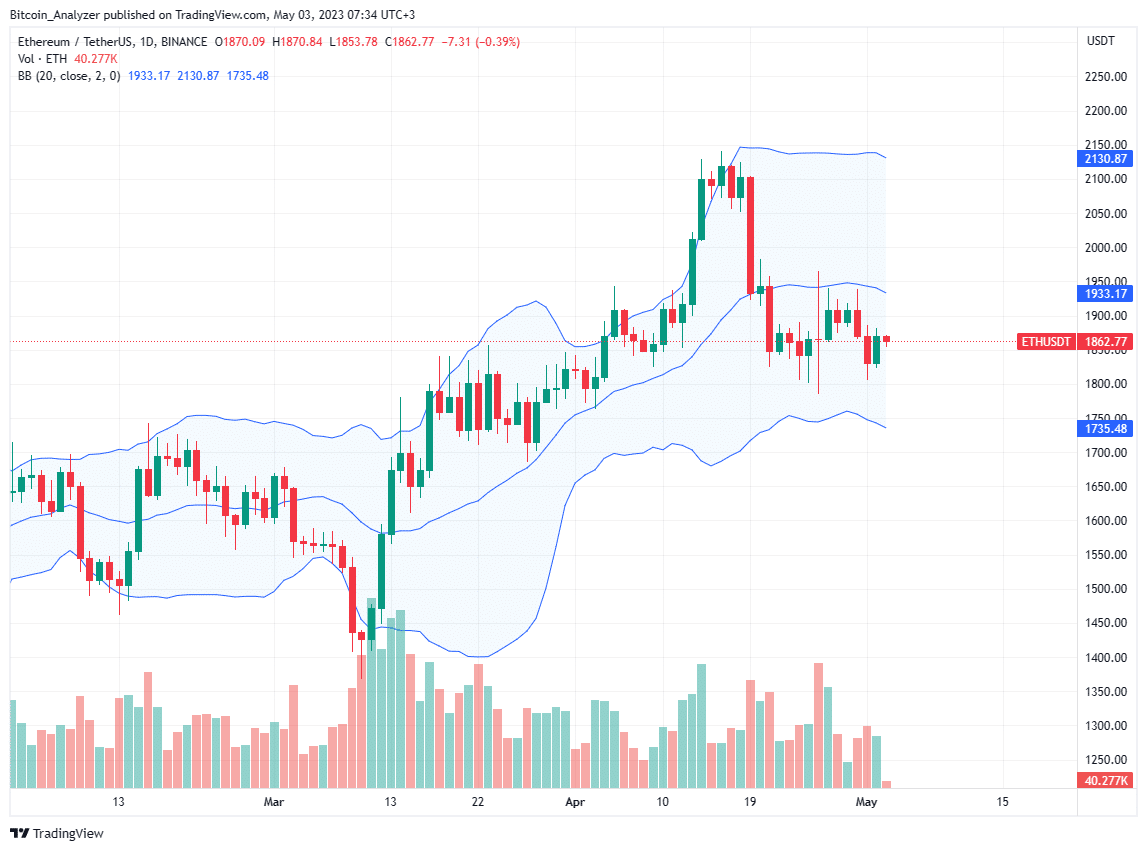 Ethereum is steady when writing, stabilizing inside a range with caps at $1,950 and $1,800, resting on March 2023 highs.
In the short term, sellers have the upper hand as prices align with the primary trend of April 19.
Since prices are also within the April 21, sellers can look to unload on every attempt higher but below $1,950.
This outlook is valid from an effort-versus-result perspective and can only be null once there is a sharp breakout above $2,000.
Conversely, conservative traders can wait for sellers to push prices below $1,800, ideally with rising volumes, before looking to ride the trend, targeting $1,500 in the sessions ahead.
In such a case, ETH bears will confirm losses of April 19, potentially setting the pace for even deeper losses.
Technical charts courtesy of Trading View.
Disclaimer: The opinions expressed do not constitute investment advice. If you wish to make a purchase or investment we recommend that you always conduct your research.
---
If you found this article interesting, here you can find more Ethereum News.