Ethereum prices are largely choppy. Still, after posting sharp losses in early December, there are hints of strength when writing.
Despite confidence, ETH/USDT prices are wobbly, fluctuating within a tight trading range.
Overall, recent fundamental developments present a relief for traders. It is especially considering the double-digit losses of December 4 and the threats posed by the wide-ranging bear bar.
After crashing past critical support trend lines, the failure of sellers to confirm the move remains a net positive. It is the case even though ETHUSDT prices are within the bear candlestick of December 4.
Kintsugi Testnet is Live
Fundamentally, Ethereum is firm because of progress made towards transiting to a proof-of-staking network.
Thus far, the release of the Kintsugi "longer-term" public testnet as part of the four main testnets before the official merger can is bullish for ETH.
Commenting, Tim Beiko, the coordinator of Ethereum core developers, said this testnet allows the public to check out how Ethereum would work after the merger:
"The Kintsugi testnet provides the community an opportunity to experiment with post-merge Ethereum and begin to identify any issues. Once feedback has been incorporated into the client software, and the specifications, a final series of testnets will be launched. In parallel, testing efforts will continue ramping up."
Over $35 billion in ETH Locked
Ahead of this merger, over $35 billion of ETH is locked at the official Eth2 deposit contract.
These coins are technically inaccessible until after Ethereum transits to a staking platform.
As such, holders appear confident of what the future holds and are willing to leave their coins, helping make Ethereum even more secure.
Ethereum Price Analysis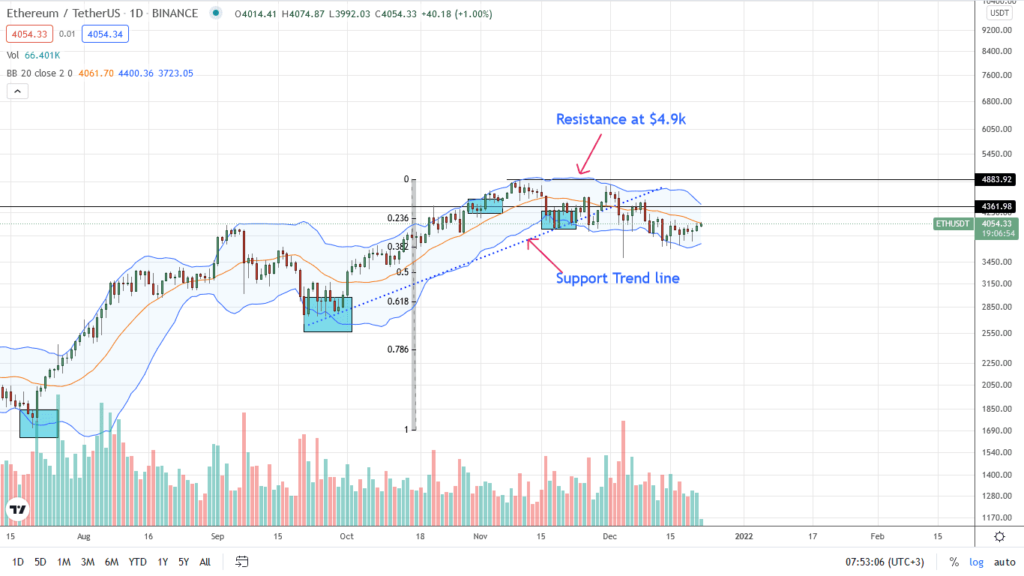 Aforementioned, ETH/USDT prices are still consolidating horizontally within a $600 zone capped between $4.2k and $3.6k.
Although the primary support remains at $3.6k as there are a series of higher highs relative to the lower BB, price action is inside the December 4 bear candlestick. Ideally, aggressive traders may load on dips, riding on the recent ETH price expansion.
However, this strategy is only valid above $3.6k. Should there be a sharp downturn below $3.6k confirming sellers of December 4, ETH prices might sink to $3.2k and even $2.9k—key retracement level of the H2 2021 trade range.
On the reverse side, buyers will be relieved should there be encouraging gains above $4.2k and $4.4k, unwinding losses of December 4.
Technical charts courtesy of Trading View
Disclaimer: Opinions expressed are not investment advice. Do your research.
---
If you found this article interesting, here you can find more Ethereum News