Latest Ethereum  [ETH] News
There is a lot to rave about Ethereum. As a pioneering smart contracting platform whose face was a then 21 year old developer with ambition, Ethereum has grown by leaps and bounds. Save technical glitches and the scalability concerns, the development team is still on rails, bringing to test different overtures that will aid towards scaling the network. Most are off-chain solutions and require third party trust or "liveness" to operate.
But it is what we have to contend with. That's exactly what developers from Ethereum Foundation and Matter Inc are doing, bringing forth Ignis Fire via Rinkeby TestNet. Developers call this Plasma—a Layer Two solution—powered by ZK-SNARKs—running on Groth Protocol and from experimentation, it is expected that Ethereum would scale up-to 500 TPS with limitation brought by on-chain data availability as highlighted by Vitalik Buterin.
Anyhow, the path ahead is long and with security audits pending, Ignis Fire is still a concept that has been proven to be doable. It's a matter of time before Ethereum developers call a meeting more so if Constantinople rolls out as expected and there is a smooth transition.
In the meantime, the community should be looking at positives and potential of Ignis Fire—what it means to competing platform and what Estonian based DX Exchange brings to the table after their plans of tokenizing NASDAQ's stocks as Tesla, Facebook and Apple via Ethereum.
ETH/USD Price Analysis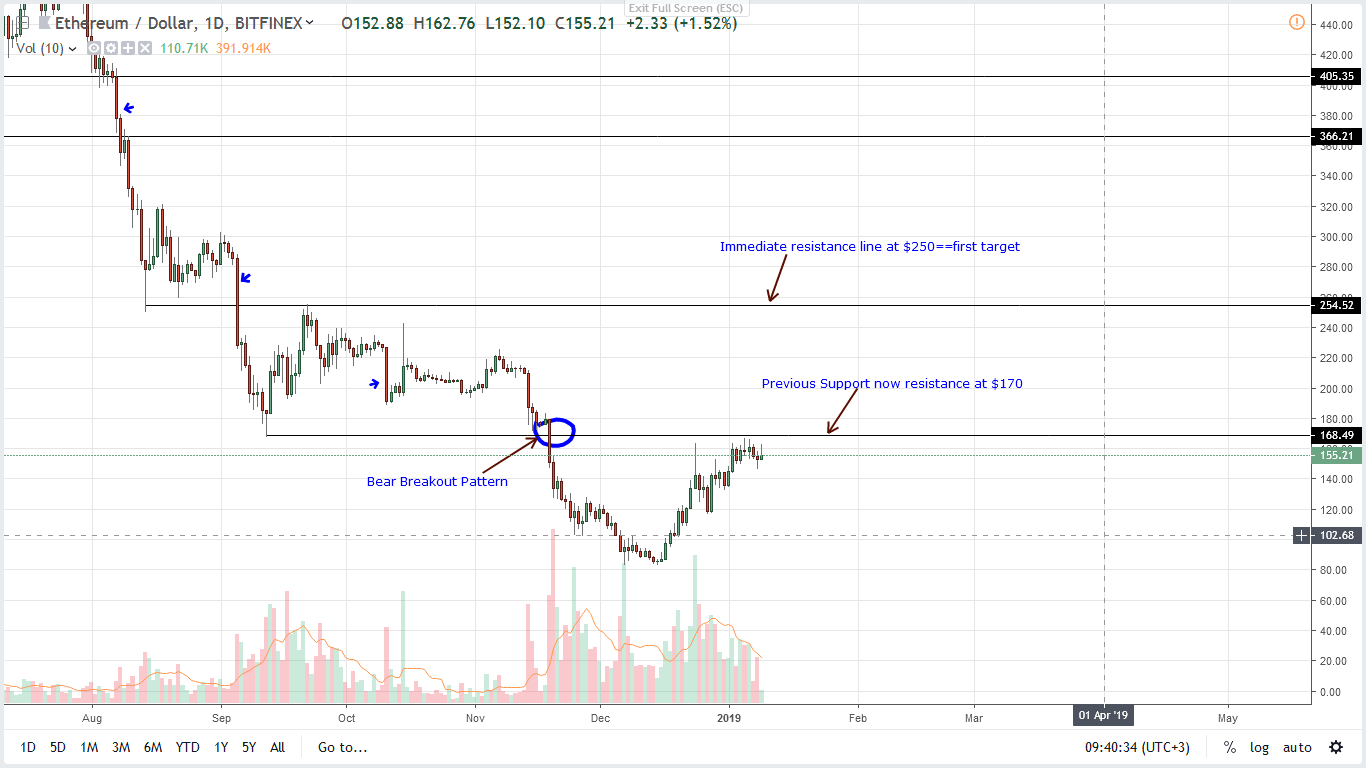 At spot prices, ETH is up 8.7 percent against the green back meaning it is one of the top performers in the top 10. Even with this impressive performance, yesterday's price action was capped as ETH bulls failed to drive prices above $170 in a breakout pattern than will nullify sellers of Nov 18.
Visibly, ETH/USD is not only technically bearish but it is clear that sellers of Nov 2018 are still in control unless there are high volume breaks above $170 cancelling the potential retest phase, a correction, whose confirmation might see an influx of sell pressure driving prices towards $100 or lower by end of January or earlier.
Remember, from a top down approach, sellers are in control and as matter of fact, ETH/USD price action is held within Nov 2018 high low. Last month's bull failure means there are real chances that ETH prices will capitulate if there are no backing from bulls more so from an effort versus result perspective.
This is why I suggest patience, urging traders to buy ETH only when there are solid gains above $170 with above average volumes. In that case, first targets will be $250 and later $400.
Our ETH/USD trading plan will be as follows:
Buy: $170
Stop: $150
Target: $250, $400
All Charts Courtesy of TradingView
Disclaimer: Views and opinions expressed are those of the author and aren't investment advice. Trading of any form involves risk and so do your due diligence before making a trading decision.