In the last day, Ethereum has been on a recovery with ETH prices printing a 12 percent gain in the last day. While we are positive following streams of positive Ethereum news, our previous ETH price analysis points of a market that is technically bearish.
All this stem from that sharp drop in price after Sep 5 high volume decline pushing prices below $250, our then temporary support.
Because of this, we suggest taking a cautious approach only buying ETH once prices edge past $250.
Ethereum Price Latest News and Analysis:
Ethereum Latest News
After weeks of speculation and a serious ETH drop registering losses upwards of 33 percent week over week, ETH prices are now on a recovery path.
Even if this reversal is welcomed, recent drops and consequent price revival can to tied to the comments made by Arthur Hayes, the BitMex founder who went against basic etiquette by advising his army of followers "not to touch that shitcoin Ethereum" and instead "punt" on ETH/USD.
To make it even easier for traders to short sell ETH, latest Ethereum news indicates that he introduced a 50X margin trading leeway making it possible for traders to short without necessarily owning the coin.
While the initial reaction was devastating for ETH, prices have since recovered as Ethereum price charts show.
The careless remarks by Arthur Hayes has led to calls of a market manipulations from several market participants now that the future of Ethereum has been placed under doubt by Jeremy Rubin, the Technical Advisor of Stellar Foundation, a separate blockchain platform and a competitor of RTXP.
It appeared as if Vitalik is also unsure of future gains when he recently said the era of 1000X is over, a comment which also caused a minor twitter storm. Remarking on this "unfavorable" ETH price projection, Justin Sun the founder of Tron said the crypto market including those of ETH will grow in multiples and even print a $10 trillion market valuation before the Amazon and Alphabet print the $1 trillion-dollar market cap.
Ethereum (ETH) Price Analysis
ETH – Weekly Chart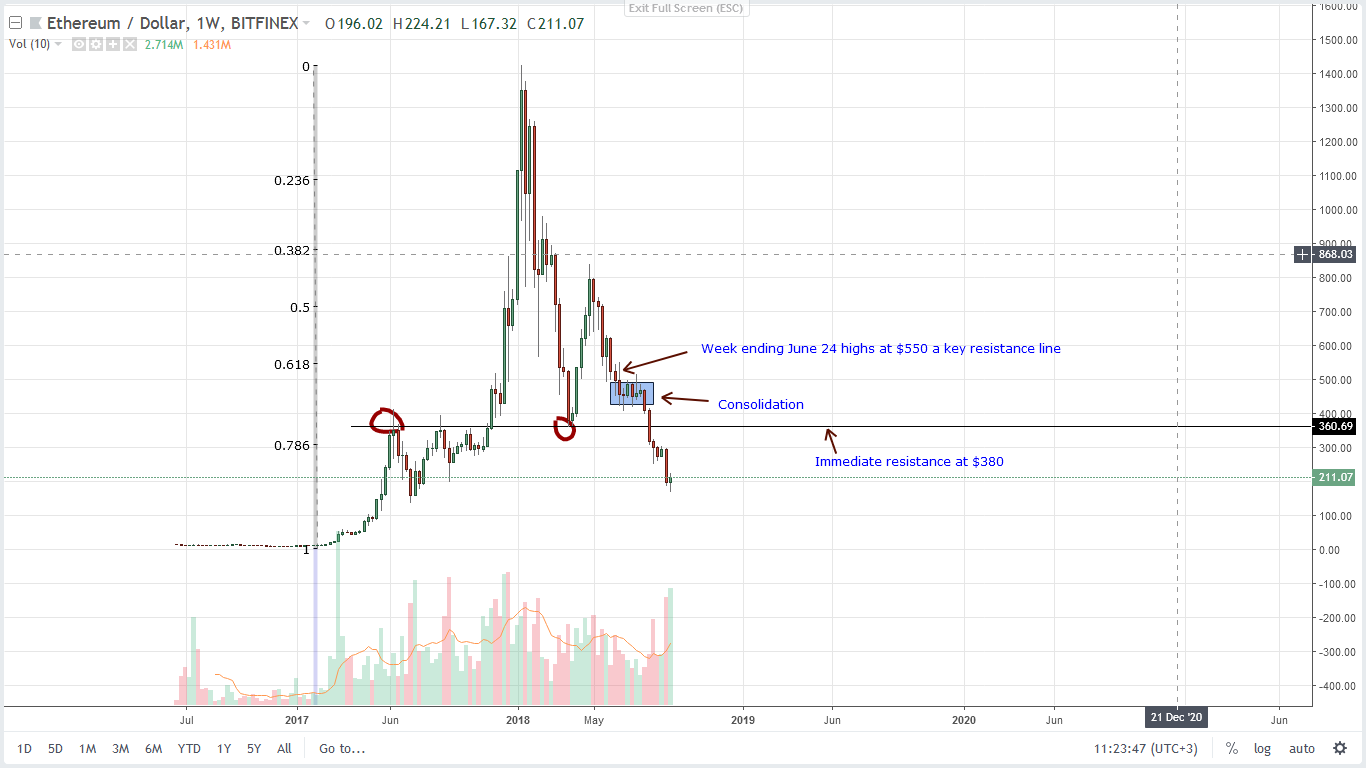 Price related statistics collected from several coin traders shows that Ethereum (ETH) prices are stable and actually down six percent in the last week. However, all things constant, this is but a stellar performance by ETH.
By this time last week, prices were down 33 percent and with this massive ETH drop, the coin was one of the worst performers. Seven days later and a 23 percent reversal is steeling bulls keen on thrusting prices above last week's highs at $300.
Needless to say, bears are technically in charge and even though Ethereum is on a short-term recovery path, we need to see a follow through in coming weeks.
That might be possible now that market participation and rejection of further lows towards the $150 is clear thanks to this week's remarkably high trading volumes.
ETH – Daily Chart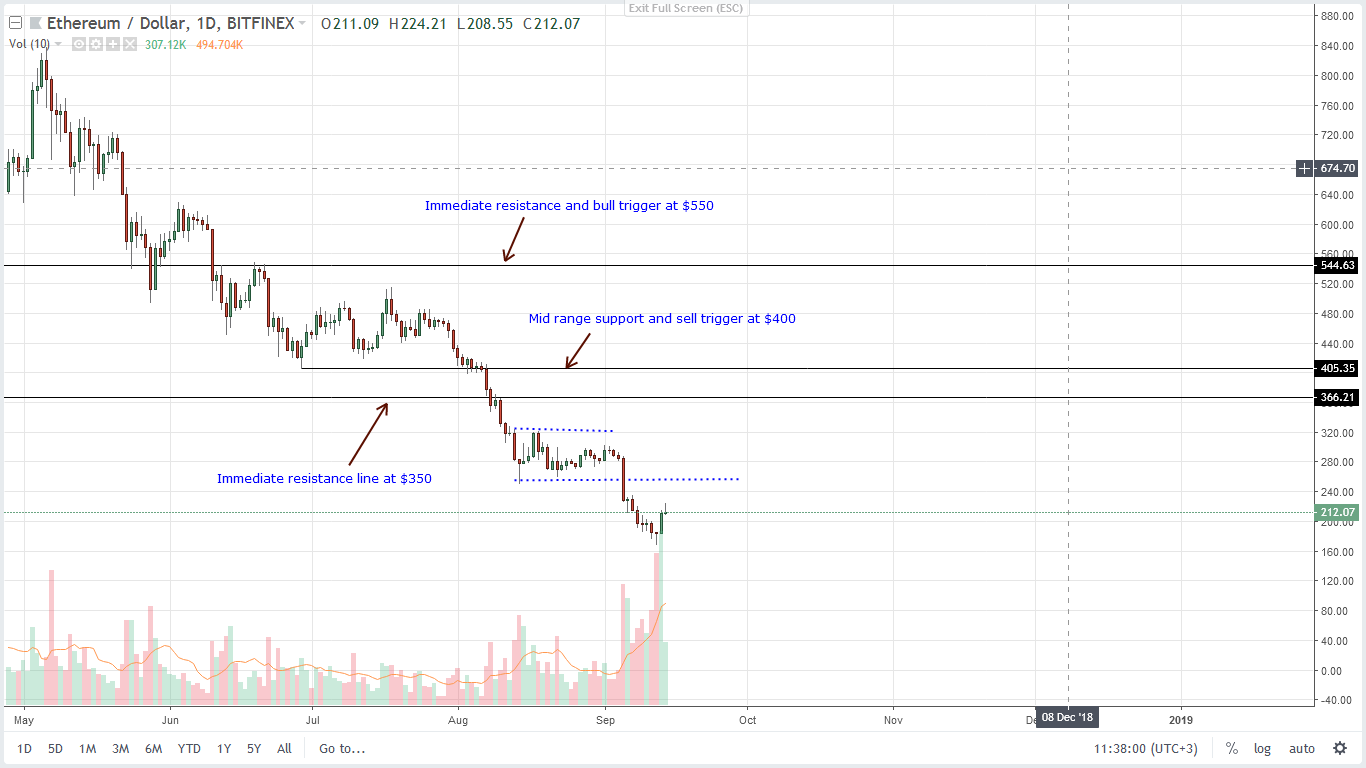 Shortly after Arthur Hayes encouraged his followers to sell ETH, a long lower wick pin bar candlestick did print from around the $180 mark. And interesting enough, the pin bar was accompanied by a remarkably high trading volumes with the next day, Sep 13 ending up as a bullish engulfing bar.
As such, what we now have from our Ethereum charts is a three-bar bullish reversal pattern that is likely to be confirmed today.
While ETH prices might be making a turnaround, our previous Ethereum price analysis remains valid and that's why initiating rushed buys isn't advised.
Instead, we recommend ETH buys once there is a clear close above $250. Thereafter, traders can load on pull backs with first targets at $300.
Disclaimer: Views and opinions expressed are those of the author and aren't investment advice. Trading of any form involves risk and so do your due diligence before making a trading decision.