A contrarian trade did print out shortly after BitMex opened doors for margin trading. Unexpectedly, ETH has since stabilized and after two days of extreme volatility, bulls and bears are equally matched. Nonetheless, our last Ethereum price predictions holds true and unless there are gains above $250 and $160 on the downside, we retain a neutral stand on ETH.
Latest Ethereum News
Arthur Hayes! The Wharton School graduate and the CEO of BitMex, is a genius. Of course, if we consider his previous dopamine-filled comments on how Bitcoin would race to $50,000 by the end of the year in "quick short busts" and his public disdain of Ethereum, then it easy to understand why his faithful army decided to short at bottoms—as he advised. Well, we aren't in the business of figuring out bottoms but a "commodity' that has dropped upwards of 85 percent from peaks is most likely a market that's bound to hit thick floors.
From the charts, ETH sellers seem to have found their check mate and the results are strong reversals from psychological levels hurting margin trading, BitMex short sellers. Leading in the loss-making category is a 3,500 ETH short position translating to roughly $700,000 at current spot rates. Losses could have been minimized only that at BitMex, traders can trade on up-to 100xtime their coin holdings—a double edge sword that magnifies profits and deepens losses if it goes wrong.
Aside from price, ETHFinex, a complimentary DEX platform from BitFinex is implementing their promise with ETHFinex Timeless. This platform developers say will bring back ownership, security and privacy to the deserving owners while neutralizing the powers centralized exchanges—though instrumental—posses. At ETHFinex, traders can execute positions without having to submit KYC information while at the same time enjoying a smooth trading experience since trades are executed off chain via a highly liquid order-book.
Ethereum Price Prediction
Weekly Ethereum Price Charts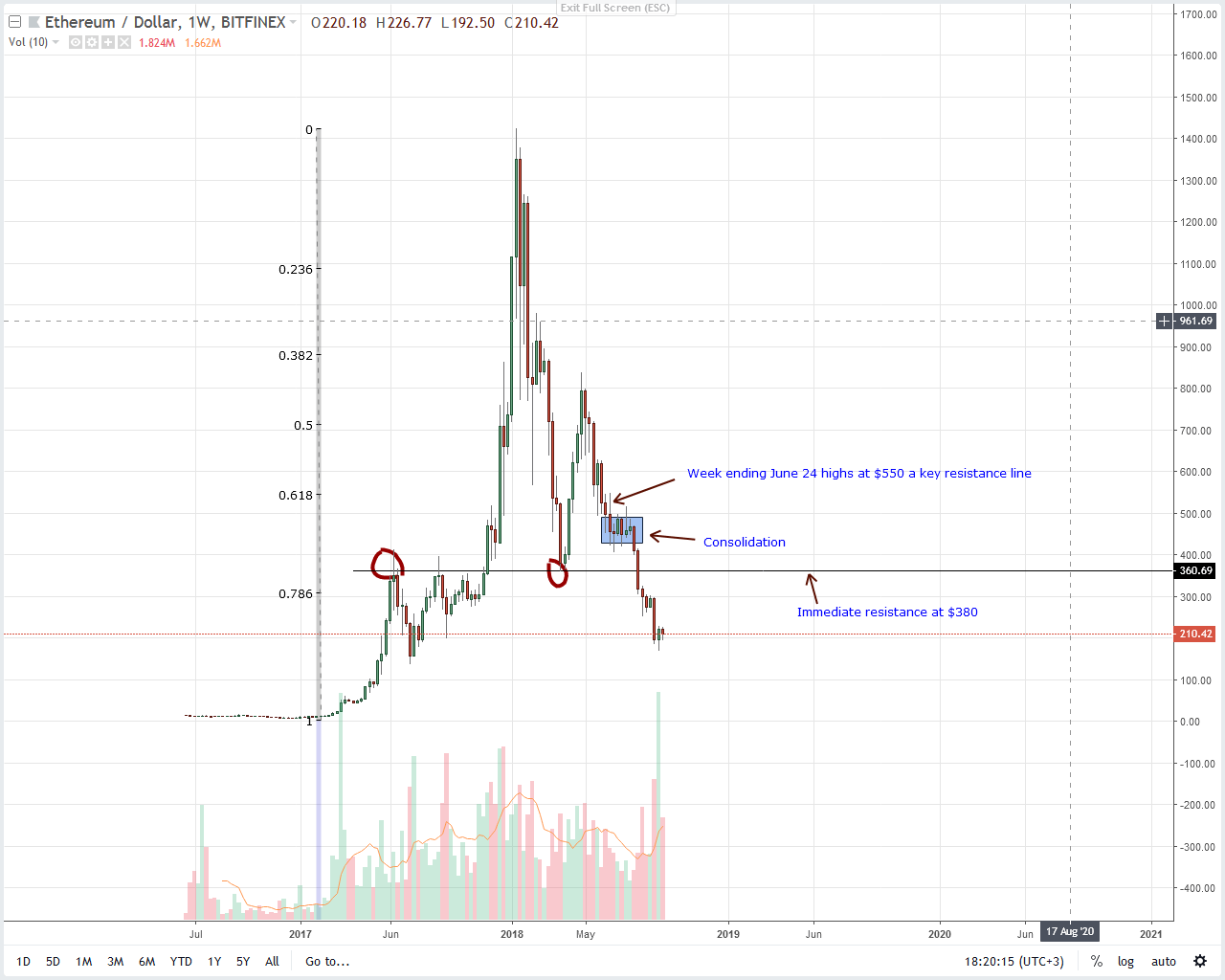 Undeniably, Ethereum movements have been facing the wrath of sellers in recent times. It all had to do with fundamental factors that leaned against price revival.
Though last week's events and yesterday high-volume spike could turn the fortunes of ETH bull, still week ending Sep 9 bear candlestick is a major hindrance for future gains. Unless we see a strong resurgence of prices that not only closes above $250—or last week's highs but thrusts prices towards and above $300, ETH sellers are undoubtedly in charge.
Notice that following that strong dip below $300 by the end of week ending Aug 12, a bear break-out pattern was initiated and in more than 35 days, ETH bulls haven't retested $300 even at the back drop of lower time frame higher highs.
Daily Ethereum Price Charts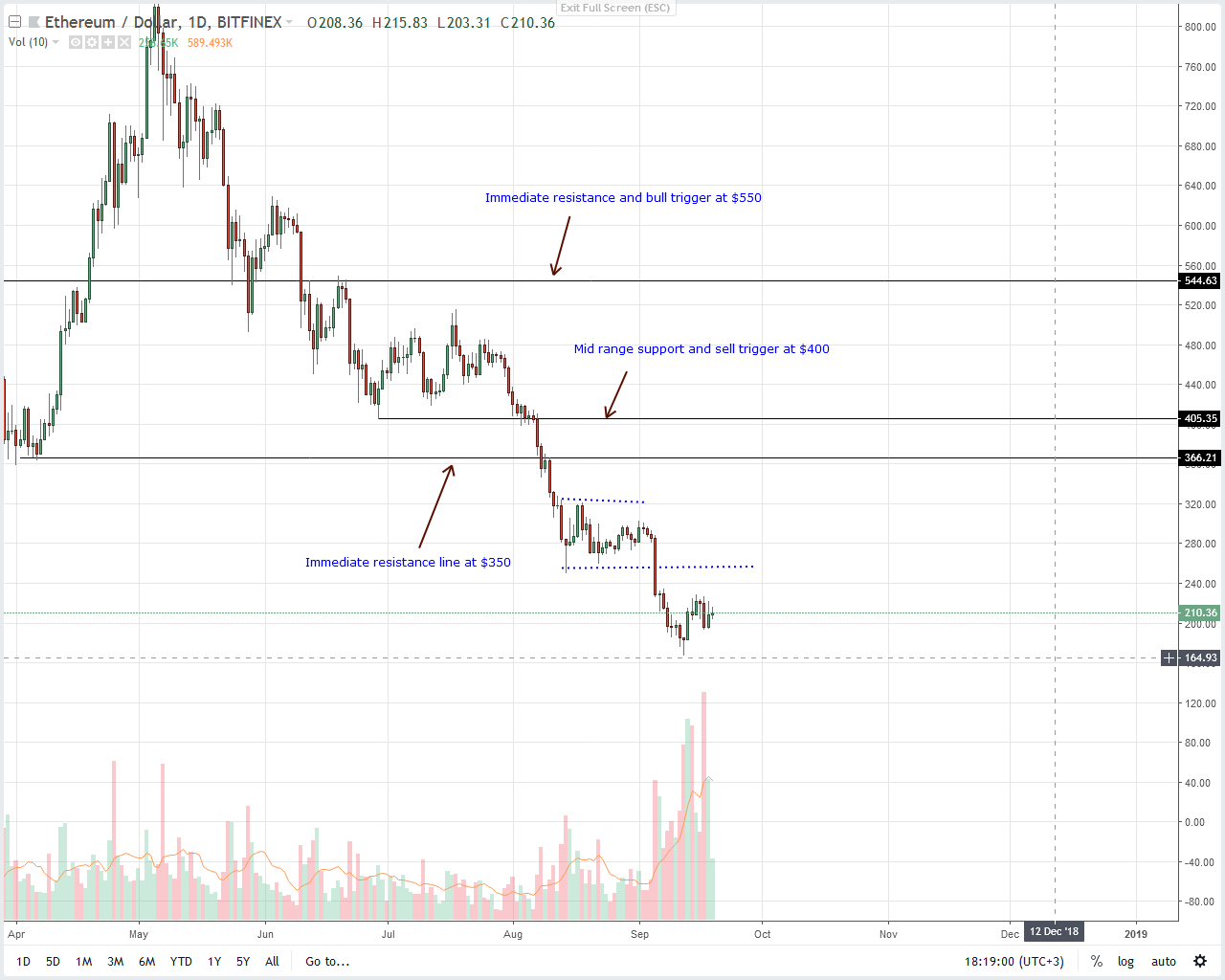 Last week, our Ethereum price predictions were positive and reliant on the confirmation of that three-bar bullish reversal pattern of Sep 13. However, in the last three days, sellers threatened to cancel this projection when a high-volume bear candlestick wiped out $20 within hours with the end result being a bearish engulfing pattern.
Luckily yesterday's pendulum swung the other direction with Ethereum prices rising back to Sep 17 highs following a 10 percent gain. Needless to say, we shall recommend small position ETH longs once we see a clear and convincing close above $250. It may take a while considering the dumping consequence of Sep 5 bear candlestick.
But once it does, then stops will be at $220 with first targets at $300 and later $350. But, if that isn't the case and sellers tow in the direction of Sep 5 and 17 high volume liquidation then we might see a blood bath where prices print $150 and later $75.
Disclaimer: Views and opinions expressed are those of the author and aren't investment advice. Trading of any form involves risk and so do your due diligence before making a trading decision.
---
If you found this article interesting, here you can find more Ethereum News