The Ethereum price is trading at near all-time highs above $1.5k after pushing above Jan 2018 highs on Feb 2. This follows increasing confidence in DeFi and its possibilities.
As of writing on Feb 3, the ETH price was up 10 percent on the last day, adding 17 percent week-to-date as buyers successfully pushed above late January 2021 consolidation.
The DeFi Wave
Generally, the crypto and investment community is bullish on DeFi and Ethereum as a base layer.
The result has been the influx of capital and improving sentiment of the coin's prospects. Notably, there are renewed interests in decentralized markets after increasing cases of censorship by centralized players.
Amid the upsurge of GME and AMC stocks, Robinhood, under alleged instructions from authorities, temporarily restricted stocks' sale to retail traders.
However, their actions saw Bittrex, a crypto exchange, tokenize and list the affected stocks for ordinary users to ride on the gamma and short squeeze.
Institutional Interest Rising, Grayscale Files for New Trusts Comprising DeFi Tokens
Meanwhile, institutional investors are sensing opportunity.
Grayscale Investments appear to be positioning themselves just in case there is a spike in retail interest. They have already filed for new trusts. Among other coins, two governance tokens, UNI and AAVE, are included.
While prices and DeFi interest is picking up, Gas fees continue to rise. Consequently, on Feb 2, reports revealed that miner revenue, a combination of block rewards and transaction fees, rose to a new all-time high.
Because of rising Gas fees, Ethereum-based transactions will likely be more expensive. Presently, there are suggestions that the gas limit will be raised from 12.5 to 15 million to increase the network's throughput.
Ethereum Price Prediction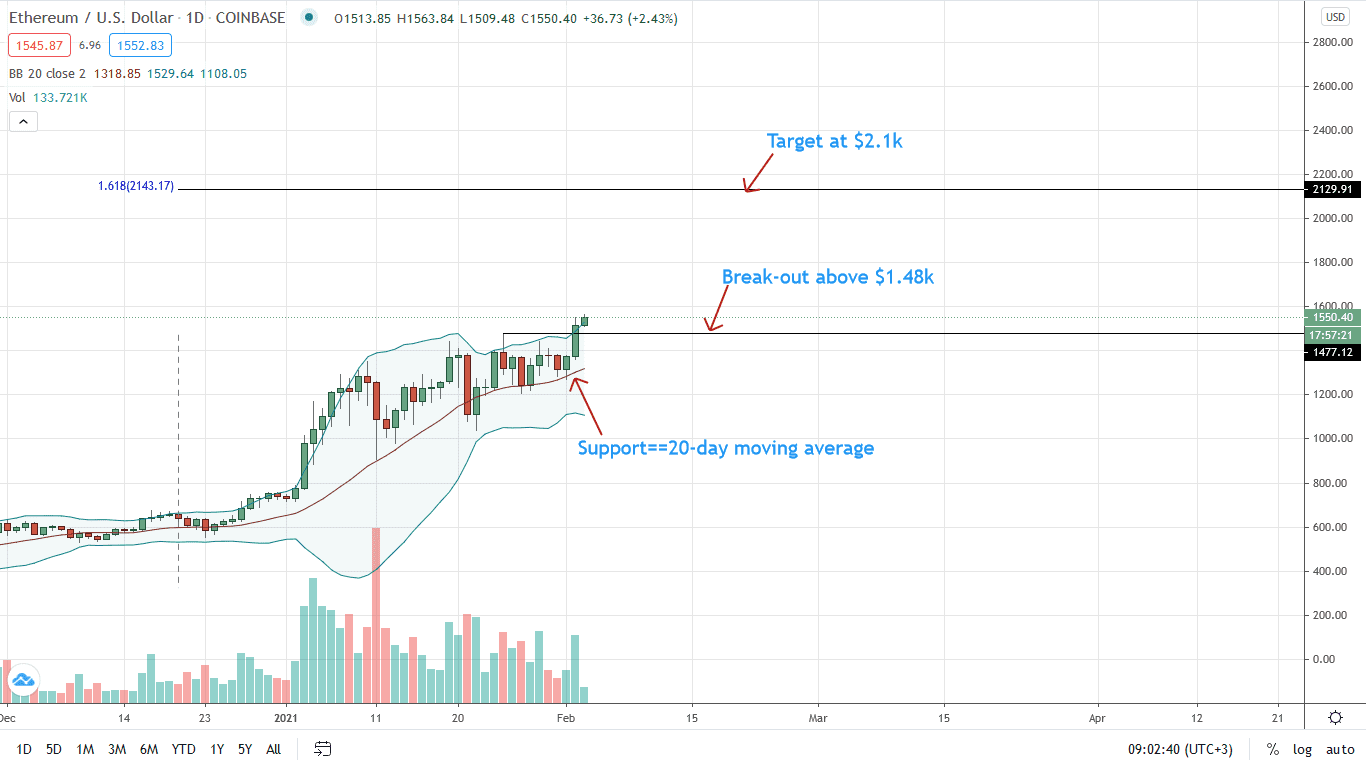 The ETH/USD uptrend is firm, and buyers are in the driving seat.
As of writing on Feb 3, the ETH price is up 10 percent on the last day and 17 percent week-to-date.
Overly, the path of least resistance is northwards, and buyers may build on Feb 2 gains, printing new highs towards $2k.
Notably, from the charts, ETH/USD is trading within a bullish break out pattern following gains of Feb 2. On the lower side, the 20-day moving average (middle BB) acts as the flexible support.
With the trading community upbeat, the next feasible bull target for traders is $2k, the 1.618 Fibonacci extension levels of the Dec to Jan 2021 trade range. Although volumes/participation is not as high, Feb 2's breakout provides the necessary impetus for higher highs explaining gains in the Asian session that may turn climactic as the days progress due to FOMO. The Feb 3 bar is already banding along the upper BB, suggesting high momentum in lower time frames.
If there is a cool-off, the zone between $1.48k and $1.5k will be the first support level.
Chart Courtesy of Trading View
Disclosure: Opinions Expressed Are Not Investment Advice. Do Your Research.
---
If you found this article interesting, here you can find more Ethereum News