Ethereum prices are trending lower at spot rates, looking at the development in the daily chart.
Even though traders are generally upbeat, expecting more gains in the medium term, current developments point to weak bulls. For instance, in the last trading week, ETH is down three percent as ETHUSDT prices oscillate inside a bear flag.
Technically, this is bearish, especially because Ethereum is still within a bear breakout formation after sharp price dumps in early May 2022. If bears press on and close below crucial support trend lines, ETH may cave in and shave off more gains in 2021, heaping more pressure on optimistic buyers.
Ethereum Merger will be a Price Mover
The current priority is when Ethereum developers will activate the Merger, fusing the PoW and PoS networks before a transition happens. Thus far, millions of ETH has been locked by Validator nodes to secure the parallel PoS blockchain.
These coins won't be moved until after the Merger as per the design of the Beacon Chain. Before then, it creates a deflationary effect on Ethereum given the high level of activity in the network, a bullish development for ETH holders.
Nonetheless, there are concerns that Ethereum prices could dump after the Merger. These fears have been assuaged by several influencers and analysts who said that though staked ETH might be released, it will be done in lockstep. While coins are released and control reverted to holders, the high demand for block space coupled with a deflationary ETH would combine to support prices.
Ethereum Price Analysis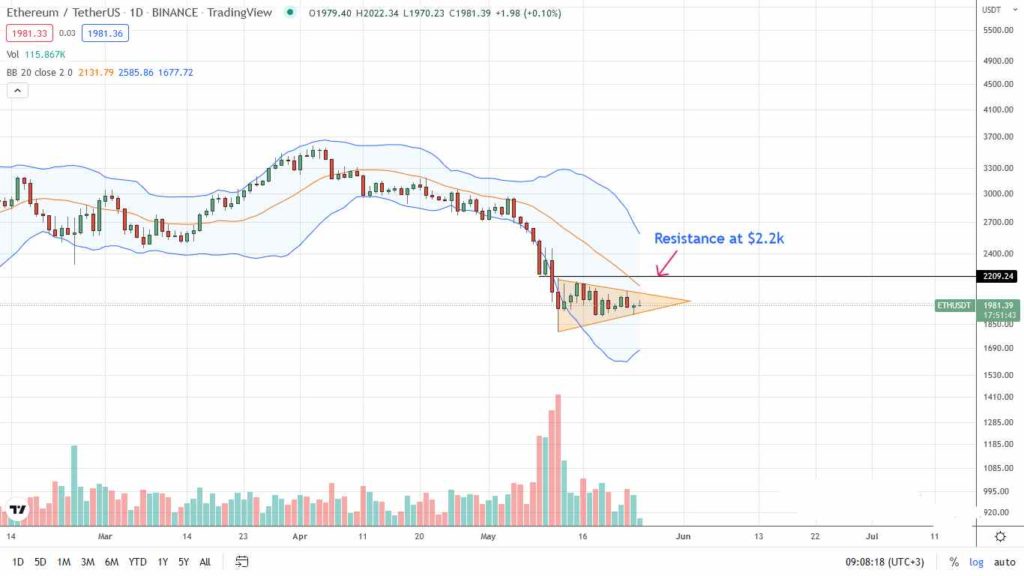 ETH prices are within a tight consolidation as per the development in the daily chart. ETHUSDT prices are capped below the middle BB and $2.15k on the upper hand and $1.90k on the lower end.
Currently, the candlestick arrangement points to weakness though there ought to be a clear trend definition for traders to ride with the emerging trend. This preview is because ETHUSDT has been consolidating within the May 12 bear bar for roughly two weeks since the climactic dump on May 11.
Therefore, bears have the upper hand unless there are sharp gains above $2.15k. ETH bulls would be in for a rough ride if bears force prices below $1.90k and the bear flag. In that case, ETH traders may find opportunities to unload, aligning with the primary trend set in motion in early May and confirmed by May 11 and 12 bear bars.
Technical charts courtesy of Trading View
Disclaimer: Opinions expressed are not investment advice. Do your research.
---
If you found this article interesting, here you can find more Ethereum News