Ethereum will end the year more suppressed if Q4 2022 price action is anything to go by. For context, ETH is down 30 percent from November highs and 40 percent from August 2022 highs.
Overall, ETH remains in a horizontal consolidation with clear triggers at $2k on the upper end, above Q3 2022 highs, and $1.05k, marking November lows. Sellers maintain a solid lead over bulls, with the losses of early November 2022 shaping the current trajectory and momentum.
As it is, ETH prices must pull beyond the current consolidation for a clear trend to establish itself. Losses below $1.05k could especially be seen as ETH dump in Q1 2023. Conversely, if price action flips to support buyers, gains above the current wedge may attract demand.
Increasing Censorship
The situation for ETH price action could be worse. New reports suggest Bitcoin miners are liquidating their holdings to keep operations going and stay afloat.
In the extended bear market of 2022, it has emerged that BTC bulls have been selling 100 percent of what they mine to pay for mounting electricity costs. Ethereum switched to a staking system, and validators don't have to invest in expensive gear or sell ETH to remain competitive.
However, the proof-of-stake system isn't perfect. It is emerging that centralized exchanges and platforms, like Binance and Rocketpool, are increasingly causing censorship in the network, complying with U.S. OFAC sanctions rules. This is against everything blockchains stand for, a concern.
Ethereum Price Analysis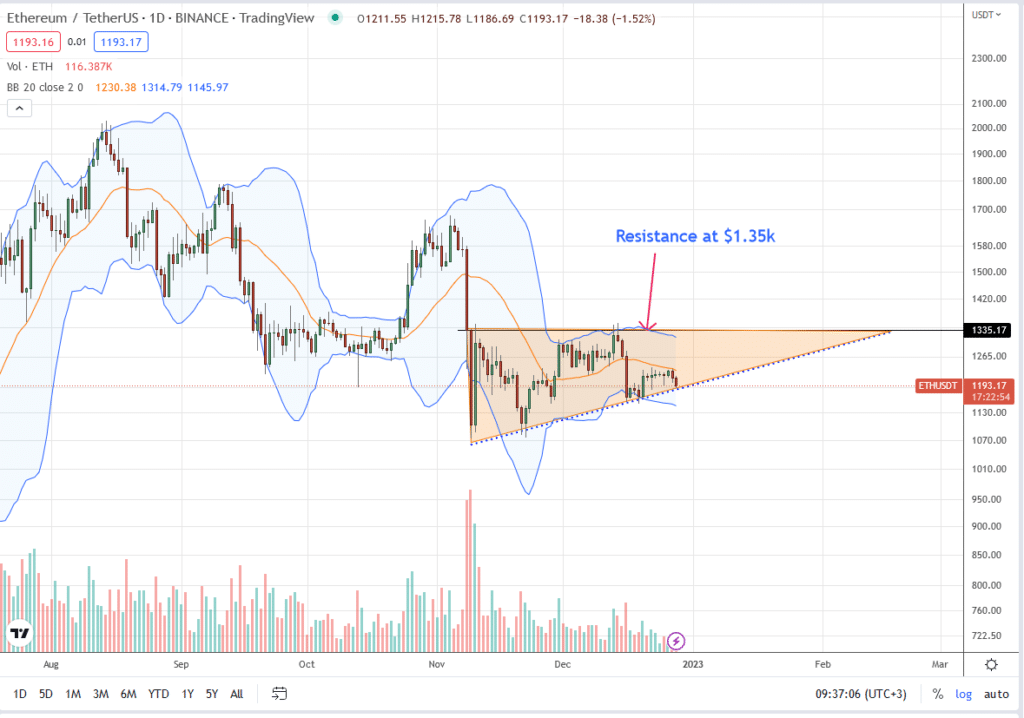 ETH prices are inside a wedge with resistance at $1.35k on the upper end. Since prices are inching lower, bears remain in control, aligning with the steep losses of early November. ETH prices are being liquidated at $1.35k, the November 9 high.
Therefore, from an effort versus result analysis, traders can unload ETH, targeting a retest of November lows at around $1.05k. This forecast is cemented by the fact that prices are still inside the bear bar of December 16.
All the same, conservative traders can wait for a sell-off below $1.15k. If the breakout bar has high trading volumes, ETH will highly slide to $1.05k, an opportunity for traders to swing the emerging trend.
Technical charts courtesy of 
Trading View
Disclaimer: 
Opinions expressed are not investment advice. Do your research
.
---
If you found this article interesting, here you can find more Ethereum News.