Ethereum and pretty much all other crypto assets are having a hard time coping with high turbulence as prices pull back from record highs. Currently, ETH is on the brink of not only retesting $4k but also breaking below the psychological round number.
Technically, the current retracement offers better entries for traders who are optimistic about what lies ahead, anchoring their strong beliefs on fundamentals.
Ethereum has Solid Fundamentals
There is little doubt that Ethereum is a strong, solid project. For perspective, the network is one of the most activity-dense, settling over one million transactions every day.
Accordingly, Ethereum is now one of the most lucrative networks for miners judging from the fee payment alone and the rate at which disbursement has been over the past few months.
Even so, while miners' revenue rises, the general user experience suffers as most users opt for alternative networks like Solana or Polygon.
Ethereum to Flip Bitcoin?
These modern chains are decentralized and concurrently secure with interoperability features giving the best of both worlds. Most importantly, Polygon and third-generation chains boast lower transactions while contributing positively to environmental conservation efforts.
Based on this, Ken Griffin, a billionaire hedge fund manager, said Ethereum would eventually replace Bitcoin as the most valuable network.
However, while at its peaks, alternative currencies with even better features will also replace Ethereum at the mantle.
Meanwhile, payment processors face massive disruptions from cryptocurrency solutions as more users favor digital payments due to convenience and cost factors.
Ethereum Price Analysis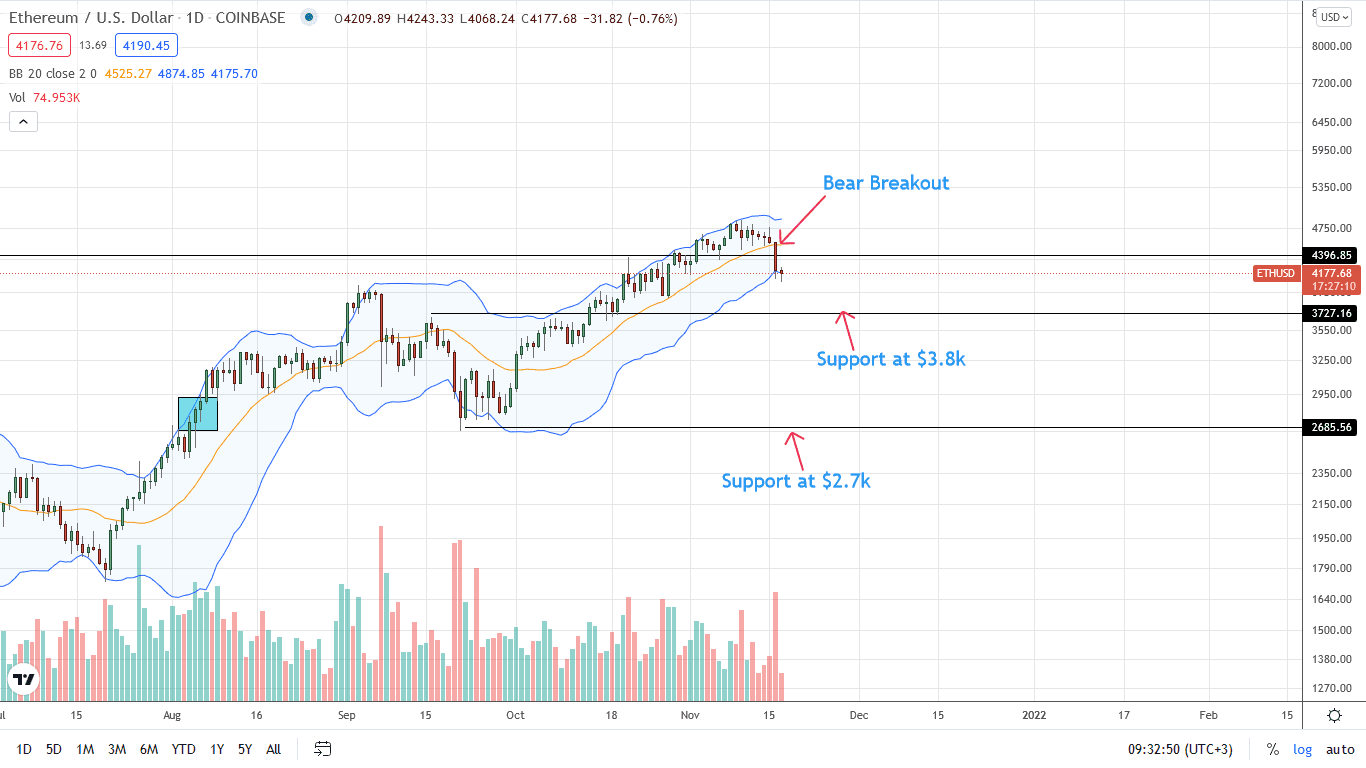 The Ethereum price is under immense pressure, and sellers are ahead of the pack, reading from the price action of the daily chart.
Presently, the ETH/USDT is trading within a bear breakout pattern as sellers press the liquidation pedal after sustained periods of higher highs. Looking at price performance, ETH is trading within a bear breakout pattern with relatively high trading volumes.
As such, provided ETH is trading below $4.6k and prices are within the November 16 bear candlestick, every high provides a liquidation opportunity for sellers angling $4k.
Further, from an effort-versus-results perspective, losses below $4k maybe a solid ground for sellers to retest the $3.8k—September 2021 high.
This level flashes with the rebound of prices in late October and is, therefore, a reliable reaction level for traders.
Technical charts courtesy of Trading View
Disclaimer: Opinions expressed are not investment advice. Do your research.
---
If you found this article interesting, here you can find more Ethereum News