Ethereum is the king of smart contracting, serving as the home for DeFi and NFTs. Currently, the primary chain dominates, but there are limitations on scaling.
This represents a big challenge for developers and directly impacts Ethereum's adoption phase.
Nonetheless, there are efforts to resolve this pressing concern.
A big part of this solution is through Layer-2 developments Vitalik Buterin directly advocates for.
From what's there, DyDx and Arbitrum are leaders offering different solutions to cater to diverse DeFi needs.
Ethereum suffers from the Founder's Dilemma?
Despite the efforts, some individuals think Ethereum isn't doing enough to serve the needs of ordinary users.
One of them, Zhu Su of Three Arrows Capital, thinks Ethereum developers are now so wealthy that they forgot the project's initial objectives. Besides, he is convinced the project suffers from the Founder's Dilemma—thereby tagging Vitalik and subtly saying Ethereum's development is centralized.
Over the weekend, he temporarily "abandoned" the project as his fund transferred a big chunk of ETH coins to an exchange.
Taking to Twitter, he said:
"Ethereum culture suffers massively from the Founders Dilemma. Everyone is already far too rich to remember what they originally set out to do. Perhaps a bear market is needed to remind them, or perhaps we must build elsewhere, but this is what it is–nothing new under the sun."
Although he has his reservations on Ethereum—even investing in Avalanche, which is the protocol's competitor–, he quickly backtracked on his earlier stance to once more back the project after criticism from the community.
Ethereum Price Analysis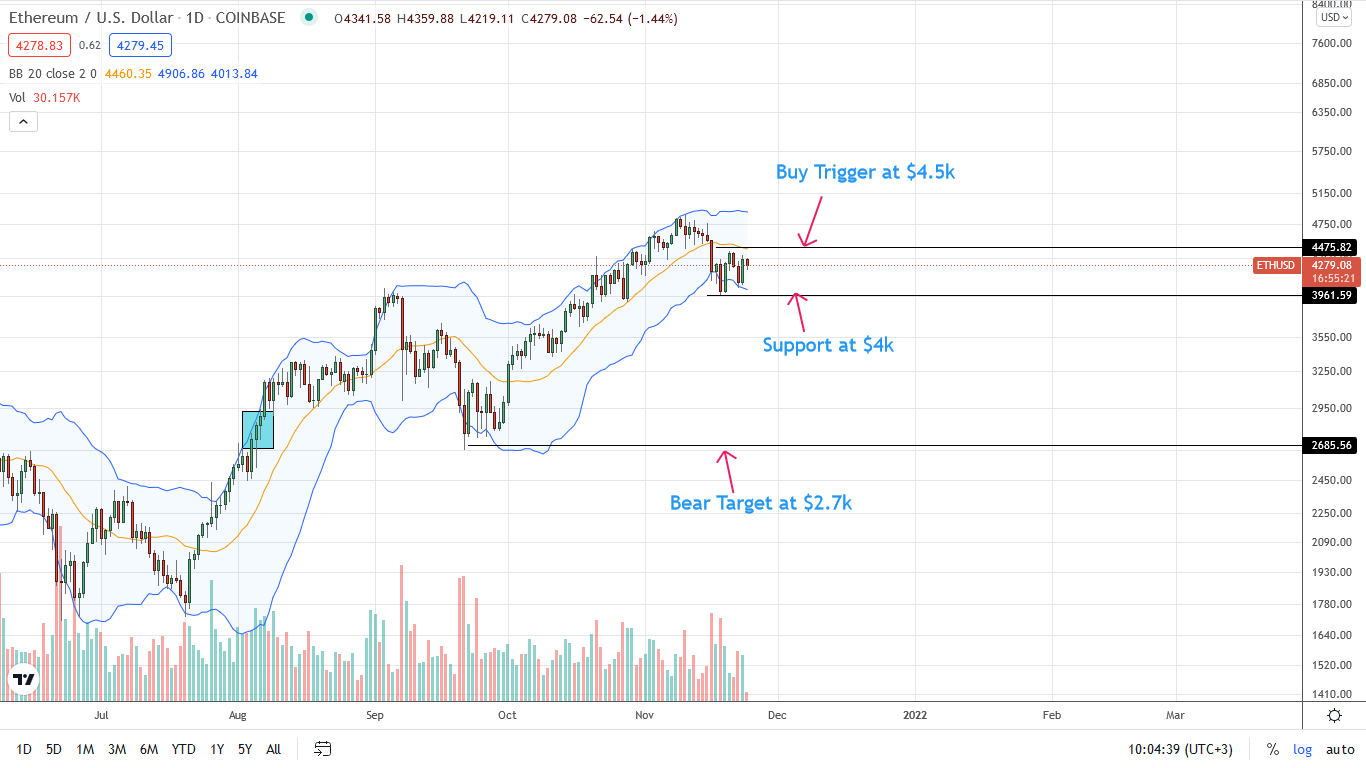 When writing, Ethereum prices are consolidating above $4k.
There are hints of strength, but losses of early last week are yet to be completely reversed.
What's visible in the ETHUSDT price chart are attempts at higher highs.
However, ETH prices remain boxed in a $450 zone above the primary support trend line and $4k.
A close above the middle BB and November 16 highs may lift the coin higher towards all-time highs of around $5k.
Accordingly, aggressive traders may look to buy the dip, realigning with gains of H2 2021.
On the reverse side, there could be a reason to doubt the uptrend if $4k falls. In this case, ETH may even drop to $2.9k—which flashes with September 2021 lows.
Technical charts courtesy of Trading View
Disclaimer: Opinions expressed are not investment advice. Do your research.