Ethereum [ETH] has been rallying this week amidst a lackluster price movement by Bitcoin and the altcoins. This was enough to prompt speculations about an altcoin season in the offing. The world's largest altcoin surged all the way to a new peak of its existence above $2,600 on the 22nd of April on the cryptocurrency exchange Bitstamp. With the new record, Ethereum toppled its previous high of $2,546 that was established almost a week ago.
In addition, its market cap dominance rose by 14.45% and was currently found to be $296 billion while its 24-hour trading volume stood at $47.05 billion.
Ethereum 1-day Price Chart:

The price of the crypto-asset first rallied to an ATH of $2,560 earlier in the day before continuing the uptrend to a fresh high.
The above chart depicted diverging Bollinger Bands. Meaning, Ethereum could potentially see a phase of high volatility in the near term. This trend could also signify further upside potential.
Also, the Relative Strength Index depicted appeared to be heading towards the overbought conditions, meaning a sentiment of high buying pressure among the traders, and hence, there could be room for more growth as volatility and trading volume increases in the ETH market.
The lack of upside resistance can also boost the altcoin to steer its way to new heights.
After a cursory glance at the charts, it can be safely said that Ethereum is among the best-performing digital assets in the cryptocurrency market of late. Moreover, it has even outperformed Bitcoin.
Following its retreat from the previous highs, ETH tested support at $2,000 twice before staging the bulls to catapult the recovery mission that underway.
ETH Quarterly Transaction Volume Soars To Record Levels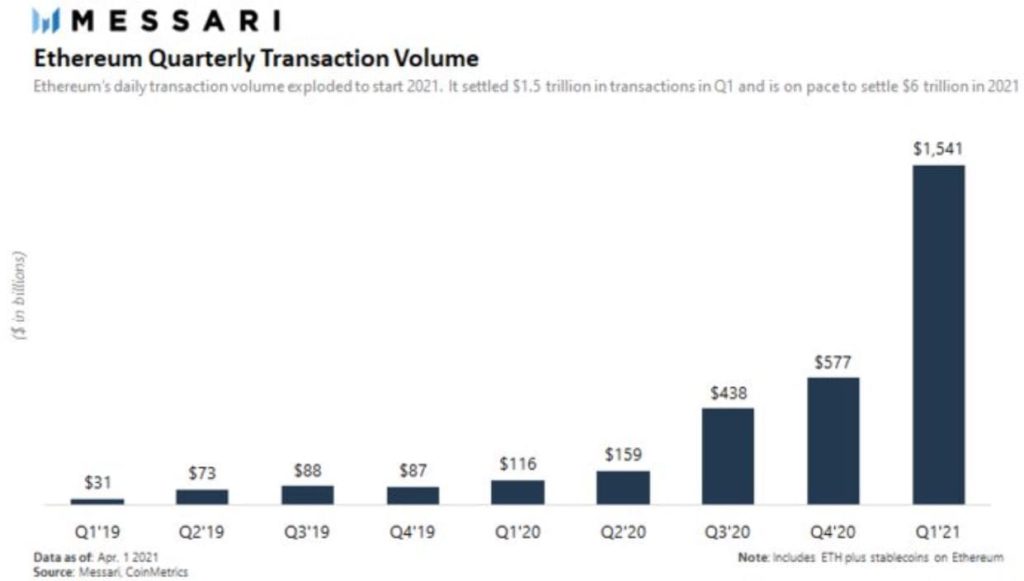 In terms of quarterly transaction volume, Ethereum has reportedly settled an astonishing $1.5 trillion in transactions in the first quarter of 2021 alone which is much more than the previous seven quarters combined even as fees became expensive.
This could be attributed to the smart contract tokens rise from $180, exactly a year ago, to the press time price of $2,600.
This was revealed by Messari's Senior Research Analyst, Ryan Watkins, who also added,
"Prices may do whatever they want in the short-term, but the consistent growth in usage is undeniable. Blockchains will eat the world."
The upcoming Ethereum Improvement Proposal, EIP 1559 upgrade, that is slated for July, along with the London hard fork, is an important milestone for the ecosystem. After this major alteration, Ether is set to become a deflationary asset, which would scale down the token supply. This, in turn, would increase the demand for it and hence, cause a rise in its price.
---
If you found this article interesting, here you can find more Ethereum News