The second largest cryptocurrency, Ethereum (ETH) has surged to an eight-month high zooming past $1,900, ahead of its long-awaited Shanghai upgrade. Are ETH bulls targeting $2000 in the upcoming few days?
This comes shortly after the hotly anticipated Shapella upgrade of the Ethereum (ETH) blockchain was successfully activated on the Goerli network on March 15. The Shapella upgrade which combines the "Shanghai upgrade" and "Capella" will allow unstacking of ETH along with several other improvements. Over the past couple of years, the Ethereum network has been taking several measures to upgrade its network to "Ethereum 2.0".
In September, the Ethereum network launched its Merge upgrade after almost seven years. The Merge which was perhaps the most significant event in the crypto industry last year shifted the blockchain network's consensus from Proof-of-Work (PoW) to Proof-of-Stake (PoS).
This year the network is all set to welcome Ethereum's Shanghai hard fork, set to occur on April 12. The new upgrade will allow validators and stakers to withdraw staked ETH from the beacon chain along with boosting transaction speed while reducing transaction costs.
ETH Price Gains Bullish Momentum
This seems to be the primary factor for the recent Ethereum (ETH) price rally as it aims to provide more flexibility to investors as unstacking will push the demand for Ether. According to CoinMarketCap, ETH soared 5.35% in the last 24 hours to trade at $1,911. Meanwhile, over the past seven days, the digital token jumped nearly 6% in tandem with the broader crypto market that has been on a tear despite murky macroeconomic conditions.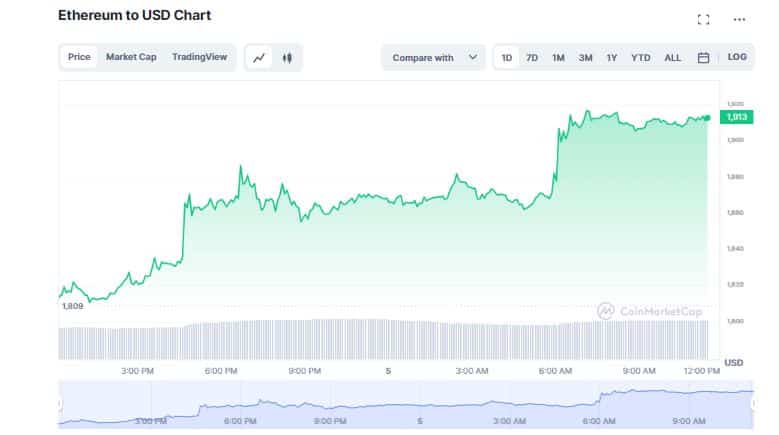 In addition, the ETH price upturn may also be attributed to expectations that the Fed may ease up on rate hikes in the wake of the global banking industry crisis. In a statement, Nathan Thompson, lead tech writer at crypto exchange Bybit explained the smooth upgrades and consistent delivery of Ethereum's roadmap have boosted investor confidence and piqued the interest of institutional investors. He added,
"While analysts debate the short-term effects of this upgrade, it's no doubt bullish for Ethereum going forward as it massively reduces its energy consumption and provides more favorable ESG optics when compared to Bitcoin."
Solid bounce for ETH relative to BTC the past several days

tbh though, still just expect this as nothing more than a swing play opportunity and profits should rotate back into BTC before $30K breaks and the ratio trend reverses bearish again pic.twitter.com/MOe1GlibaX

— K A L E O (@CryptoKaleo) April 5, 2023
Crypto Market Fires Up
Following the brutal meltdown of 2022, the overall crypto market has witnessed a bullish momentum since the onset of the New Year. At the time of writing, Bitcoin (BTC) is slightly up hovering around $28,000. Major altcoins have also performed well over the past 24 hours, trading in green. Meanwhile, the global crypto market cap is up 3.03% to $1,21 trillion. Given the significant uptick in the crypto market, Ben Caselin, Vice President at crypto exchange MaskEX said,
"With the US banking system in peril, we've seen a rise both in bitcoin's price and bitcoin dominance vis-à-vis the rest of the crypto market."

Despite a deepening banking crisis together with macroeconomic headwinds such as impending recession, labor shortages, global conflicts, and soaring interest rate hikes, the crypto market has shown signs of formidable resilience outshining traditional stocks. In a statement Shivam Thakral, CEO of BuyUcoin noted the collapse of US banks like SVB and Signature has rekindled the debate on the importance of decentralized finance (DeFi) and digital assets. Furthermore, Edul Patel, CEO at Mudrex added,
"With instability in the banking sector, inflation data that exceeded expectations, and renewed optimism about a dovish Federal Reserve, Bitcoin has reached levels unseen in approximately nine months."