The Ethereum price is free-falling this week. Heavily losing versus the greenback, it has been consequential for DeFi assets whose governance tokens have been pummeled as a result.
At the time of writing, there is stability but which still won't seal the huge influence of ETH on its ecosystem
Ethereum is a prime mover in the token world and is in recent times, demonstrating—even signaling to the traditional finance world, that a shift in gigantic proportion is on its way.
As it is, the smart contracting platform is the most active, the most secure, and fitted with leading tools and infrastructure required to support successful dApps.
The Success of DeFi is a warning to Traditional Finance
The success of Uniswap, for instance, shows how decentralized applications can compete with established, centralized solutions for top honors.
This year alone, Uniswap's trading volumes rose and surpassed Coinbase Pro's at some point. And considering its reward model and the creators banking on decentralization, participants who would rather register accounts and submit their personal details to swap ERC-20 tokens would rather dive in, contribute liquidity, and earn rewards and a governance token further increasing revenue streams.
On the flip side, they simply can trustlessly swap tokens and participate in yield farming as they earn above-rate rewards, a development which has been criticized by Vitalik Buterin as unsustainable.
Path to Eth2 is Smooth
Although DeFi tokens might be on the receiving end after ETH prices dropped early this week, confidence is anchored on Eth2 and the progress towards its rollout.
It is expected that the Beacon Chain mainnet will launch at a tentative time in November 2020. For now, there is Medalla Rocket Pool 2.5 beta launch and Spadina, both scheduled for early October.
Ethereum Price Analysis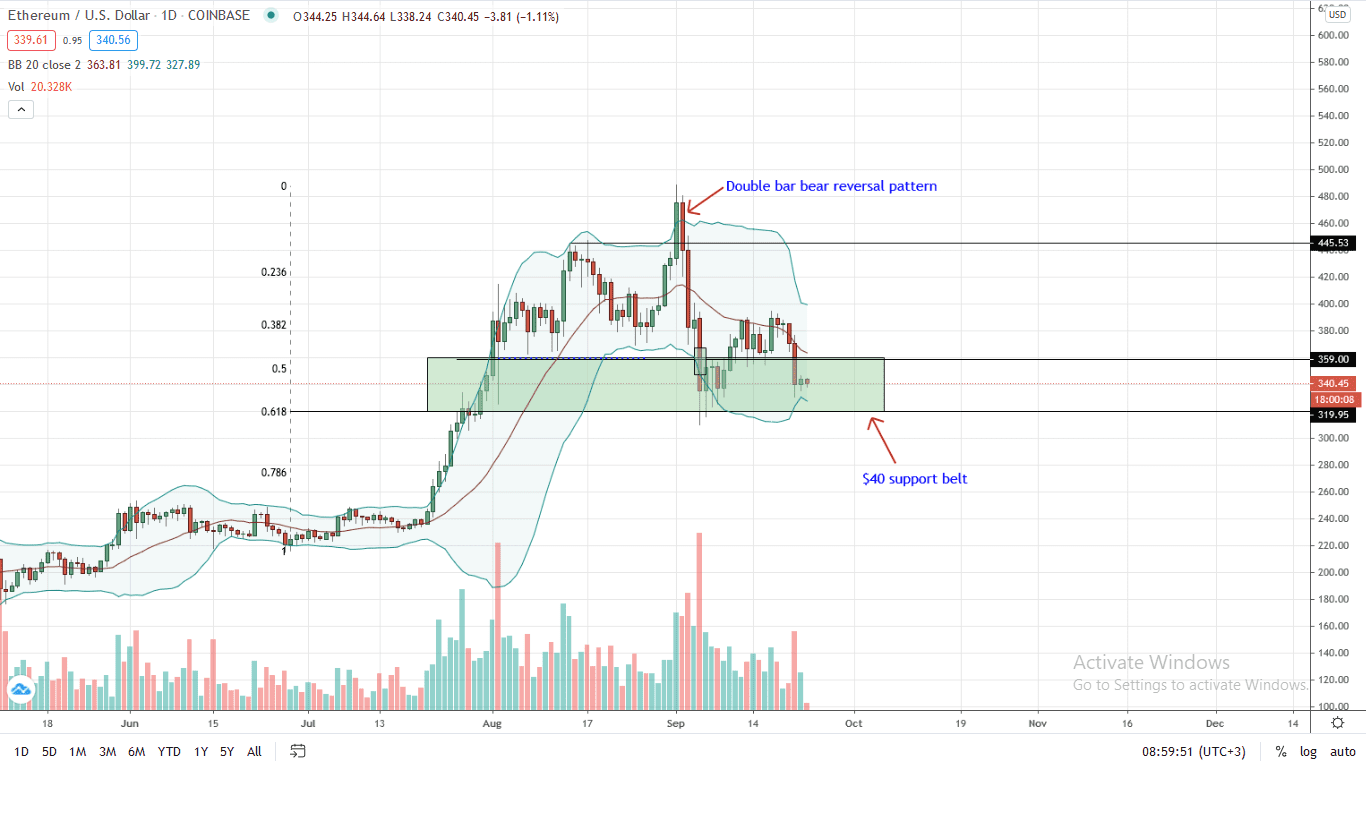 At the time of writing, the Ethereum price was trading at $340, down roughly eight percent versus the USD, and down five percent against BTC.
From the daily chart, bears are in the driving seat. Notably, Ethereum bulls failed to reverse losses of Sep 5, sharply reversing from its highs and the 20-day moving average with an uptick in trading volumes.
Gauging the coin's performance, it is likely that bears will press lower in the coming weeks if volume analysis hints are considered. Immediate support lies at $320, while resistance is stacked at between $360 and $390-400 zone.
In any case, the $40 belt between $320 and $360 is a strong support level. It marks the 50 and 61.8 percent Fibonacci retracement level of June to Sep 2020 trade range.
A break below $320 could see ETH prices tumble to $250, or the 78.6 percent Fibonacci retracement level in a retest.
Conversely, gains above the immediate resistance and $400 could see ETH change trend. In that case, new 2020 highs might be registered.
Chart courtesy of Trading View
Disclaimer: Views and opinions expressed are those of the author. This is not investment advice. Do your research.
---
If you found this article interesting, here you can find more Ethereum News