Istanbul is Live
Good news is that the widely anticipated Istanbul hard fork is now live. That means the cost of privacy centric smart contracts are now cheaper and certain scaling solutions can be implemented to the advantage of the network, read ZK Sync.
Technically, the Istanbul hard fork, as previously mentioned, set the tone for Ethereum 2.0.
Ideally, at that stage, Ethereum would be better, faster, decentralized and handle enterprise demand.
Consequentially, it also means ETH prices would benefit as clients and developers flock to a network that is active and most developed, with more participation than Bitcoin.
Ethereum up the CCID's Rankings
Although there were some delays, the activation of six EIPs saw Ethereum jump up the Center for Information and Industry Development (CCID)'s rankings to second.
CCID is backed by the pro-blockchain China and evidently, changes made to the source code synced well with analysts who reckoned that Istanbul would further refine Ethereum's technology and increase adoption.
ETH Google Searches at 2016 Levels
Even so, although Vitalik Buterin is confident, expecting Ethereum to process up-to 3,000 TPS, pragmatists are practical, saying the public platform is far from being a world computer as originally envisioned.
Together with expectations of development fast-tracking, it was recently noted that Ethereum-related searches are near their all-time lows, and at around when ETH was trading at $20.
ETH/USD Price Analysis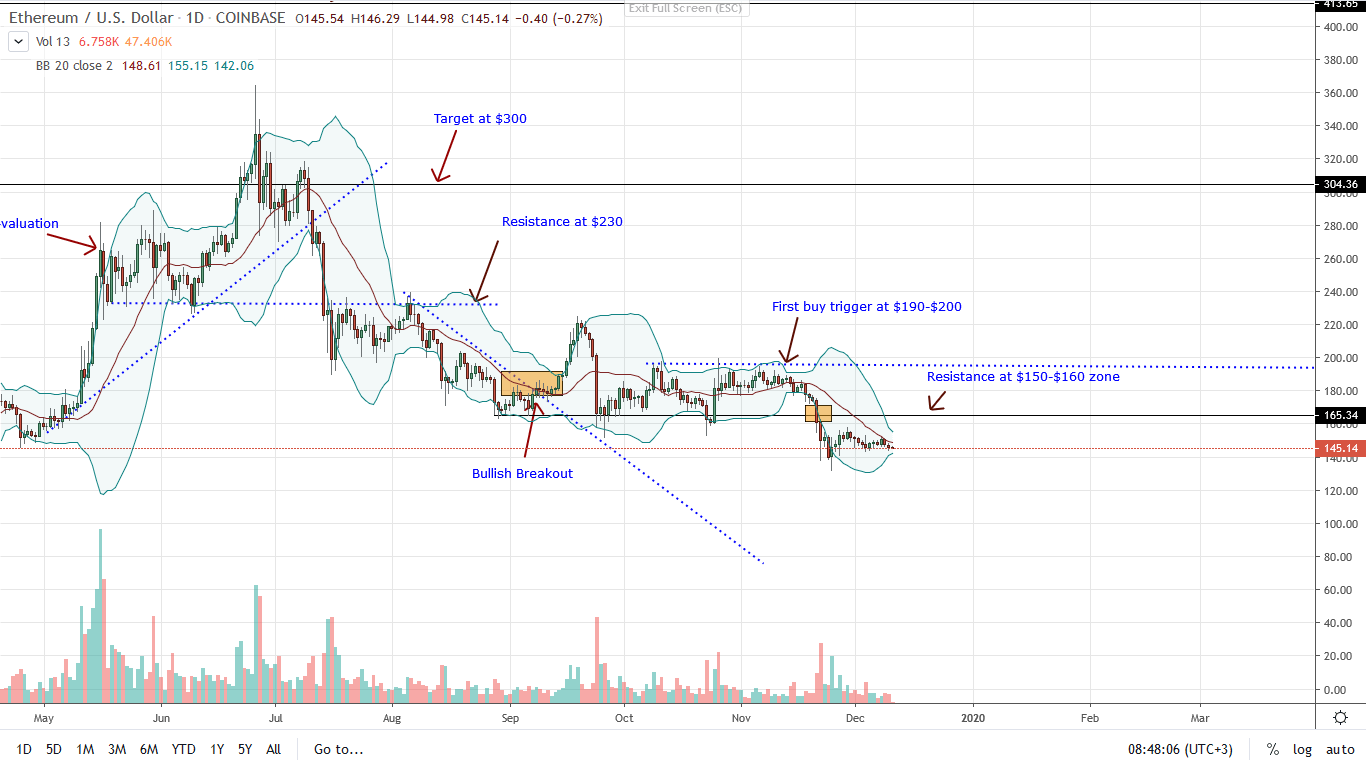 Week-to-date, ETH prices remain suppressed. The coin is down 22% in the last month but encouragingly up 60% over the last 12 months.
Since the hard fork was implemented without any technical hitches, it is expected that bulls will interpret this as positive. Against bullish sentiment, candlestick arrangements point otherwise.
From the chart, sellers are stepping up, pressing the sell pedal. The failure of buyers to comprehensively reverse losses of Nov 21-24 mean sellers have the upper hand, and complete the second stage of a bear breakout pattern: the trend resumption stage.
If prices break below Nov 2019 losses at the back of high trading volumes exceeding $283k, ETH will likely tumble to $130, and even $100.
To avert this, it is imperative that there is a buildup of momentum and prices close above $160 in a bull trend that will also confirm bullish attempts of Nov 25-29. In that boosting event, the first bull target will be $190-$200 resistance zone.
Chart courtesy of Trading View-Coinbase
Disclaimer: Views and opinions expressed are those of the author and is not investment advice. Trading of any form involves risk. Do your research.